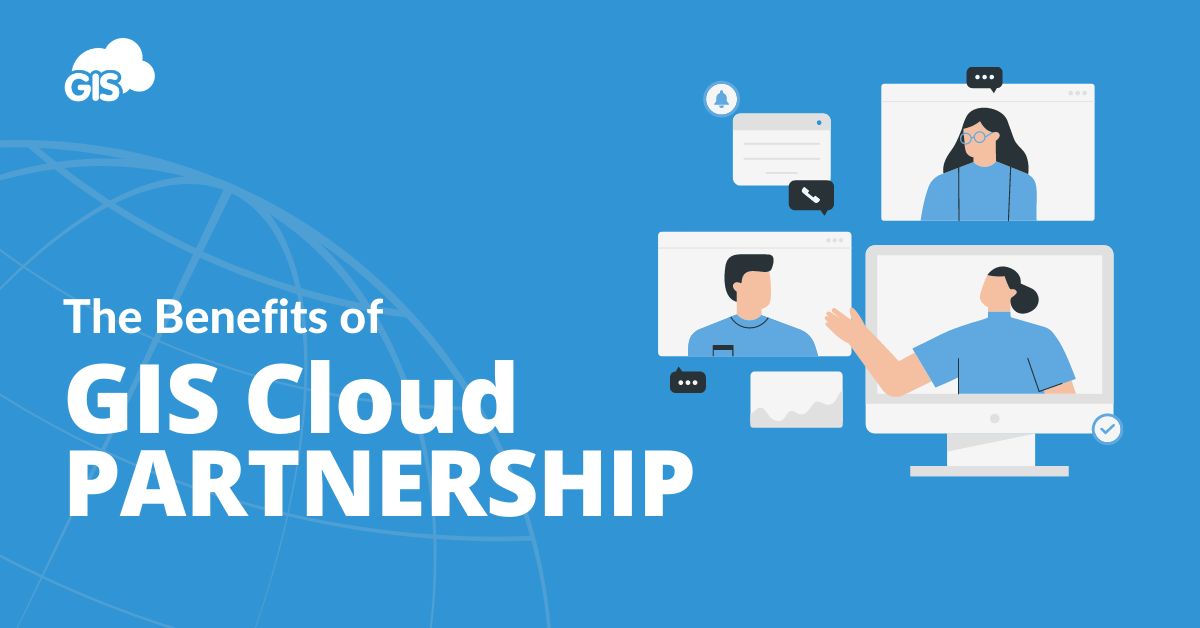 GIS Cloud is one of the leading cloud-based (online) GIS providers in the world!

We work with numerous global companies and organizations coming from different backgrounds and industries. Primarily, those industries base their data on a location component. We dare to say that more than 80% of their data is location-based! Across the globe, they work with GIS Cloud's intuitive, cutting-edge data collection and mapping technology.

Our GIS platform is versatile and applicable to numerous projects and case studies like:

We are looking for GIS Consultants and Partners to join our worldwide network and share our vision of real-time mapping, data collection, and visualization of data.

Join us in selling, integrating, and customizing GIS Cloud into local markets and industries because the need for a modern and user-friendly online GIS solution is constantly growing. We will help you win tenders and target new market segments and business opportunities across the globe bringing the benefits of working with online GIS to companies and organizations.


Check out this webinar recording on the benefits of the GIS Cloud platform and become one of our leading consultants in the world.
What are the Benefits of working with GIS Cloud?

GIS Cloud offers useful tools for many organizations and individuals, including possibilities of building vertical solutions and white label applications for a particular market segment. Our partners have the opportunity to spread into new market sections, offering an innovative approach to common business challenges for the local demand.

Being the first to target new segments, they also have a chance to become the leader in offering solutions and services in a particular market niche. With GIS Cloud you can help customers create interactive smart solutions that visualize their spatial data and provide them better and wiser business decisions.

Not to brag much, but GIS Cloud apps practically sell themselves! After users test our apps, the conversion rate is very high, which means that after a quick demo, you have already made a first step on the road to success.

Mobile Data Collection

is our

flagship app

. It is a complete solution for

field data collection

and the first step of transforming every business workflow from paper to digital!
Map Editor

is a

powerful cloud-based mapping tool

that supports vectors and raster formats with rich GIS symbology. Create your maps fast, share them, and collaborate with users in real time!
Map Portal

is a

customizable

and straightforward app that provides you with a summary of your mapping effort. It is an online tool for

visualizing, exporting,

and

publishing

your geospatial data!
Map Viewer

is a

must-have collaborative tool

for any decision-maker and manager.

Access and view the data on a map in real-time and make fast and informed decisions!
Crowdsourcing

is our

branded white-label

solution for clients worldwide. Choose your

web or mobile

custom solution without investing in hardware, software, configuration, coding, etc!
It's About The Apps, Connection, and Security!

Being one of the pioneers in the cloud GIS business we are listed as the top 14 Vendors in the GIS Market in the BRIC market from 2016-2020 by Technavio. Also, one of the key benefits of GIS Cloud is the constant innovation and incredible mapping performance thanks to one of the fastest and robust map engines in the market.

With GIS Cloud you get world-renowned Amazon Web Services, secured and private cloud servers known for their reliability and security. If, however, clients prefer private cloud solutions, we offer customized installations behind on-premises firewall.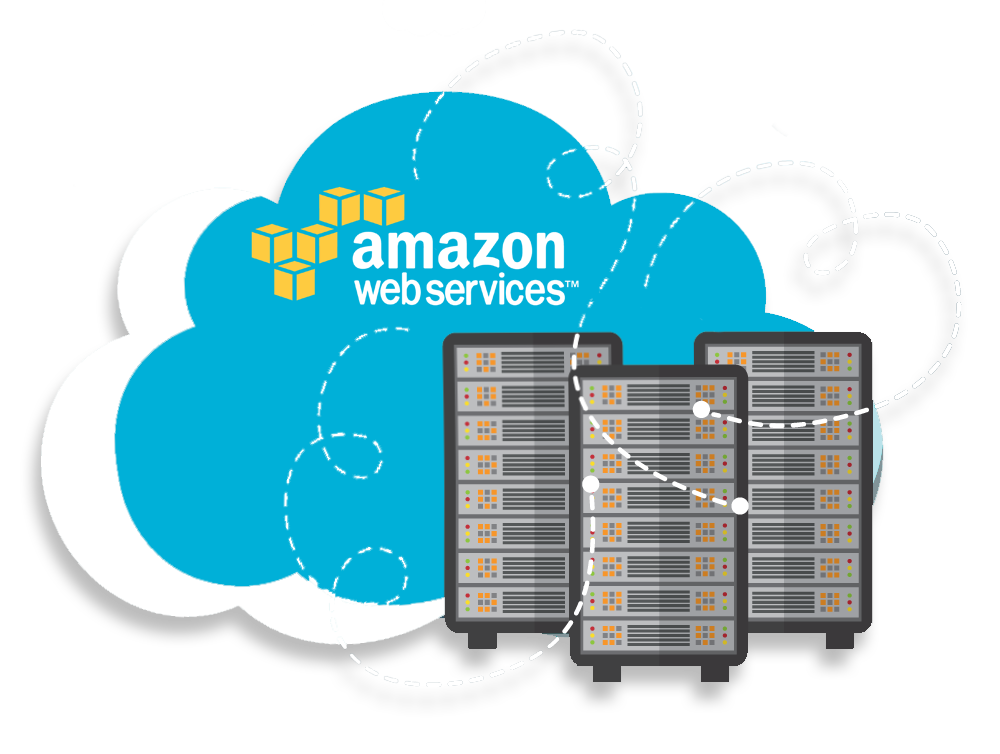 We also have a GIS Cloud Developers Center that will help you leverage the GIS Cloud platform GIS Cloud offers a powerful API that is open to integrations and vertical solutions with custom development for a particular client or industry. This also means custom branding, special features, and interface.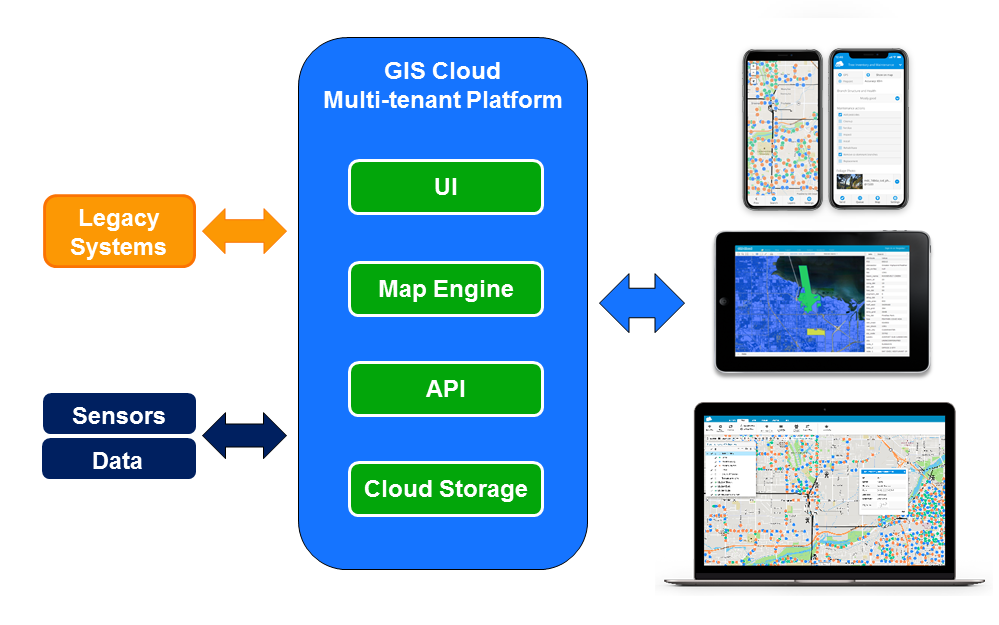 You can also use GIS Cloud as an out-of-the-box solution that fits all the business needs. Configure it to retrieve the data directly from an external database server that allows instant and straightforward integration of your existing data silos with GIS Cloud.

You can also connect and view your data directly from the ORACLE Database or simply connect to POST GIS database online to open up your strategic potential without connecting hardware of software in-house requirements.

Why Should You Become a GIS Consultant and Partner?

Working with the best in the industry, and expanding your business by partnering with us of course!

If you work in the GIS consulting business, adding the value of GIS Cloud to the list of your propositions means that you can increase the scope of your services while finding the best solution for the challenges of your existing and new clients. Capitalize on the growing technology and deliver new solutions, services, and location intelligence with GIS Cloud!

GIS Cloud Partners Worldwide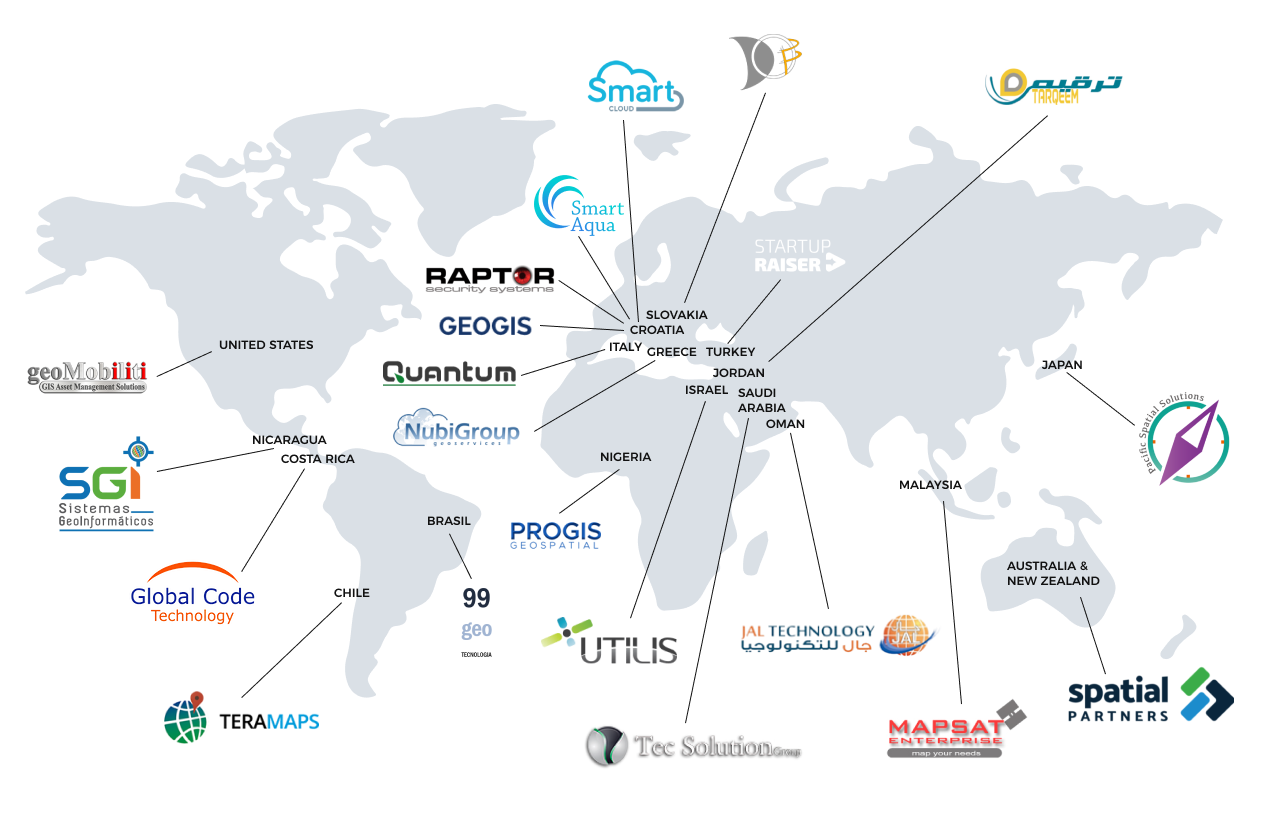 You will have the exclusive opportunity to suggest and try our new features before anyone else, which leaves enough time to prepare marketing and sales strategy to introduce new products. Access to our Premium Support is at your constant disposal, offering consulting, additional training opportunities, learning, technical support, and business growth.

We ensure a continuous flow of new sales prospects, specific for your market segment, which makes your job easier and more rewarding, especially when it comes to increasing your reach in the local markets.

How can you grow with GIS Cloud?

We are looking for Individuals, Geospatial Companies, GIS consultants, Freelancers, GIS Managers, GIS professionals, or even non – GIS operatives who wish to learn the KPI's of the GIS business and become valuable GIS Cloud Partner!

Build and promote new and long-lasting customer relationships with global clients!

Direct growth and sales from GIS Cloud products and services!

Build custom geospatial solutions in no time!

Giving strategic and problem solving geospatial advice in every industry using our GIS platform!

Help clients maximize their ROI with GIS Cloud!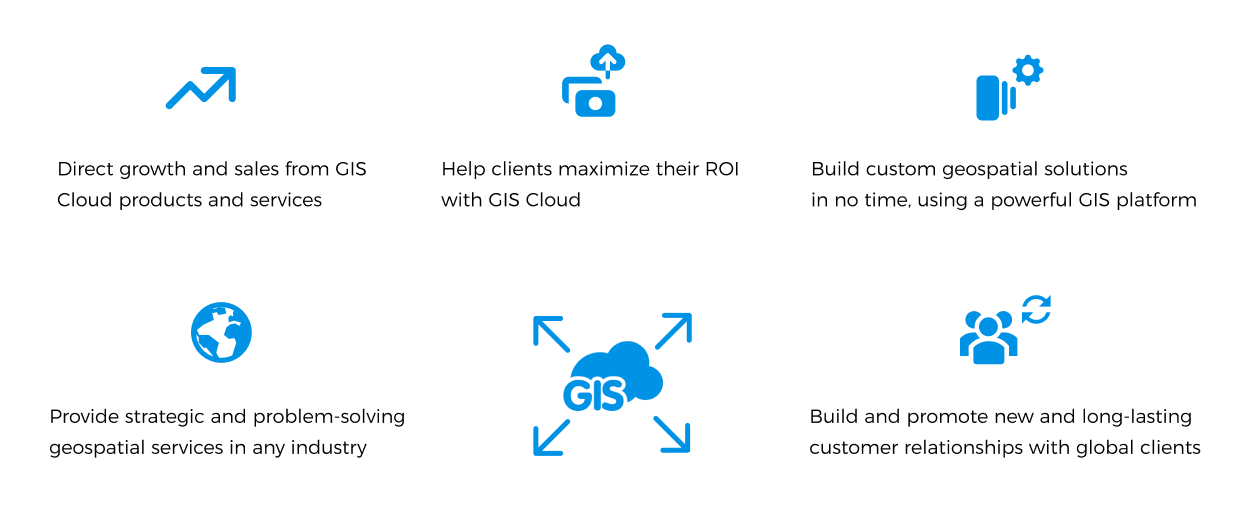 Our partners worldwide work with the GIS Cloud platform and white label solutions to grow their brand in the market and optimize their business model by lowering their development, hardware, and software costs. Integrating GIS Cloud as a part of their business solution helps them focus solely on better workflow performance.

One of our partners, Asterra revolutionized the water industry with leakage detection technology used to detect water on planet Mars! They use satellite-based infrastructure intelligence and provide data-driven solutions for utilities, government agencies, and infrastructure industries. We helped them build white label mobile applications U-Collect, and U-View for field data collection, and overview of the data to empower client leak detection crews to collect, view, and record satellite informed field data.

Smart Aqua is our Croatian partner in water management and consulting industry. We helped them build a white label Smart Aqua app that enabled the company to provide a digital transformation of field operations to numerous clients. A fully operational mobile data collection and visualization system for water and sewerage management helps local governments increase data accuracy and reduce work timeframe by eliminating paper forms.

Spatial Partners, our Australian partners who specialize in spatial technology and data automation developed two interesting custom GIS Cloud solutions on their platform.
The first one is the GIS Cloud + Powerapps integration that allows Office 365 Power Automate platform to interact with data hosted on GIS Cloud, and the second is BusDriver which allows users to link their GIS Cloud account to other services and fully automate tasks in GIS Cloud.

Contact GIS Cloud and be the first to target new market segments and enjoy the benefits of our partnership!

If you are interested in using GIS Cloud apps and services, Sign up for the free 14-day trial.
If you want to know more about GIS Cloud platform, please Contact us!