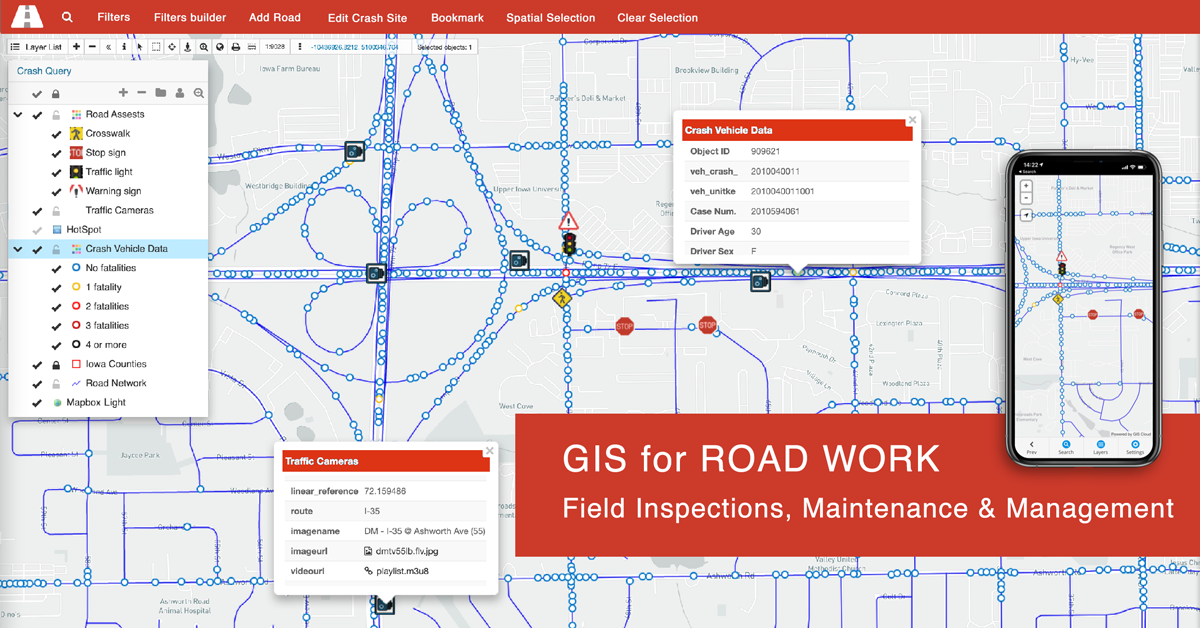 Before diving into this use case, make sure you register for our Road Maintenance Use Case Webinar, on January 18th, 2023. Register to hear how our Swiss partner, InfraTrace, uses GIS Cloud for their road maintenance projects.

Webinar Time and Date:
WEDNESDAY, January 18th, at
5 pm CET (4 pm GMT), 11 am EST, 8 am PST


And now, let's dive into our subject, GIS for Road Works…

GIS technology has been enabling the Road Work Industry since the early beginnings. It is proven that the power of location enhances operational efficiency. Online GIS helps you obtain different data from different systems into a single easy-to-use platform.

You will start using smart custom maps to plan, manage and maintain your road infrastructure to save time and money! Bring all of your departments together towards a collaborative and efficient solution and make data-driven, accurate decisions.

Table of Contents:
The Challenges and Benefits Of Digitizing Your Road Management

Overseeing Road Work And Data Management In Real Time

Why Should You Optimize Your Road Work Infrastructure And Maintenance?
Let's start with a simple survey.
Can you fill these gaps with numbers?
The Highway Department has the responsibility for the administration, construction, maintenance supervision, repair, and care of approximately ___lane miles of roadways, ____bridges, and ____culverts.
In your area there are exactly ____road signs that cover ____crossroads.
All signs are in good condition except for ____ that will be replaced next month.
We are currently repairing _____ potholes and have _____road damages left.
Last year there were _____trees removed from main roads. _____ pavement markings have been renewed.
If you can, are you able to visually perceive all of this information? Here is an example map that covers it all at once, with related information and the condition of your assets.
We understand that many road work and maintenance jobs end up within these types of reports and queries.
Do we know how many roads we have?

How many of those roadways are in the city?

How many bridges and covers do we have in the city?

Are there any potholes that need to be repaired?

Do we have information about how many specific road signs are there?

Does each crossroad have a valid road sign?
When you have all of this information, the important thing is to understand the condition of your assets, in this case, road signs, road lines, bridges, potholes, etc. Having all this field information in one place under one single GIS solution will help you with budget planning, team operating, setting the right amount of work orders, contractors, tender setups, etc.
Online GIS will help you store different spatial data types and information in numerous thematic layers that can be represented with custom symbology. All of the data is interconnected with specific geo-locations (coordinates), which will help you and your field crew find it easily with the help of an interactive map.
Let us show you how the GIS Cloud platform and applications will streamline the process for numerous field operations, team collaboration and improve your operational efficiency by reducing risk and optimizing costs.

The Challenges And Benefits Of Digitizing Your Road Management
To transform your everyday operations and workflow, you need to understand your teams' daily challenges. Collecting the data, inspecting, repairing, and maintaining the road damage must have a working timeframe with available permissions. When you are in the field, clear communication and fast-acting is essential. Reducing the unnecessary paperwork for field data collection and inspection is crucial.
Field crews need a fast and accurate response to questions like:
What roads and how many miles I've inspected?

Where do I need to go next, and can you give me a signed work order?

Do we have permission to repair this road (sign, pothole, etc.)?

Where are the potholes that are reported?

How much time do we have to finish the job?
Mobile Data Collection App will replace messy paper forms and provide clear communication and fast-acting between teams.
Suppose the field crew finds themselves challenged with the landowners, public inspectors, citizen queries, permissions, or anything else. In that case, the office managers can set up everything online, and it will all sync in real time on their mobile devices or tablets.
The setup and workflow is so easy and intuitive that you'll be surprised. Let's say that the office crew is responsible for issuing daily tasks. They can create Custom Work Forms for any project in Mobile Data Collection Portal. The data you wish to collect can be anything, points, polygons, or lines.
Add the Form Fields you need, like:
Pothole size (large, small)

Condition of road signs (broken, fixed, needs repairing)

Maintenance actions (cleanup, inspection, replacement, repair)

Road surface (gravel, chip seal, asphalt)

Existing paved road (planned upgrade, no work scheduled, repairing planned)

Priority (high, low, worst)

Bridges

Bike lanes (visible, not visible)

Crossings (painting planned, painting in progress, needs an update, street art)

and much more
To increase the collecting speed and eliminate errors when filling in digital forms, make your form fields required, dependent (conditional), or persistent. Mobile Data Collection app also works in offline mode if you struggle with internet connection in some areas.
Overseeing Road Work And Data Management In Real Time
So, you are in the office, and someone in your maintenance team has reported an issue (broken sign, pothole, poor lane visibility, etc.). You need your repair team on it. Do you know where the issue is?
Imagine having the issue placed on the map in custom symbology already marked to be fixed. With the help of Map Editor, editing, analysis, and sharing data is accessible and visible in real time! That's half of the job done already.
No paper forms and maps to slow your team down. The maintenance team can send accurate information with their tablets or mobile phones. The data is instantly available and can be easily customized and optimized on different access and permission levels by the management team.
This corresponding data gives you valuable insight and helps you identify and predict issues such as road cracks, fall in vegetation risks, potholes, etc. You can color-code different area layers depending on the job priority.
Risk-informed planning and prioritization of field jobs are crucial for saving time and money.
If you need to report these types of information to the stakeholders or the public, you can visualize all this information on a map. Extract and evaluate only the relevant information from the collected data to prioritize and organize your business workflow.
With Map Viewer and Map Portal apps, your shared data can be customized for GIS experts or optimized for non-professionals with different access and permission levels on any device at any time. Imagine how efficient your teams will be and how much time and money you will save without waiting on paper reports and sheets from the field.
When the location is identified, you can assign the job to the team online. Photos and notes in the previously created online survey (form) will help workers literally see what needs to be done. Fixing the pole, replacing the sign, repairing the pothole, painting the lines, or simply removing debris from the highway.
Once the job is successfully done, they simply set the assignment status to complete, which shows automatically on the map for the office crew or management.
This performance can also be photo and media documented as proof of the completed job. This is crucial in mitigating the company's liability in case of future accidents.
Here are some excellent examples of Roadworks Management and Maintenance with GIS Cloud apps.
This particular use case focuses on assigning your fieldworkers permissions to collect and update data about asset conditions.
With this project, geography students created a map that shows sidewalk accessibility and wheelchair obstacles in the center of Zagreb to help people with disabilities.
A geography student created an interactive Map Portal representing the changes in public transportation due to earthquake damages. It helped facilitate the daily movements of people in the city of Zagreb.
With an interactive Map Portal to help citizens get by in the city traffic jam, geography student collected tram station digital displays showing information about arriving trams (their line number, direction, and the estimated time of arrival).
One of the bicycle capitals of the world, Amsterdam, implemented GIS Cloud as a solution for quality maintenance of bike lanes, racks, poles and different types of bike infrastructure regularly.
With the help of online GIS, the district council of Mallala in South Australia mapped all of their road infrastructure assets and improved their project management.
Our team also held an interesting webinar on Solutions For Road Infrastructure And Maintenance. Watch the webinar for free on the link.
Why Should You Optimize Your Road Work Infrastructure And Maintenance?
First of all, data quality and optimization. You can't have that with a paper-based workflow. You get an accurate and up-to-date information database accessible from any device in the field or in the office in real time. All of your data and assets at your fingertips.
Supervise, edit, and maintain the data at once, immediately understanding how to improve your day-to-day job strategies and plans. Having all of this accessible on an interactive map will help you increase team effectiveness and communication.
Don't wait for them to come back to the office and import or download reports and sheets. With GIS Cloud apps it's all accessible at request, online in real time!
This will help you with predictive analytics. Identify and rightly schedule all of your field and office activities and decrease any future costs! Bring an easy visual language to stakeholders, contractors, and workers, improve communication, and display project progression and results on an interactive map. Using a location to communicate the job and solve issues on the spot gives you a strategic advantage!
GIS Cloud is fully scalable, pay for what you use online platform with no desktop installation required.
However, suppose you need additional data control and abide by internal security policies. In that case, the GIS Cloud system can be installed on your servers behind a firewall as an on-premises private cloud solution. You can easily scale your app subscriptions at any time per your project needs, get new subscriptions or downgrade if your project scope changes.
If you are interested in using GIS Cloud for vegetation management projects, Sign up for the free 14-day trial.
You can also contact our Solution Consultants to help you set up a desirable, customized GIS Cloud solution for your specific needs and workflow!