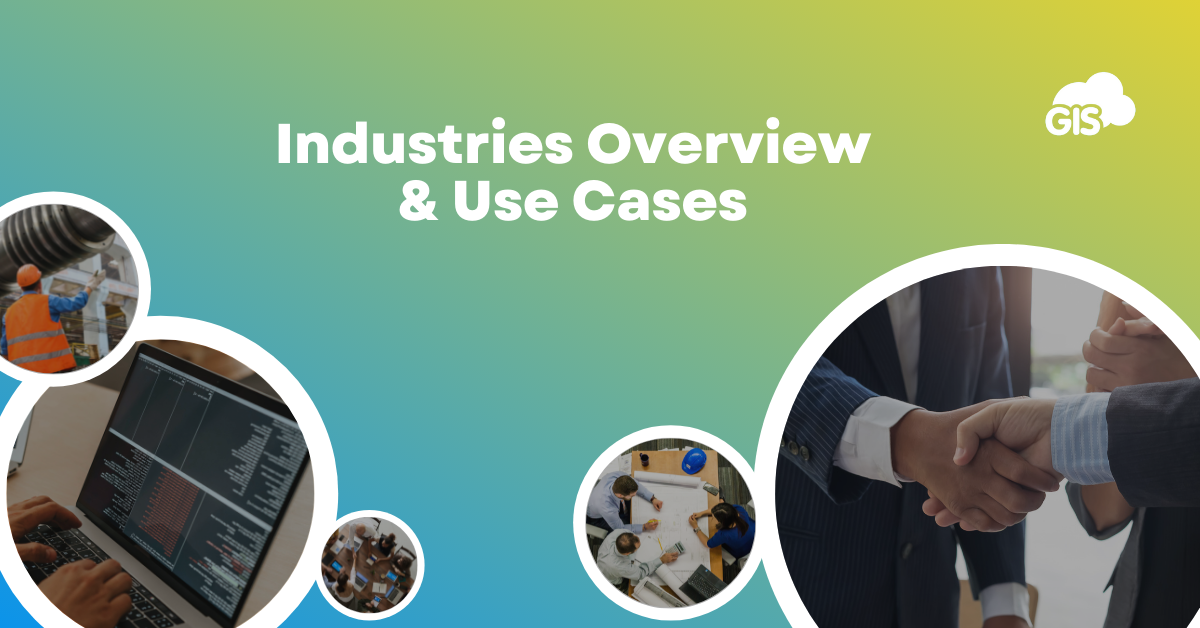 As we have mentioned in our previous blog post, GIS Cloud works with numerous companies and organizations worldwide, coming from different backgrounds and government bodies. With this blog post, we wanted to showcase the industries and use cases where GIS Cloud has been successfully used.


Check out this webinar recording on the benefits of the GIS Cloud platform and become one of our leading consultants in the world.
Government
Due to a need to improve their functionality in many segments, one of the recent trends in digitalization within local government infrastructures such as city councils, governmental agencies, and departments is the growing use of cloud-based software solutions. This particularly affects the planning, public works, and services departments that need to have adequate tools for data management.
GIS Cloud is used by government organizations and teams for data visualization (creating public maps with the data on infrastructure such as schools, hospitals, roads, parks, etc.) and collaboration within various departments (roadworks, urban planning and parcelization, park infrastructure, and management…). Having all of that on a custom map in real time
might be a game-changer in creating an effective future workflow.
Read more about the successful collaboration between
Lewis County
and GIS Cloud on their affordable public online mapping system.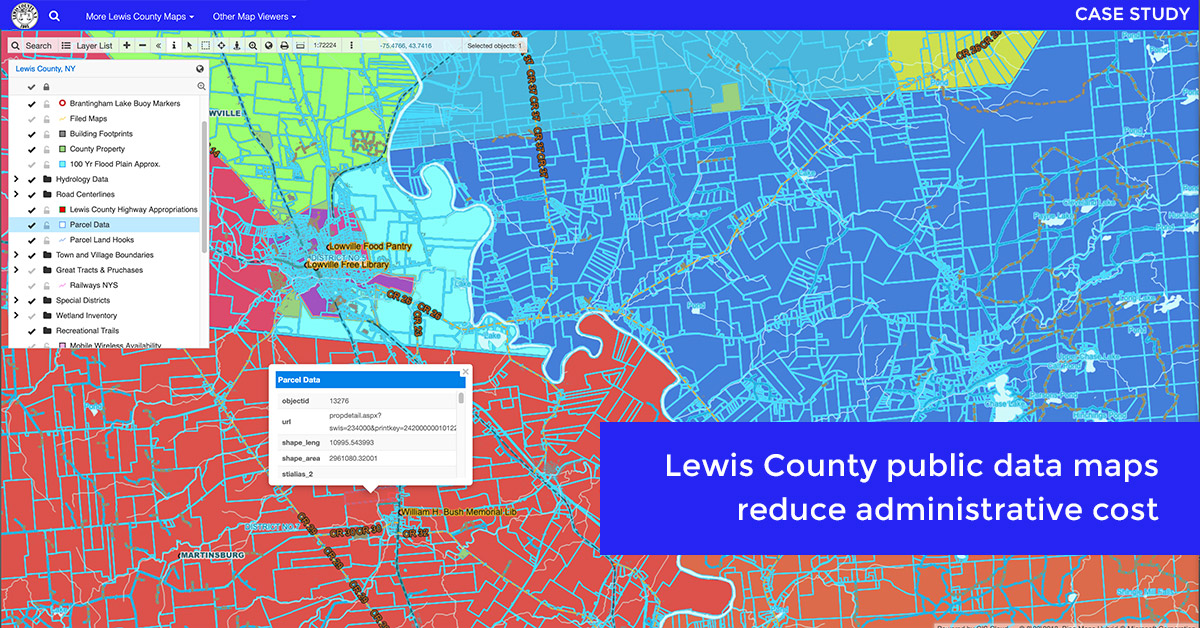 Civil Engineering

The many benefits of GIS technology have been recognized by the civil engineering industry and implemented in various projects. GIS allows engineers to pair data with geographic maps, allowing them to make more accurate and efficient decisions in their projects' planning and execution stages.

Examples of civil engineering projects where GIS Cloud technology is used range from evaluating land use opportunities and visualizing the impacts of the proposed construction to inventorying and monitoring assets.

Check out this interesting read about the InfraTrace project to find a simple solution for road damage analysis and administration in local communities in Switzerland and its integration with Microsoft Power BI.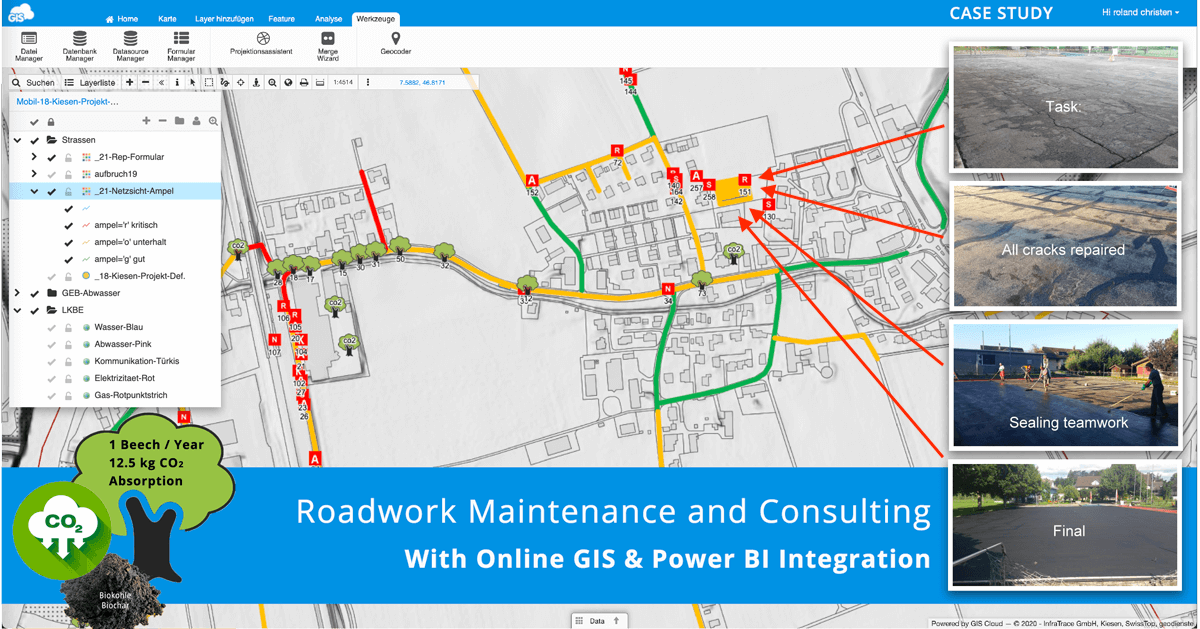 Vegetation Management

Vegetation management is important for arborists in forestry, urban tree management, tree inspections and maintenance, electric utilities, and other industries, to properly care for ecosystems and ensure public safety. In some regions of the world, some strict laws and guidelines require vegetation maintenance to comply with safety regulations and inspections. Managing vegetation and trees requires constant care to avoid potential utility threats and other hazards, like fires or invasive species.

This has made the vegetation management industry professionals and companies move towards new technologies and solutions for vegetation management that helps them optimize their workflow, reduce business costs, and empower communication and decision making.

Learn all about the GIS Cloud workflow for Vegetation Management in this article.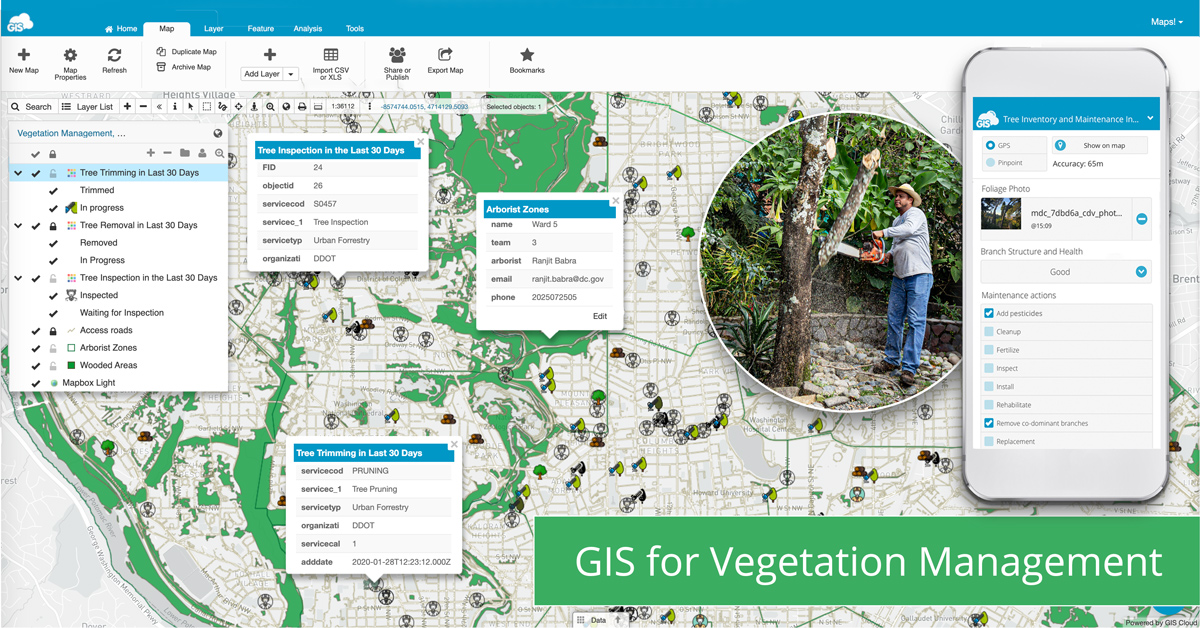 Water Utilities

Constant urban growth is an ongoing trend in almost every city globally. Rapid urbanization leads to the increasing development of underground and ground utility networks, which requires frequent and accurate inspection and a robust monitoring system.

The most significant challenge for public service providers is to acquire accurate and updated information on the location, characteristics, and the condition of water utility assets (hydrants, manholes, culverts, etc.). GIS Cloud technology makes monitoring the situation easier and managing maintenance activities for different water utility assets.

This study shows how the Liburnian Waters, a water utility company in Croatia, digitized field operations and implemented company-wide collaboration using the GIS Cloud platform. They also increased their efficiency and saved time on maintaining crucial water utility infrastructure.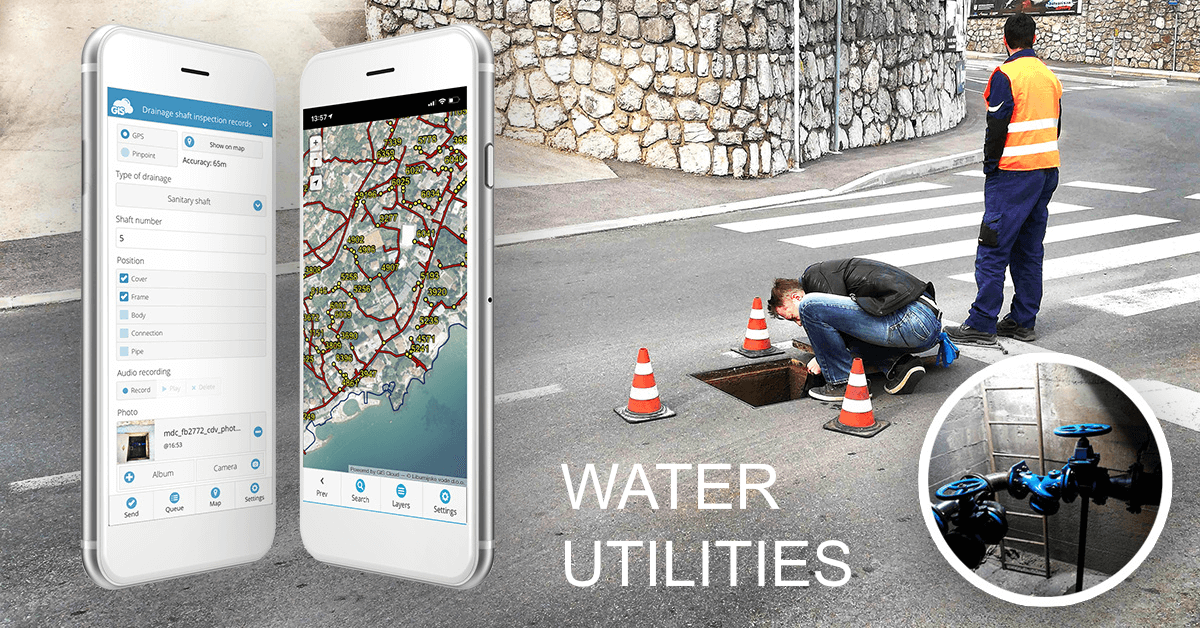 Electric Utilities

GIS technology is essential for electric utility companies. It provides the foundational layer of technology for effective asset management and regulatory compliance. Companies use GIS Cloud for multiple purposes, from managing field operations to performing spatial analysis.

For example, companies use maps to communicate their ideas, prioritize tasks, and create forms to collect the real-time status of infrastructure, energy consumption in an area, regular maintenance and reporting from the field, or potential threats to their grid such as vegetation or birds. Moreover, companies can include citizens' input to get more information about the area's needs and problems in energy distribution, transmission, or electric bills.

Learn how Enugu Electricity Distribution Company utilized GIS technology to tackle electricity theft in Nigeria.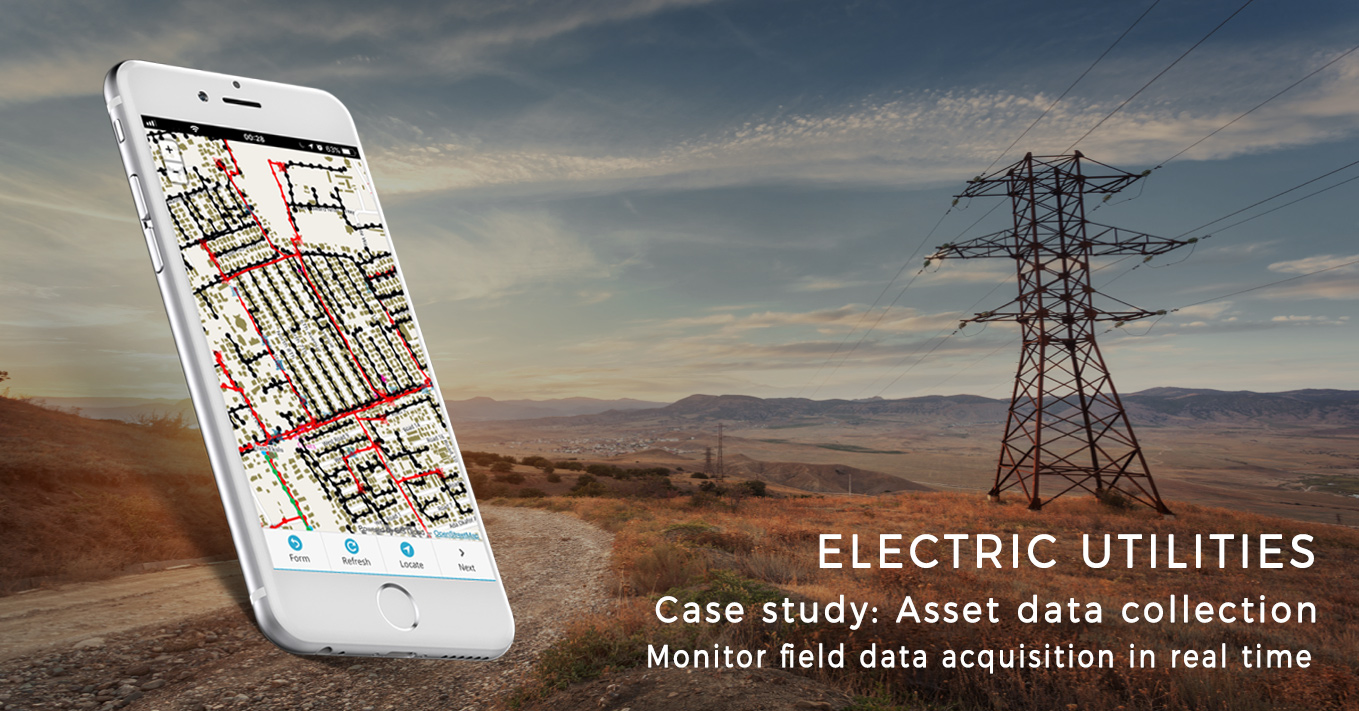 Roadworks

GIS technology has been enabling the Road Work Industry since its early beginnings. It is proven that the power of location enhances operational efficiency. Suppose you are a company in charge of maintaining traffic signalization, taking care of utility management, or simply a department within the company leading a field data collection project. In that case, an online GIS solution can be of great help for your workflow.

Online GIS helps you obtain data from different systems into a single, easy-to-use platform and maintain your assets in the most collaborative way possible by working together with teammates in real time, no matter the location, time zone, and device.

Learn more about how GIS Cloud technology for Road Work Management and Maintenance helps you improve field operations and budget planning.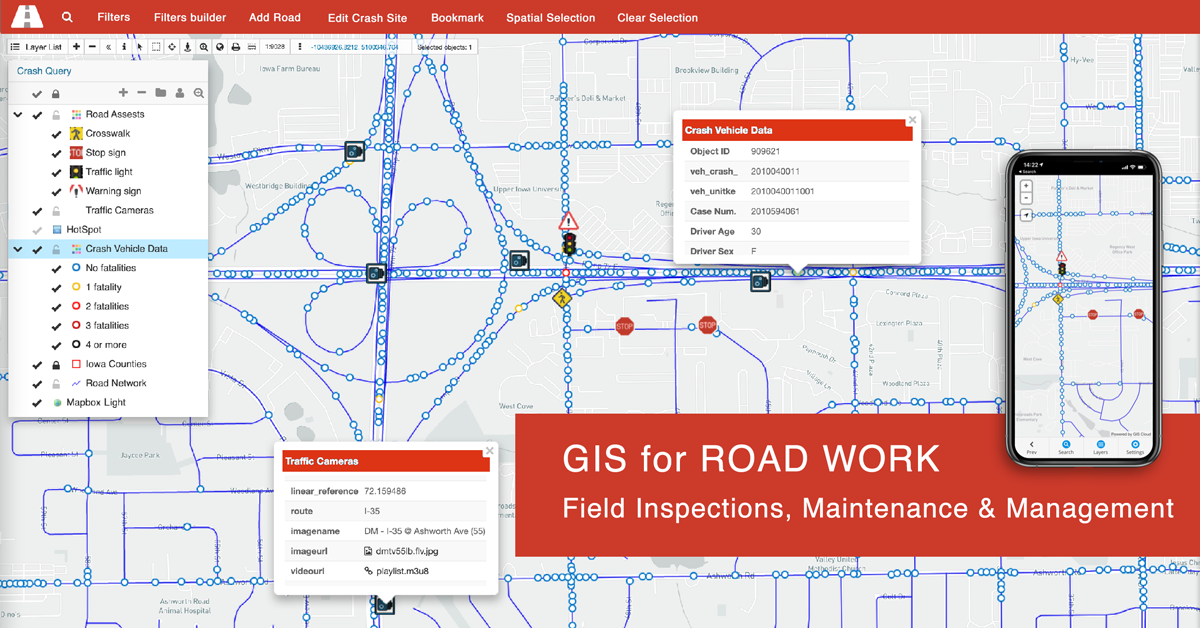 Contact GIS Cloud and be the first to target new market segments and enjoy the benefits of our partnership!