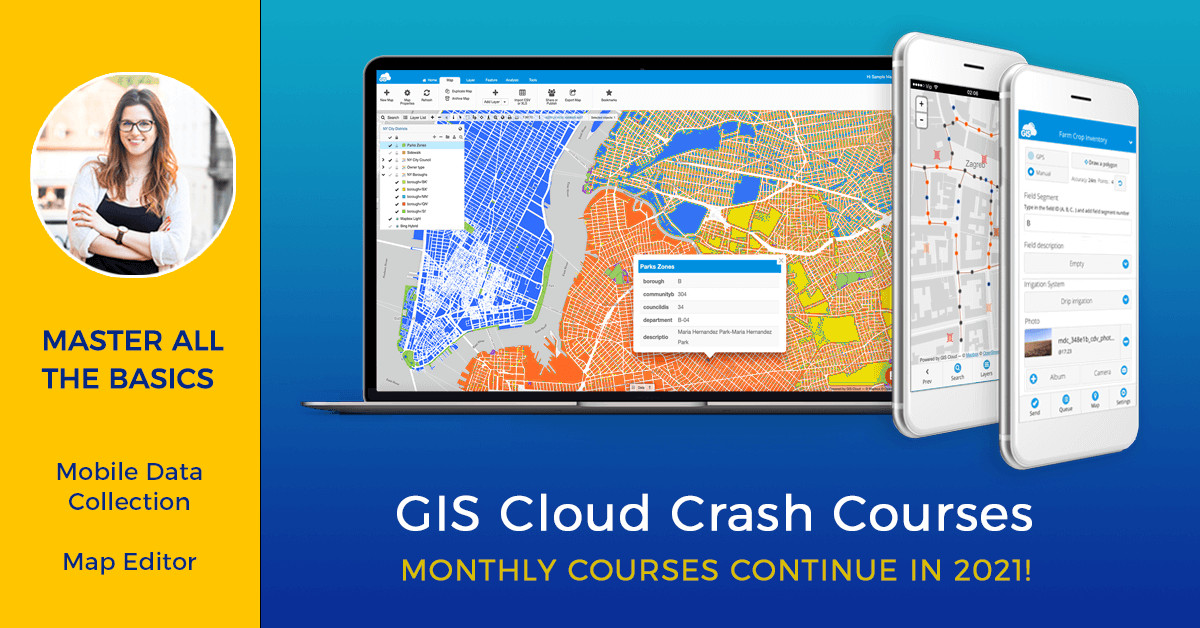 We are happy to announce a new series of Crash Courses in February, starting with:


Intro to Mobile Data Collection – February 4, 2021 – 3PM CET.
Intro to Map Editor – February 11, 2021 – 3PM CET.


The intention is to introduce the diversity of GIS Cloud apps to new clients. The courses are formed for beginners as well as experienced users, and demonstrate numerous beneficial workflows within the apps.

Even though GIS Cloud apps are user friendly, these courses will significantly speed up the onboarding process for new customers and discover some awesome tips to achieve an optimal workflow for your business.

Intro to Mobile Data Collection
This crash course will save you the trouble of finding essential information on your own and give you an immeasurable starting point on creating custom surveys and collecting field data with GIS Cloud Mobile Data Collection app.

The course will give you an insight into the complete solution for field data collection and visualization, tracking teams and jobs in real time, and enabling collaboration with colleagues. No need to export data, you can carry out your entire project using just one online GIS solution.


Intro to Mobile Data Collection Crash Course will be held on February 4, 2021 – 3PM CET.


Intro to Map Editor
This crash course will help you master the basics of creating maps with your data directly in GIS Cloud and making them available online privately or publicly.

Maps created in Map Editor will give you an excellent visual overview of the data, allow analysis and tracking the progress of mapping projects, as well as field data collection, all in real-time!

You will additionally learn how to share the maps with colleagues to collaborate (collect, edit and style data) and stakeholders who only require a quick overview of the data.

Intro to Map Editor Crash Course will be held on February 11, 2021 – 3PM CET.


All our clients can highly benefit from these courses. You will learn about basic setups and app functionalities. You will shorten the onboarding time and transform your company workflow from paper to digital!

‍All GIS Cloud clients that have annual or monthly active subscriptions for Map Editor and Mobile Data Collection can apply for onboarding guided crash course at: education@giscloud.com

Find more detailed info about the Crash Courses in our Learning Center!


Instructor-Led Learning Sessions

Courses are taught by an expert GIS Cloud instructor. Learning sessions emphasize best practices, encourage discussions and hands-on exercises.
Barbara Telebec
Solutions Consultant
As a GIS practitioner for over eight years and an expert in GIS Cloud technology and platform, Barbara specializes in empowering anyone to easily analyze, share and visualize spatial data for a wide range of uses.
She will help you to master any task using GIS Cloud apps to obtain optimal workflow for any short or long term project.
If you have any questions about the program, send us an email at: education@giscloud.com