In many parts of the world, farmers are still struggling to improve farming techniques and ensure profitable and efficient crop production. Environmental problems such as pests and diseases, cause big losses to farmers but are avoidable if using geospatial technologies.

Simplify your Crop Inventory and Crop Scouting process by collecting polygons with Mobile Data Collection app!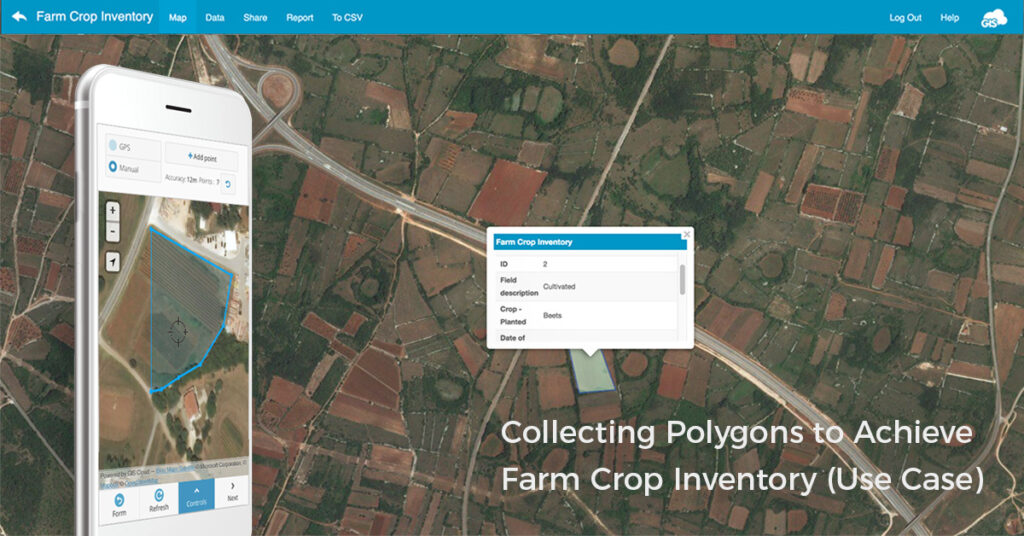 Farmers utilizing GIS technologies for precision agriculture
Precision agriculture helps farmers to ensure profitability, efficiency and sustainability while taking care of the environment. With Mobile Data Collection app, farmers can create a precise farm plans and inventory maps to distinguish and identify crop areas together with farming conditions. It provides farmers with a set of organizational skills required to efficiently manage farming resources and avoid unnecessary spending of harmful pesticides and herbicides.

In this use case, agricultural specialists and farmers will learn how to utilize Mobile Data Collection app to build agricultural cloud database where they can effortlessly query agricultural and geospatial information such as soil quality, fertilizer application, crop inventory, pests, ownership records and other related information. Farmers will learn how to keep track of the continuous changes in the fields and modify the data with updates instantly visible in real-time.

GIS and GPS are just one part of the precision agriculture technologies that help farmers manage their farmlands. Drone mapping is an excellent way to add value to the geospatial data. If you have NDVI images of your farms you can use it as a basemap for your field scouting. Farmers can combat the spread of pests by identifying critical intervention areas. They can draw a polygon area on a map to determine the exact areas with pest or weed infestations.
Up-to-Date Crop Inventory helps farmers maintain crop performance
The development of crop inventory database provides most important agricultural information as farmers can distinguish, map and measure crop areas and farming conditions to determine crop production forecast. Farmers can overlay information on a map such as moisture levels, soil quality, irrigation methods and overall growing conditions of the crops to estimate the crop production. Analysing the data is very important and most major food security programs rely on this type of information since they use it in relation to trade, development policies and other food security issues.  

The goal of this use case is to conduct field surveys of crop inventory to estimate the food production and assess production practices on agricultural land segments. Based on satellite imagery, field surveyors are drawing polygons and collecting information about the ownership of a particular land segment, the types of crops and the overall growing conditions in the same or different surveying forms. With Search function implemented in Mobile Data Collection app, agricultural specialists and farmers can search field owners and zoom directly to the position of their land. Search tool helps farm managers have a better insight into the type of crop and amount of product each farmer is producing.

Farm managers can create surveying forms for different types of operations in the field and share it with field surveyors. Whether you are performing field surveying, crop scouting, pest treatment control, irrigation methods or harvesting surveying, forms are instantly accessible on mobile devices and can be modified at any time without a risk of data loss. GIS Cloud Auto-sync feature checks if any changes were made to your forms and maps and notify you to prevent data loss. Even if the internet connection is not sufficient in your area, you can download the map on your device and collect data offline.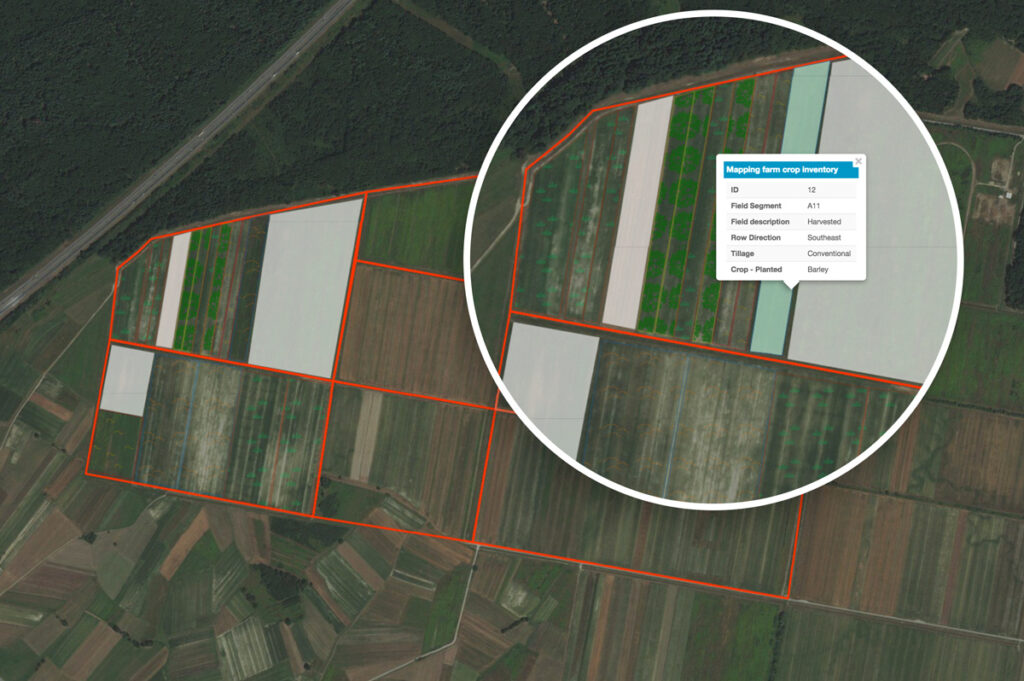 The data collected in the Crop Inventory surveying form includes:
Field enumeration information

Field segment ID,

Owner of the land,

Field manager,

Soil Sampling results.

Crop Inventory

Land type (agricultural and non-agricultural fields, empty and cultivated fields..),

Tillage method,

Irrigation method,

Crop planted,

Date of cultivation,

Crop condition,

Soil Nutrients,

Amount of pesticides,

Photo and other multimedia files.  
Field surveyors are collecting polygon layers and assessing changes in agricultural production levels and shifts in cultivation practices in every individual field. Field surveyors can update the last-years information and have more accurate ground observations on an interactive map before cultivating crops. Farming managers can organize teams for collecting new data or updating existing ones with different sharing permissions.

Farmers can combine results obtained from soil sampling inspection and use automatic GPS tracking or draw polygons where farmers used fertilizers, pesticides and herbicides to increase the agricultural productivity. This way, farmers know the right amounts of resources they spend on the different type of crop to improve soil nutrient level.

Farmers can analyze the farming conditions to maximize the crop outputs and to assure better management of available resources. With information about crop inventory and size of farm fields, they can distinguish and calculate areas of individual crop type and together with other agricultural information (growth condition, disease or pest control) assess the production of crops for the upcoming year.
Crop Scouting in the field and Pest Control
Crop Scouting in agriculture is a process of assessing the pest, weeds and diseases infestation on crops that directly influence crop performance. With precise GIS technologies, farmers can map and locate areas with pest issues and visualize them on an interactive map. With historical information about the types of pests and diseases attacking a certain crop, farmers can easily control interventions and prevent pests before they appear.

With the help of NDVI maps obtained from drone mapping, farmers can easily visualize the areas where crops suffer from stress and pest diseases. With NDVI images as a basemap, farmers can use Mobile Data Collection to increase the effectiveness of crop scouting. They can draw polygons were the greatest crop stress is noticed and intersect with information obtained from crop inventorying. Farmers can precisely determine which type of crop is most affected by which type of insect or disease and to view the amounts of pesticides used before or after the cultivation to make decisions for field treatments and better pest management.

The data collected in the Crop Scouting surveying form includes:
Pest Type,

Type of crop treated,

Type of pesticide,

Amount of pesticide,

Date of application,

Slope direction,

Wind direction,

Application method.
It can also help farmers determine whether the pesticides are needed for certain crops and fields, thus decrease the amounts of pesticides and economically distribute the resources. For example, if corn crops grow in excellent condition without the use of pesticides, it is a better financial decision not to use pesticides in those areas.
Complete Solution For Farmers
GIS Cloud solutions have already proven to be easy-to-use tool for farmers and farm managers of sugarcane plantations in Brazil. It offers a complete solution from creating surveying forms, sharing them with different permissions, collecting data both online and offline in the field, analyzing them in the office and sharing the results in private or public cloud apps.

Watch our latest webinar recording and learn how to set up your line and polygon projects, as well as how to use key features to boost your daily data collection and inspection.

If you want to try this solution and test it out, sign up here to begin your free trial.