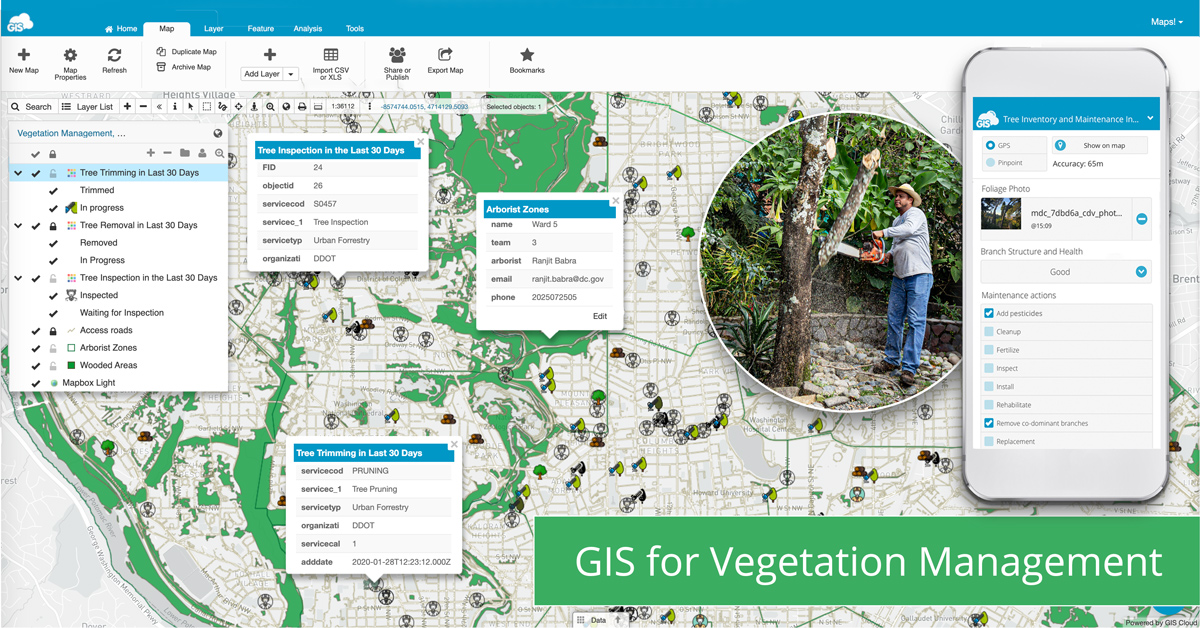 Every year vegetation management companies inspect vast amounts of areas where trees and different types of vegetation require care and trimming to avoid potential utility threats and other hazards, like fires or invasive species.

In some regions of the world, there are strict laws and guidelines that require vegetation maintenance to comply with safety regulations and inspections.

This can be a very challenging and demanding job. Numerous people working in the vegetation management industry, forestry, utility companies, tree maintenance and inspection companies, as well as arborists, move towards new technologies and solutions for vegetation management strategies and programs that will help them optimize their workflow and reduce the business costs.

If you find yourself challenged with extensive administrative and field paperwork, data accuracy concerns, difficulty to track field data and visualise it, you will find out how the Mobile Data Collection app can help you improve productivity in the field and cut down immense paperwork. Digital forms will ensure accurate data records even in offline conditions and real-time insight on a map including field reports and photos, all in easily shareable digital format.

We wrote about specific workflow in GIS Cloud on Vegetation Management For Electric Utilities, where you can find out more on how to tackle the delicate issue of maintaining vegetation around power lines and power grid infrastructure.

With Map Editor you will be able to quickly edit and analyse your data, and Map Viewer app will help you share all of the data with stakeholders and management. You will also learn how you can easily integrate cloud solutions with desktop GIS.

GIS comes in handy because it helps store spatial data and other information in thematic layers that are represented by the same symbology that suggests similar characteristics. All of this data is connected with the specific geo-locations (coordinates) which helps us see it spatially on a map.

Spatial analysis will bring you value and data insight on how to improve business operations and what long-term goals should be emphasised more. GIS powers and business decisions from selecting work routes, improving communication between landowners, fieldworkers, management, municipalities and the public.

We'll show you how GIS Cloud platform and applications will streamline the process for field operations, team collaboration and vegetation management by improving operational efficiency, risk management and reducing costs.
Table of Contents
How to Optimize Your Vegetation Management?

To transform your field and office operations, you need to understand what everyday challenges you and your team are facing, and how can you overcome them using an all-in-one solution that will increase productivity, allow operational visibility, improve project management and collaboration.
CHALLENGES IN VEGETATION MANAGEMENT

Poor visualization of field data

Lots of administration and field paperwork

Inadequate or non-existent data inventory

Low data quality and accuracy

Hard to keep track of the data

No previous GIS knowledge

GIS CLOUD SOLUTION

Mobile Data Collection

Map Editor

Map Viewer

Custom digital forms with different field options

Data visualization and analysis in real time

Great overview of data for project managers

Pinpoint tool guarantees the precision of data location

Planning the spatial distribution of vegetation

Data accessible from any device

Collecting photo and audio recordings

Highlighting features that need maintenance

Private sharing on the different access level

Map Portal

Navigate to a particular point of interest directly

Company or public access to data

BENEFITS OF GIS CLOUD SOLUTION

Quick, efficient data collection

Digitalization of data collection

Ensured data accuracy and quality, eliminating errors

Proof of jobs done to mitigate liability

Integration with desktop GIS solutions

Efficient team coordination and tracking of progress

Real-time overview of the data

Geo-located photo database
Why is it Crucial to Build a Digital Vegetation Inventory Database?

Carrying out massive tree inventories and subsequent tree care plans without a proper photo database, paper forms and reports can be challenging. Having a vegetation database is a requirement to perform any task, including maintenance, or inspections. The problems arise when the data is incomplete, inadequate or missing.

Creating a unique vegetation inventory with various terrain and ecosystems that interact with each other is challenging. Also, keep in mind that everything needs to be up to date with the latest regulations, data tracking, work supervision, budgets, and planning programs.

Managing vegetation maintenance and carrying out inspections on a large scale demands a software where you can store big amounts of metadata with accompanying geo-informations. Let's not forget that keeping track of your pictures in the photo archive can also be time-consuming.

GIS Cloud allows you to create, import and maintain geo-data a lot easier. It helps you produce and shape a properly mapped online-based vegetation inventory on one of the fastest map engines built.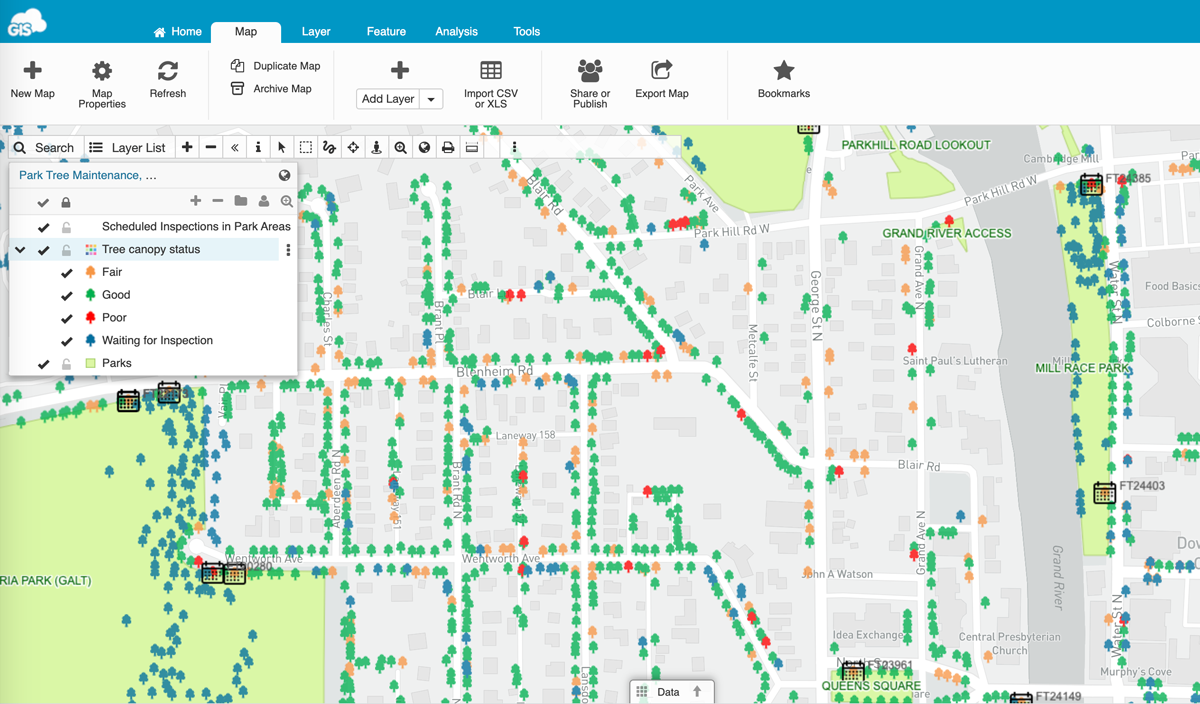 You can access the database to evaluate adequate sites for vegetation management plans and programs from any device anywhere in the world, at any time.

It's essential to have quality data of the assets condition to strategically plan the development of the project and ensure long term productivity.

Using online GIS will help you optimize your database, everyday workflow and reduce operational costs by answering:
When to schedule your vegetation maintenance?
Where to send your teams for vegetation management operations?
What specific work objective needs to be carried out?

Being able to inspect distinct layers with different data in order to analyse and cover more information about certain areas can be very beneficial. This overlay of data and imagery will give you a greater depth of knowledge and allow you to make informed decisions for long term sustainability of vegetation management.


Benefits Of Optimizing Your Fieldwork

The reality is that different vegetation grows at different rates. This increases the risk of unexpected things happening like storm tree damage, fires, unexpected growth, animal destruction, etc. All this can result in raising the costs of your project.

Mapping certain vegetation in advance will help perform better routine inspections for your field crew and efficiently improve field workflow.

Typical paper-based workflow has many drawbacks like complex inspection forms, uncredited photos, lost paper reports, additional data entry back at the office, etc. This can be an overwhelming and slow process.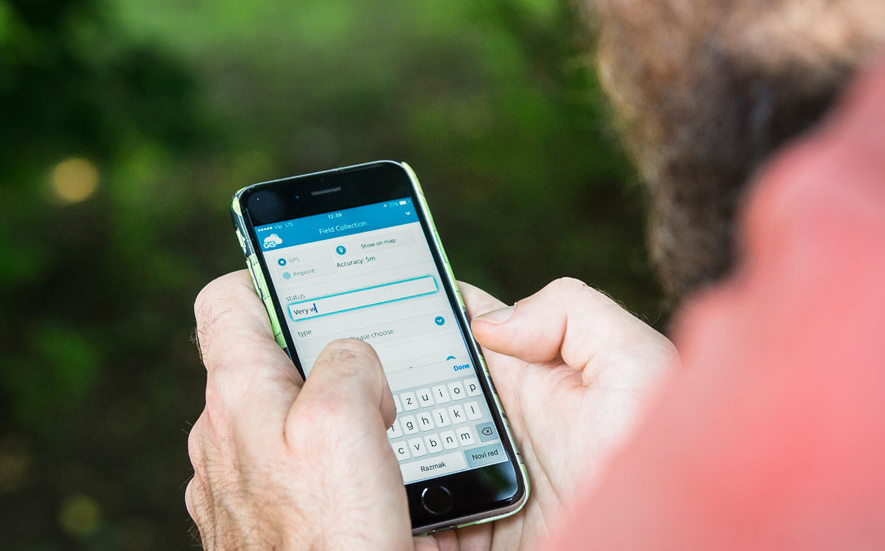 Online GIS apps will make your everyday workflow paperless and more efficient, providing a measurable structure for collecting relevant data and increasing its value.

To improve this, we strongly suggest to digitize your vegetation management workflow and this will help you significantly optimize your planning process and execution.
Replace your paper maps with our web application Map Editor and messy paper forms with Mobile Data Collection app.


Collaborate With Your Team in Real Time

To get the most out of GIS technology, it's best to connect everyone in the workflow:
field workers

engineers,

managers,

decision-makers

clients
Our GIS apps allow you to keep your data centralized, enabling everyone to collaborate over the same geospatial data.

When your field workers collect data, it instantly appears on the map allowing the office team to give direct feedback regarding the quality of data.

The management is able to track the productivity of individual operators and overlook the entire project in real-time.

When your particular project is done, you can share the data with clients or subcontractors. They can help predict the next phase or new planning solutions for your vegetation management project.

We'll get into sharing details and basic workflow with GIS Cloud apps in the next chapter.


Workflow For Vegetation Management With Online GIS
1. Creating Your Custom Forms For Mobile Data Collection

In our Mobile Data Collection Portal create a project. Name it, choose what you wish to collect, (point, line or polygon), add the form fields you need (text, number, photo etc.) and voilà, you are ready for data collection.

Your form can be customized with a lot of form field options that suit your project needs. Specify each field as required, read-only, persistent or autofill.

Also, you can create dependent fields that allow you to manage sets of dependencies between fields. If a rule that you have created for this dependent field is not satisfied, it won't be able to edit or view this field in the Mobile Data Collection app.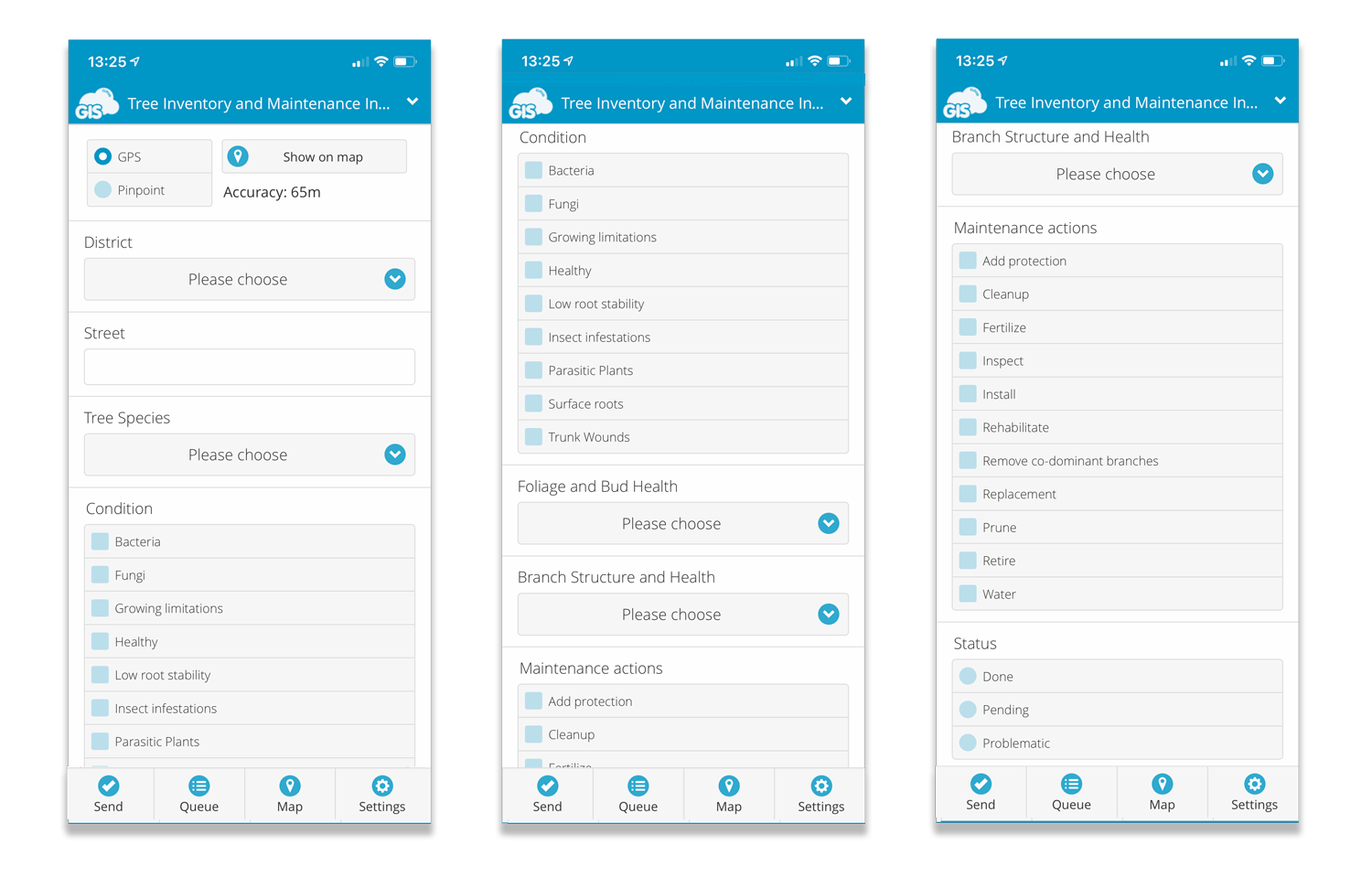 When your project is ready to see the light of the day, you need to share it with your field workers for data collecting. Just open the project and share it to a particular username with assigned project privileges (View, Share, Edit, Export, Collect and/or Update).
2. Collecting Your Field Data

Instead of using old, outdated paper surveys, it's time to start collecting data with the Mobile Data Collection app.

Save your team time and money, and instantly collect data like tree height, diameter, trimming status, pruning maintenance, necessary removal of trees, diseases and other vegetation variables using only your smartphone or tablet.

Choose the desired project, fill out the predefined form and press send. It's as simple as that.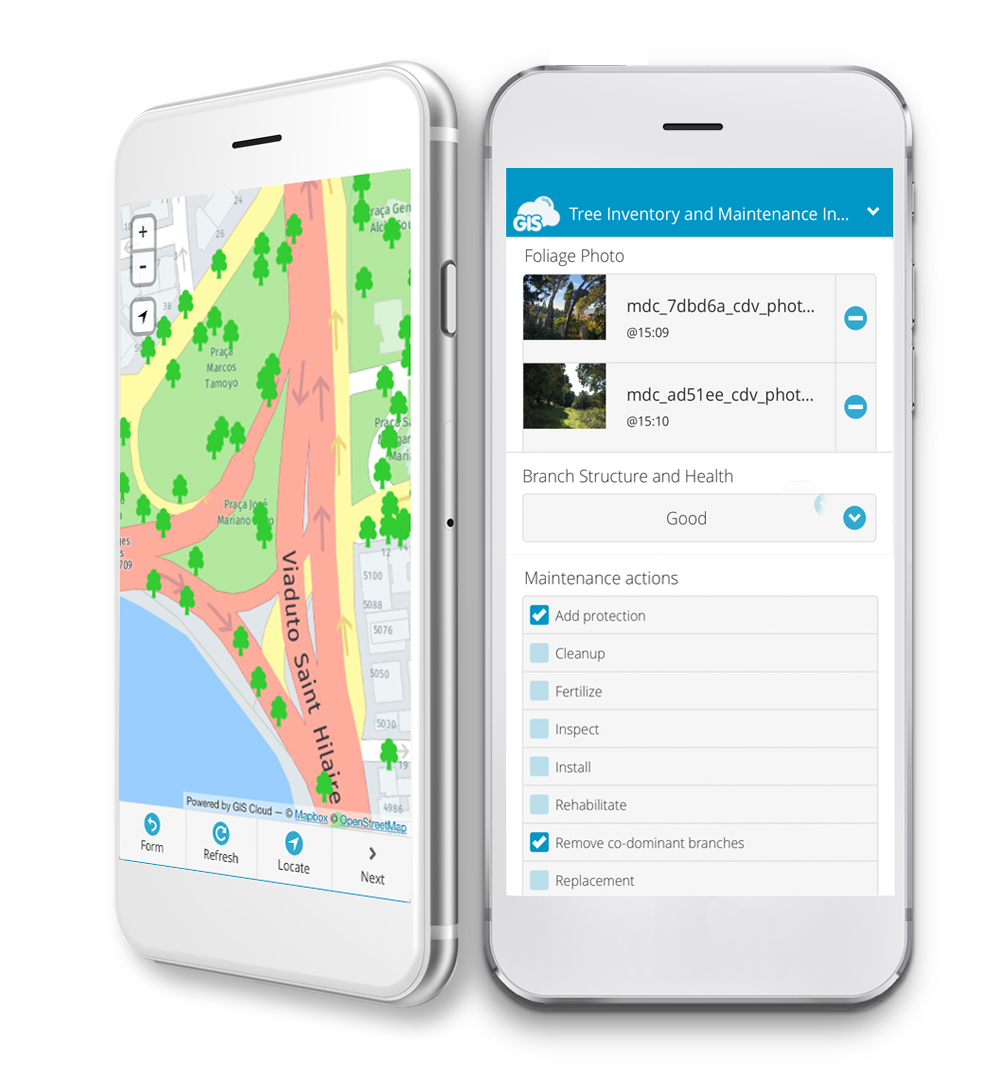 The data and the location will immediately display on the map. If you find yourself in an area with a weak GPS signal, it's best to use the pinpoint tool in the mobile app.

It allows you to retain great accuracy by pinpointing the location on the map.

Mobile Data Collection also allows you to navigate to a particular point of interest directly from the app using Google Maps.

The app works offline as well in case you lose internet connection. The collected data waits in the queue for the mobile phone to connect to the internet and then pulls the data back online.
3. Overseeing Fieldwork And Data Management

As we mentioned before, the data your field crew collected will be instantly visible on a map.
We recommend using our Map Editor for in-office tasks like editing field data, analysis, sharing maps and reports.

Managers and coordinators, as well as other staff, can view the data and edit it in a way that suits the current workflow and project assignments.

For example, areas around electric utility assets like power lines, trees located in a particular area, diseased trees, or those that haven't been trimmed can be marked with different colours and filtered on a map for public safety.

You can also highlight contaminated zones, and create heat maps of infected trees that can help detect a pattern of disease spreading.

Choose between different basemaps, create polygons and use various GIS tools that will help you visualize and analyse data in the best possible manner.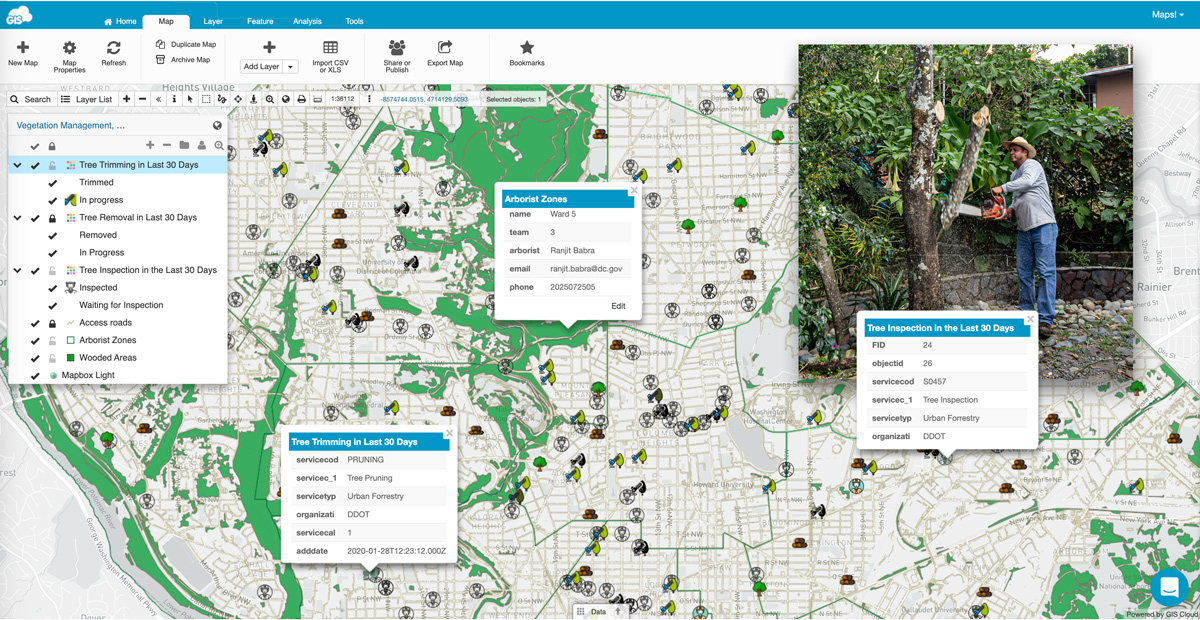 This can be achieved in a short amount of time even by users who don't have previous experience with GIS software.

Rich GIS symbology and built-in collaboration capabilities allow real-time editing and sharing of data that can also integrate easily with desktop GIS using our plugin for ArcMap and Publisher for QGIS.

With the help of online GIS, you can manage your assets and create custom reports from field data to address different vegetation growth rates, track area treatments and productivity of the team.

This will help you reduce the costs of inadequate operations and unnecessary on-site field inspections.
4. Sharing Your Data

When we are talking about spatial data, Dropbox, Google Drive, flash drives, or DVDs, make the process of sharing overwhelming, with scattered and unfiltered data everywhere.

To fix this issue, it's best to centralize all of the data by uploading it to the GIS Cloud database and share it to your colleagues who can use Map Viewer and Map Portal applications to access your data online privately or publicly. This way you can present your data to clients, subcontractors, management or public.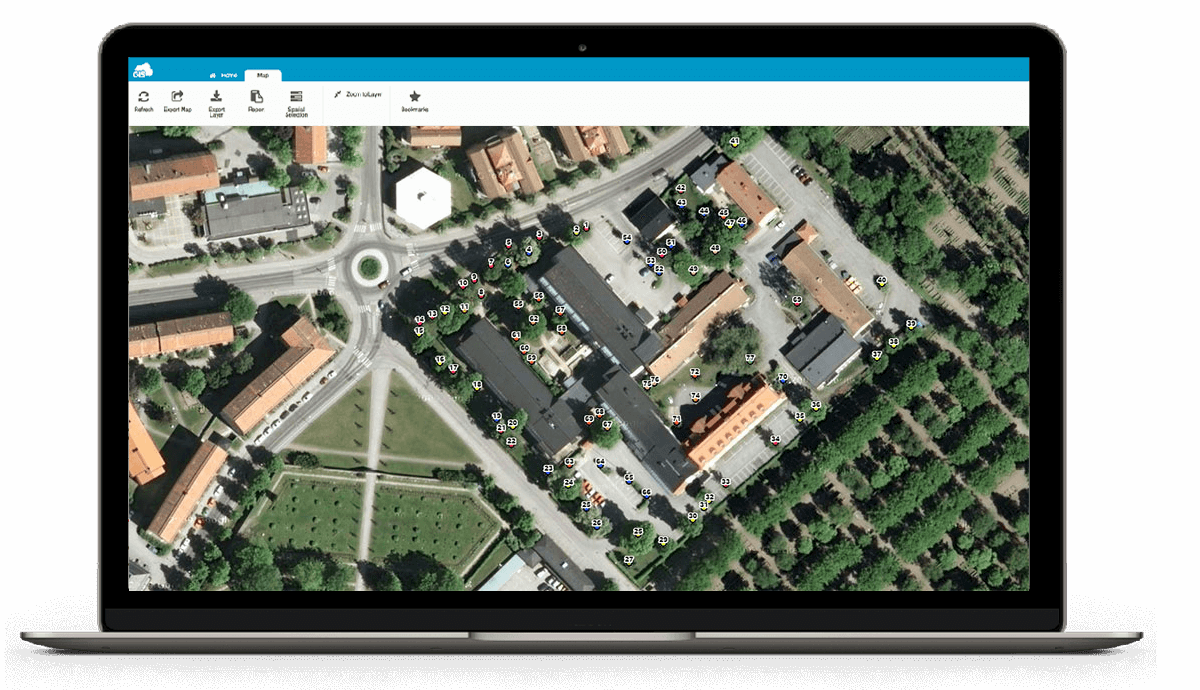 With Map Viewer you can access maps and data from any device at any time.

It can be customized and it's optimized for non-professionals and GIS experts. Everyone involved can have different access to the same dataset that can be filtered and exported for reports.

In case you are doing a community project and wish to open your data to the public or to your entire organisation, it's best to use the Map Portal. This app allows you to create an interactive GIS portal, customized, branded, and published on a separate domain.

With this portal, the public can search, visualise and explore the geospatial data with all the attributes and information.

There is no need to import or download the data to your computer, with GIS Cloud it's all accessible at request, online, in real-time!


Arborist Case Study: Improving Tree Inspections With Mobile Apps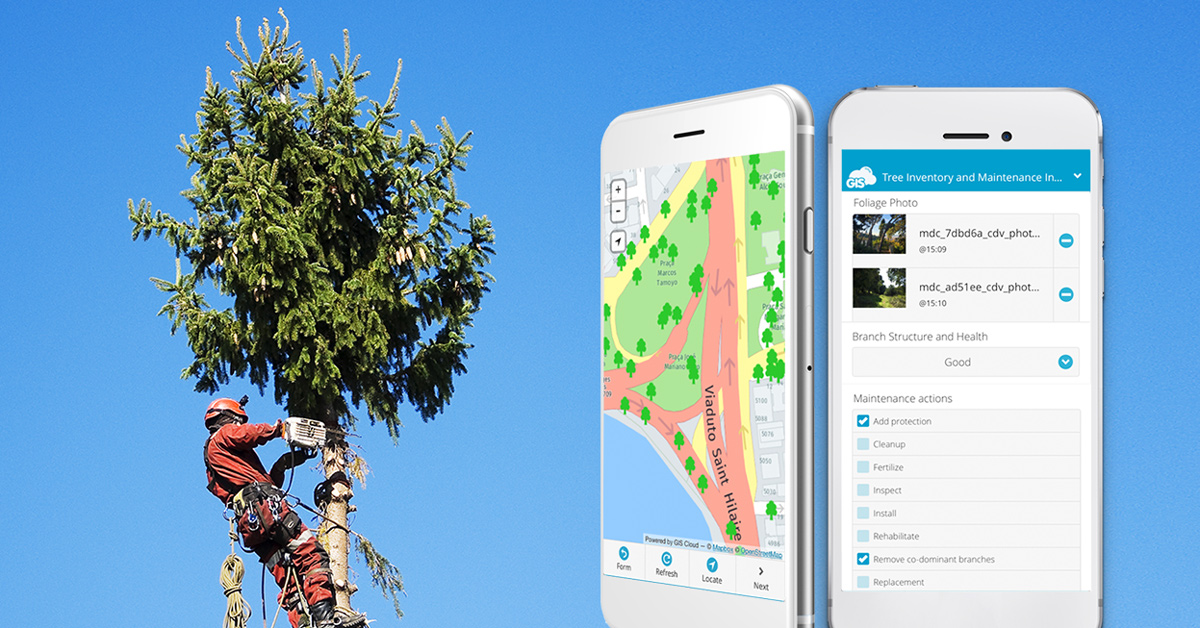 The easiest way to show the power of online GIS is to find an example in live practice.

We bring you an interesting case study from Vivaldi Arborist, a Swedish company that needed to improve tree inspection and tree inventory practices.

Vivaldi Arborist's had a problem with administration and messy field paperwork.

They were struggling with the updates and oversights of their field projects. Manually tracking photos from different places was time-consuming, and depending on GPS implied a tracking problem because of poor signals and satellite unavailability in certain areas.

They needed to find a fast and accurate software solution that would enable them to gather data quickly and reliably.In their case, the solution needed to have a neat photo database to follow up all the tree injuries and other visual information which may prove valuable on a map.

Also, mobile GPS function needs to be precise and reliable even in situations where the signal is weak and satellites unavailable. Vivaldi Arborist's wanted to overcome a bunch of specific problems and it seemed impossible to leverage them all with only one solution.

However, GIS Cloud platform offered them a customizable online solution for tree inspections.

With the Mobile Data Collection app, they solved the problem of everyday tree data collection, tree maintenance and inspections, with the possibility to take proper photos with geo-location and pinpoint the precise location in case GPS location is not available at the moment.

They improved productivity in the field by cutting down the paper-based inspections simultaneously caring for the environment.

All collected data is accurately visualised, analyzed and monitored with the Map Editor web application so the managers can propose new urban tree programs and tasks, and clearly convey pieces of information to avoid mistakes and misunderstandings.

My workflow is much more efficient when using the GIS Cloud as a basis for my quotes and work orders and collection of all field data. I find that a picture or map, in this case, speaks louder than words. GIS Cloud has allowed me to streamline the administrative side of workflow which allows me to work more effectively and provide tree care of a higher quality."

– Sean Grant, Vivaldi AB
Overall Benefits Of Using Online GIS In Vegetation Management

Why should you optimize your vegetation management process?

There are many benefits aforementioned in the article, but the key benefit is predictive analytics that will help you modify actions and operations of your vegetation management to be more effective and reduce future costs.

You will be able to identify and rightly schedule all the field and office activities in conjunction with cost optimization and customer reliability.

With online GIS, you bring a visual language to stakeholders and workers, improve communication and help prepare the plan on how to display your project progression and results.

Using a specific location to communicate your ideas and solve issues on the spot gives you a strategic advantage.

GIS Cloud apps and platform will help you:
Build cloud-based vegetation management inventory

Improve reliability by tracking the project progress and vegetation treatment in real time

Cut down paperwork and administration

Review work KPI's and adjust plans accordingly

Ensure work and public safety by tracking tree incidents and minimizing the damages

Clearly convey information and data to avoid mistakes and misunderstandings

Reduce costs by tracking workflow progress and optimize work process

Share data instantly with your customers, stakeholders and management

Overcome any GPS and online issues by pinpointing and offline data collection

Be in track with regulations by representing restrictions on maps with different colors and symbology to help field teams with restricted areas, animal habitats, tree violation areas etc.
Using GIS Cloud as the go-to solution will improve managing your assets in a variety of terrains and empower field communication and decision making

GIS Cloud is fully scalable, pay for what you use online platform with no desktop installation required.

You can easily scale your app subscriptions at any time per your project needs, get new subscriptions or downgrade if your project scope changes.

If you are interested in using GIS Cloud for vegetation management projects, Sign up for the free 14-day trial.

You can also contact our Solution Consultants to help you set up a desirable, customized GIS Cloud solution for your specific needs and workflow!