With Power BI and GIS Cloud Integration InfraTrace follows the everyday success of their Roadworks Maintenance projects and InfraGreen-Biochar projects throughout the years.
They use Recycling Asphalt Binder as a valuable material for road maintenance and they have also developed Biochar, an effective way to reduce CO2 emissions.
They empowered team communication and collaboration with the main focus on an appropriate representation of information and data to municipalities they work with!
This is their success story on how they provide GIS services to their clients with the help of the GIS Cloud platform!
Table of Contents
Providing GIS Consulting Services for Roadwork and Wastewater Industry
InfraTrace is a Swiss-based innovation consulting company in building construction, concrete prefabrication, electrical engineering, wastewater technology, civil engineering, and road construction. InfraTrace's main focus is on the data model. This means that they implement the appropriate representation of information flows and inventories to municipalities. With Switzerland's high investments in infrastructure, practically every company today has to make core information visible to the public.
After 31 years of consulting in industry and services in 2016, InfraTrace received a project to evaluate a simple solution for road damage analysis and administration in local communities in Switzerland.
Switzerland has 52 000 km of roads in local communities and all maintenance ought to be paid with local taxes. Approximately 10-15% of these roads are in bad or very bad condition.
InfraTrace had a general idea on how to gather all of the spatial data to understand the condition of these roads.
They wanted to combine Microsoft Excel for data gathering and Google Maps for GPS locations. After extensive research and about 35 operational surveys, the team realized that Google Maps and Excel will not be sufficient enough, and the implementation procedure was far too complex and time-consuming.
During the evaluation of numerous mapping tools, they came across several popular software like QGIS and Trimble Terraflex, but they didn't offer them everything they needed so integration with GIS Cloud was a great solution to implement, especially with QGIS.
Also, the people working within the local communities that help with the projects lack tech knowledge and had difficulties understanding the stated tools.
In the Summer of 2017, InfraTrace discovered the GIS Cloud platform. Immediately they realized it was the right combination of mapping tools and spatial data administration for their projects. The adaptation process to GIS Cloud was very easy and user-friendly amongst the people in local communities.
The main key point was clear and fast-forward connection between the mobile devices and real-time data transfer with the Mobile Data Collection application. Mobile Data Collection will help replace messy paper forms and provide clear communication and fast-acting between teams.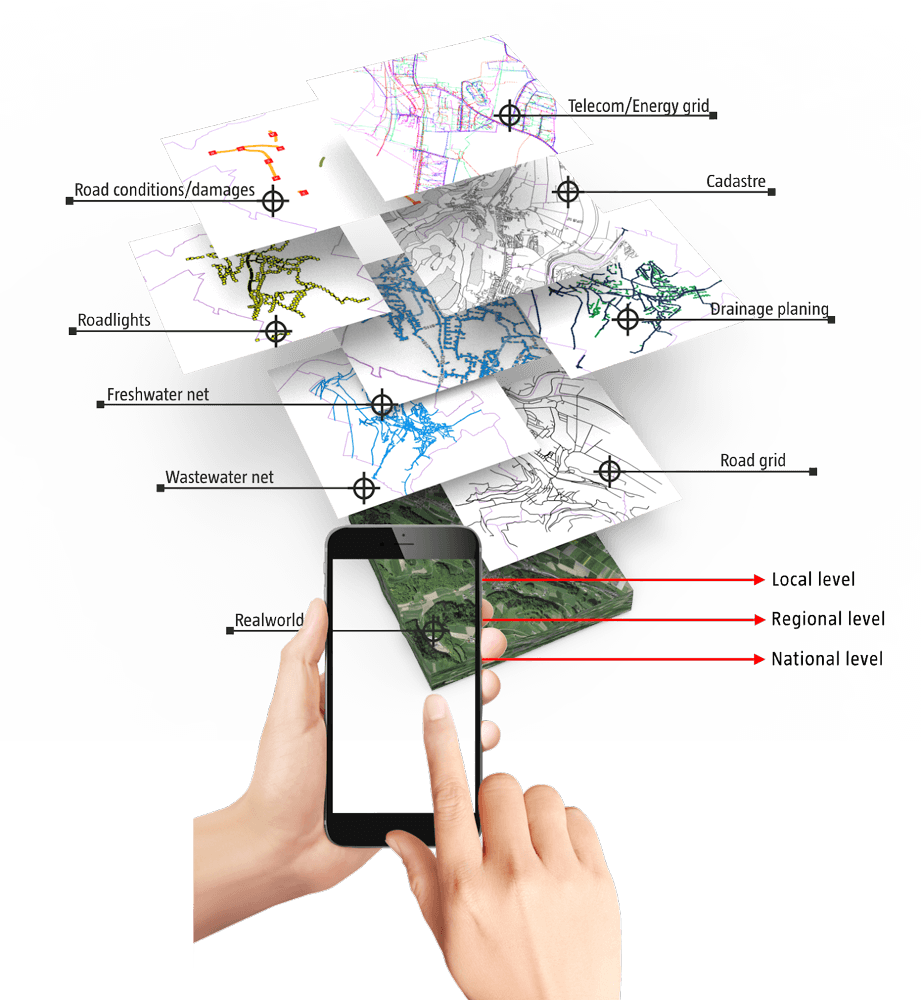 With a single mobile application – Mobile Data Collection app (MDC) you can intersect different project layers in one map to collect and visualize all of the necessary data.
Digitization of the Infratrace Project with Online GIS
Infrastructure maintenance is one of the most important future responsibilities in the roadworks industry. This relates particularly to the road life cycle, freshwater, and wastewater facilities.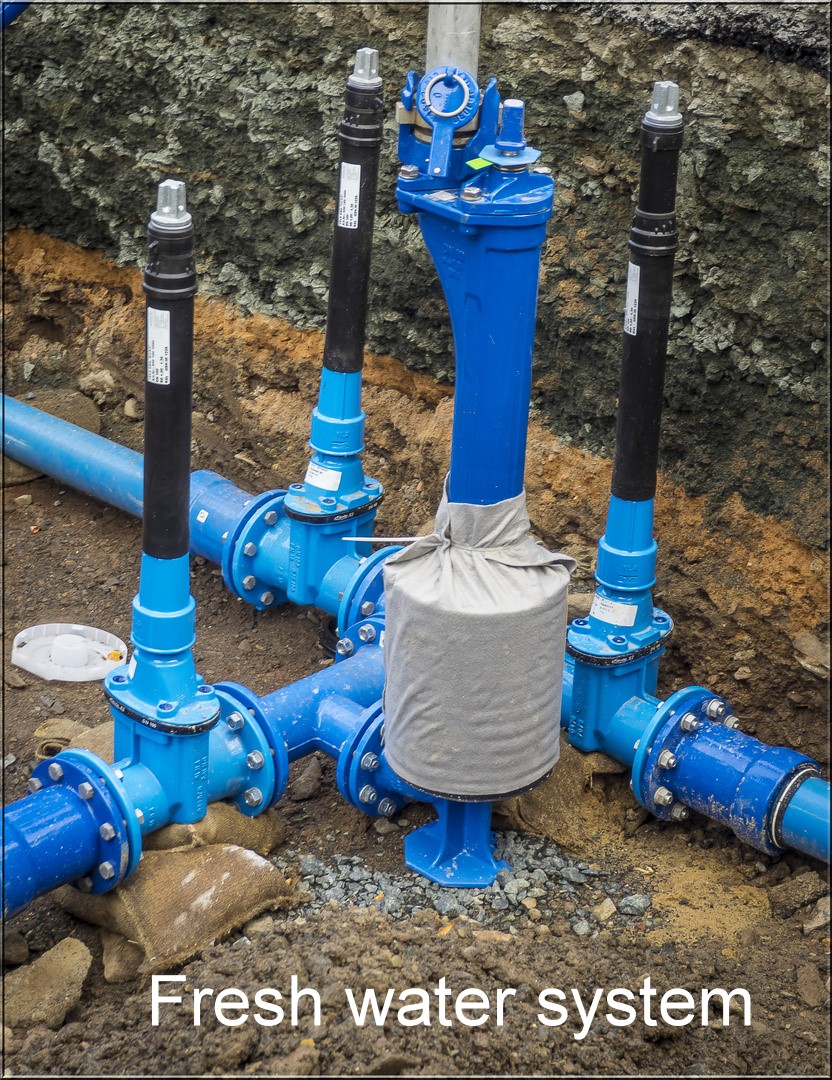 A huge amount of taxpayer money in Switzerland is used by the government for funding infrastructure maintenance. About 2-4% of the money is depreciated annually for this.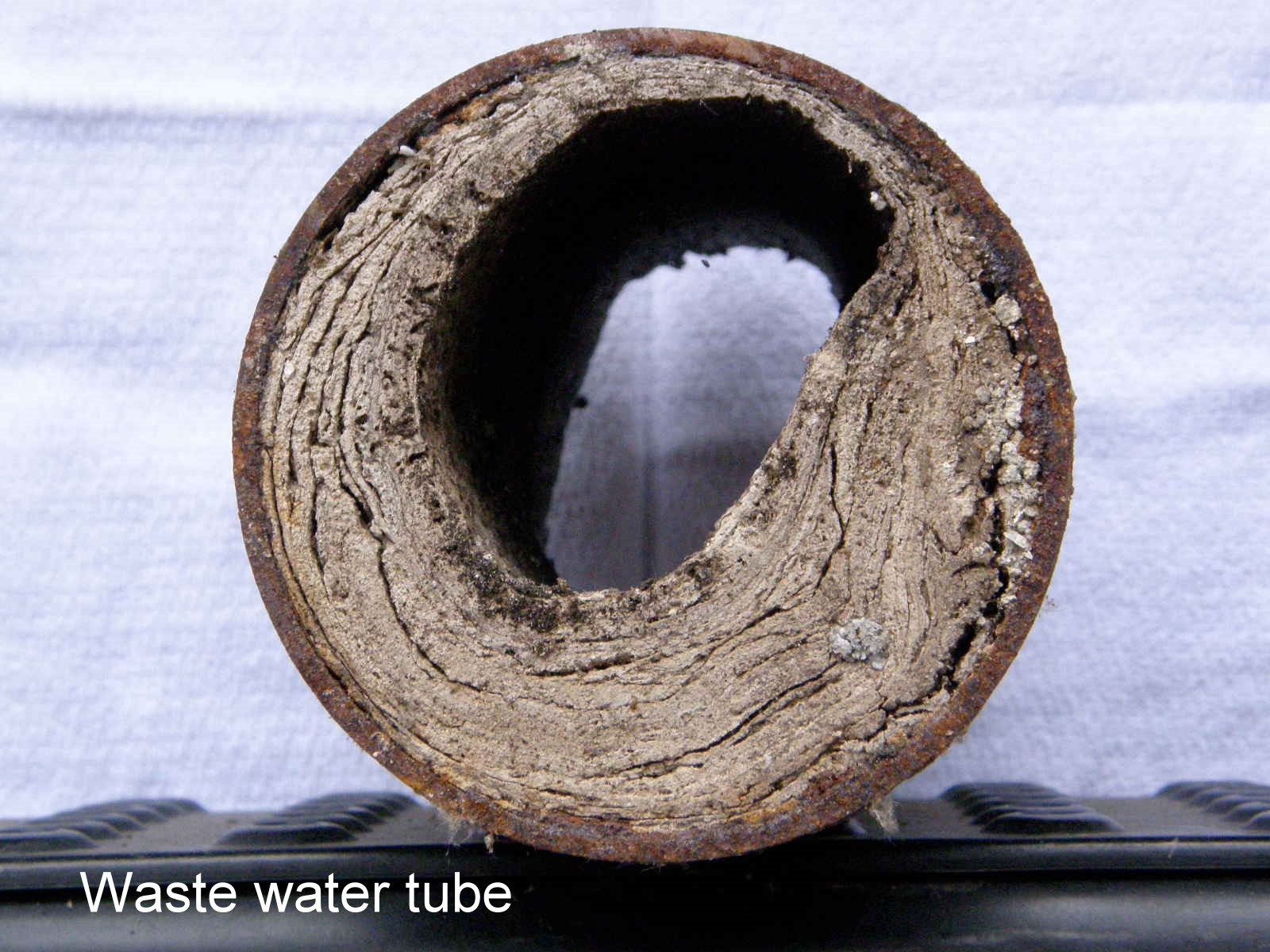 Wastewater tube when not properly maintained
To conduct serious work and take control of the action of their assets, InfraTrace needed an accurate inventory. To perform any tasks and carry out plans it is important to have a proper database inventory of actual conditions and values of the assets.
With the help of Online GIS, they could do this. Some parts were already in digital form. With several OGC services like WMS or WFS, they were able to integrate all of the required spatial data into a custom smart map. Also, with a simple drag and drop method, you can import sources like Shape-files, KML, DXF easily into any mapping project you create.
It's essential to have quality data of the assets condition to strategically plan the development of the project and ensure long-term productivity. Part of InfraTrace services is guidance and advice on new maintenance and repair technologies for road damages. They provide this for numerous local communities to help them with cost optimization and budget planning.
In the video below you will find out how InfraTrace built a collaborative digital workflow with the help of GIS Cloud!
Watch Video – Collaborative Digital Workflow for Roadwork Maintenance
Power BI and GIS Cloud Integration
InfraTrace usees Microsoft Power BI with the exported CSV data from the GIS Cloud's Map Editor. All of the data your field crew collected will be instantly visible on a map with this powerful web application. It is best for in-office tasks like editing field data, analysis, sharing maps and reports in real time.
All vital data comes from the GIS Cloud CSV export that goes into the Power BI. Together with additional formulas in Excel, they produced a nice live-calculation tool. When they add new values in the map and export the actual state when they import it back into the Power BI it automatically updates. They call this the InfraReport.
In this video, you will find out how InfraTrace integrated Power BI with GIS Cloud to enhance the project data even more!
With integration, InfraTrace created a great tool for any type of calculation, filtering, and visualization of feature attribute data from their smart-custom maps in Map Editor. It can also work as a stand-alone tool for any kind of data from Excel, CSV, Databases, etc.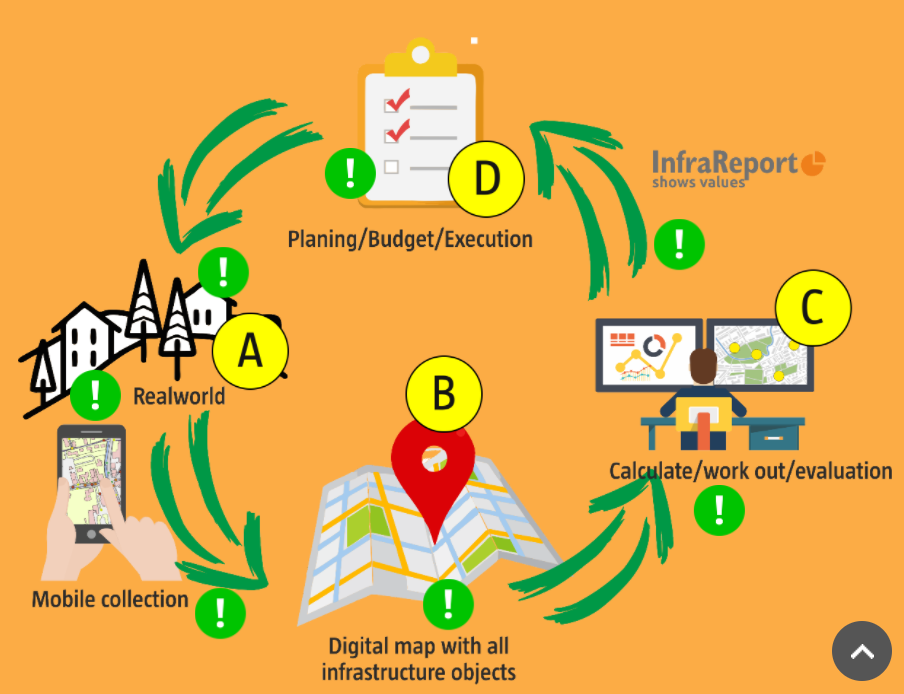 The Roadwork Maintenance Cycle
In 2020, InfraTrace started with Recycling Asphalt Binder (RAB) project. Millions of tons of asphalt go to waste every year. Recycled asphalt presents a very valuable material for any type of road maintenance.
They performed many tests in the past using up to 50% of RAB in repairing potholes and maintaining road infrastructure. Today, they proudly use 100% RAB on their projects and it shows the same stable behavior as regular asphalt.
During the research for RAB use, InfraTrace came across Biochar. It is an effective way to reduce CO2. Plants breathe in CO2, which is normally exhaled back into the atmosphere during decomposition. When you bake organic matter at sufficiently high temperatures, you convert up to 50 percent of the CO2.
The Biochar is fixed inside the mortar and gives it benefits in physical and chemical behaviors. Combination between RAB and Biochar, they call the InfraGreen.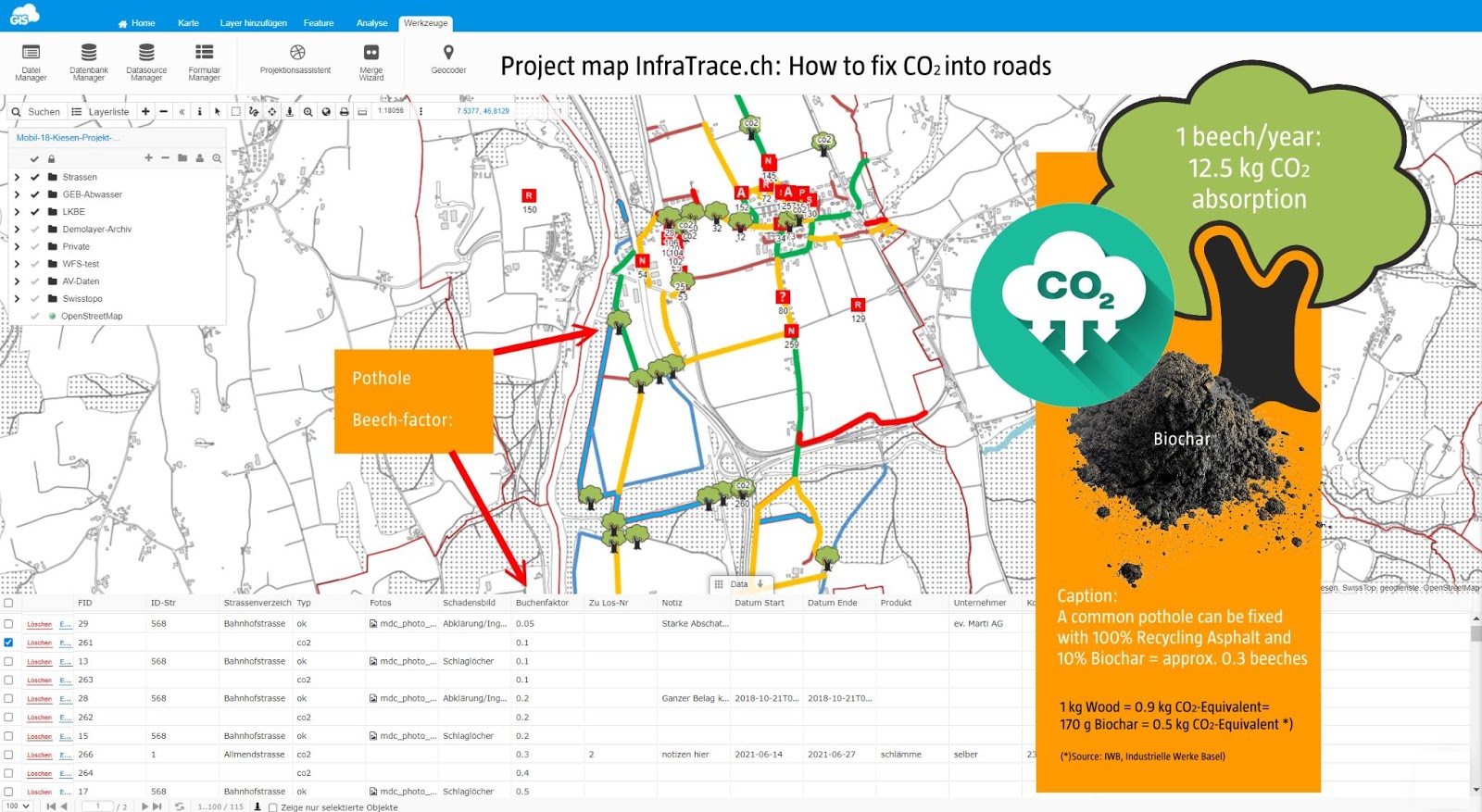 The map shows potholes fixed with 100% Recycling Asphalt that contains Biochar – InfraGreen project
The Benefits Of Mapping Analytics
InfraTrace had difficulties with motivating local communities to transform their everyday operations from unnecessary paperwork to digitizing their workflow.
It is like switching accounting from paperwork to digital. Account managers store tiny paper notes in a "shoebox". All these notes need to be put together into one big account. When this is not done regularly at the office, it tends to be a boring job!

Roland – InfraTrace
The general meaning of the term "Infrastructure-Management" was hard to explain to the locals. There is no particular definition. Generally speaking, for InfraTrace, it is following a workflow, which combines a part of Facility Management, a part of Enterprise Resource Planning (ERP), and GIS with Greentech.
When it comes to using GIS, simplicity is the key!
InfraTrace said that implementing GIS into everyday business workflows is essential for risk-informed job planning and prioritization. Without mapping, there is no chance to get the full picture of the actual state and changes of the assets in the future.
They needed a GIS platform where they could build different types of workflow levels for their staff:
Simple surveys in a mobile app for field workers

Admin staff that collects, filters, and completes field data on desktop computers

Super Admin for any kind of import/export, database, form building, spatial aspects like

projections etc.
With GIS Cloud there is no limit to show relations on a map and bring spatial data into a perception that is accessible and visible in real time!
InfraTrace built the workflow with local communities from scratch. Field data collection was achieved with Mobile Data Collection App and editing, calculating, and analyzing the data was obtained with the Map Editor web application. They transformed the everyday workflow into a paperless, efficient, and measurable structure for collecting relevant data and increasing its value.
All of this can be done very intuitively in GIS Cloud. Somebody with competence in CMS architecture for website building can start working with GIS Cloud very easily.

Roland Christen- InfraTrace
With Online GIS, InfraTrace connected everyone in the workflow, from local communities to decision-makers. They centralized the data enabling everyone to collaborate. Now, they can visualize on a local community map the state of any road infrastructure and assets, bringing a clear visual language to the team.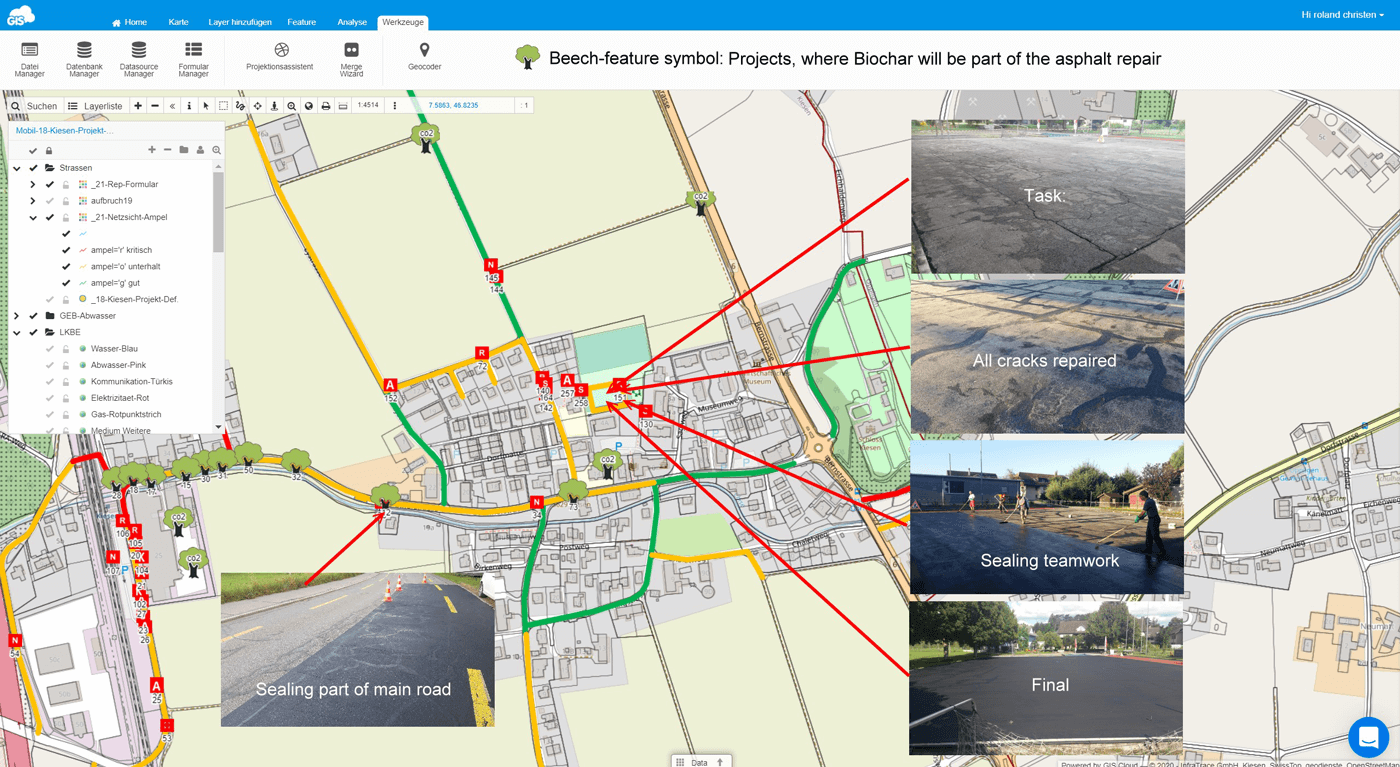 Beech tree symbols represent where Biochar will be a part of the asphalt repair.
With custom smart maps, planning and coordination can be done more effectively by identifying and rightly scheduling all of your activities to decrease unnecessary costs. Using a location to communicate the job and solve issues on the spot gives you a strategic advantage!
Results of GIS Integration Within Local Communities
InfraTrace can say now that they are actively working with 6 local communities by implementing the GIS Cloud into their workflow! They get positive feedback from satisfied customers confirming that every community has the same goal:
safe infrastructure

rightly invested tax money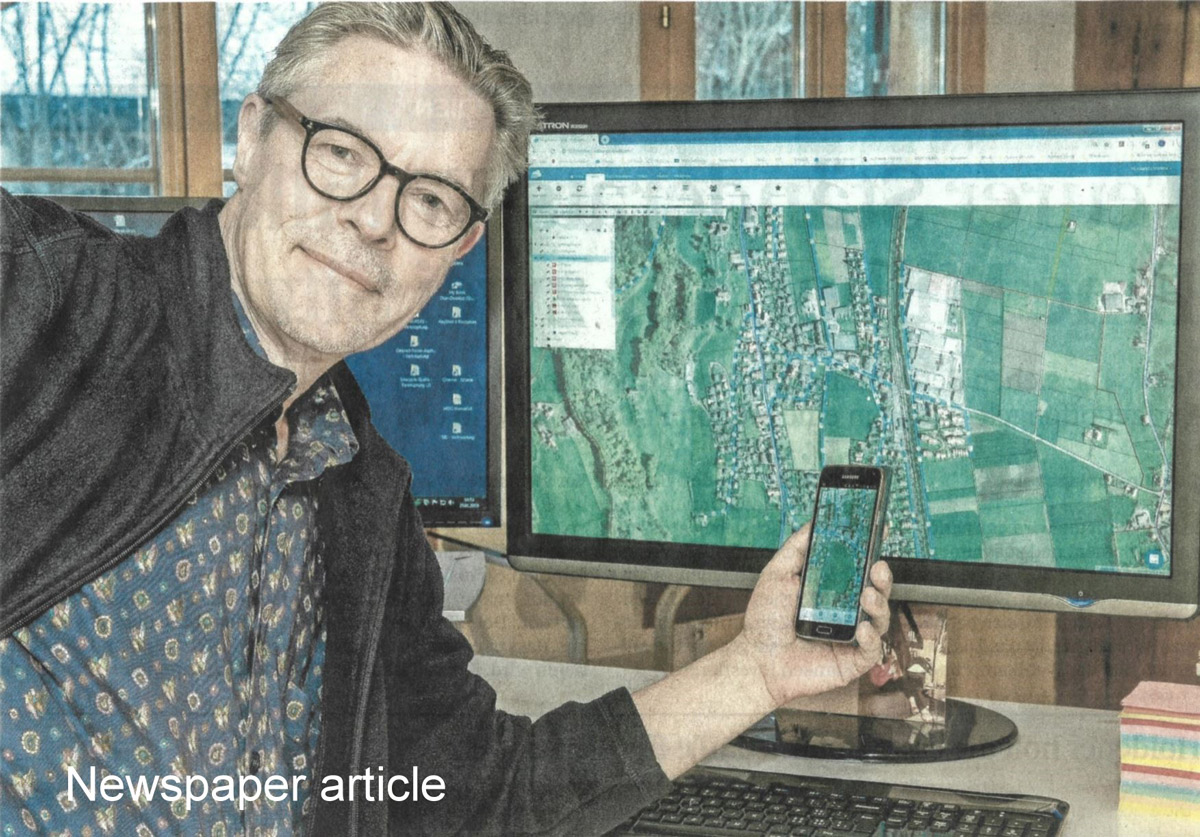 Roland Christen, InfraTrace, with the GIS Cloud system
Without GIS, all related work has no general overview. Period!

We use GIS Cloud for simplicity, countless mapping possibilities, and their staff competence for any kind of support we need.

Roland Christen- InfraTrace
InfraTrace built a cloud (online) database inventory to cut down the paperwork and administration to ensure transparent road work and public safety.
With the help of the GIS Cloud platform, they built a framework for collecting, managing, and analyzing spatial data. The data is combined with the infrastructure field condition and is always available in real-time!
We especially want to thank Roland Christen for providing us with this great case study and InfraTrace workflow and map photos!
Using GIS Cloud as the go-to solution improved InfraTrace's asset management in a variety of terrains and empowered field communication and decision-making between teams.
GIS Cloud is fully scalable, pay for what you use online platform with no desktop installation required.
If you are interested in using GIS Cloud, Sign up for the Free Premium 14-day trial.
Also, be free to contact our Solution Consultants and set up a desirable, customized GIS Cloud solution for your specific needs and workflow!