The District Council of Mallala is located in the Australian state of South Australia about 58 kilometers north of the state capital of Adelaide.

The name is thought to be derived from the Kaurna word madlala or madlola, meaning "place of the ground frog". Though a small community with a population of around 800 people the Council keeps pace with the technological progress and modern solutions for solving district issues.

They required a more innovative mapping solution that would help them implement the appropriate field information and assist with the following projects:
Road Infrastructure Collection and Maintenance
Road Signage abiding by Road Legislation
Project Management
With the road infrastructure collection and maintenance project, the Council wanted to collect the data on road infrastructure with tablets and smartphones in real time. Additionally, they wanted to have an option to update the condition of the collected asset on the spot.

Finding a way to capture road sign information to satisfy legislation requirements and the ability to update the sign by any staff member on the spot when required was crucial for their workflow.

Last but not the least, they needed to be able to track and capture the status, issues, defects of all active projects. An important requirement of the project management part is to capture all the photos, like potholes, surface deterioration, cracks, etc., and build an accurate online information database.



Old Road Infrastructure Maintenance Workflow Challenges

To collect the data and find out what infrastructure needs maintenance the Council previously used offline collection tools with the following workflow:
Setting up a project with a desktop solution
Uploading to hardware via wired connection
Downloading via wired connection
Merging the data into one dataset

Given that this process was not productive and hard to maintain the consistency of the data, Council began to look for a more innovative solution that would satisfy the following criteria:

Solution to

collect and update

data in the field with a current location by utilizing

smartphones and tablets

Collect the

data offline

with the possibility of data sync once the device is reconnected

Use

GPS

to create and update map data

Easy to use

map driven forms
Custom report

on collected data

Desktop access

to software from any device at any time

Ability to handle

various data formats

(e.g. Mapinfo, .tiff, .SQLite, .jpg, .csv, etc.)
Optimization and Online GIS Mapping Solution

In search of a solution to transform their everyday operations and workflow, GIS Cloud apps and services were the missing pieces of the puzzle.

With Mobile Data Collection App they replaced all the data merging and messy paper forms to provide accurate data collection in real time and clear communication between teams. They managed to stay in sync with legislation requirements for road signs the field by sending the work team on the location when needed, using GIS Cloud apps and saving them precious time.

The workflow is easy and intuitive with custom work forms created by project managers in Mobile Data Collection Portal.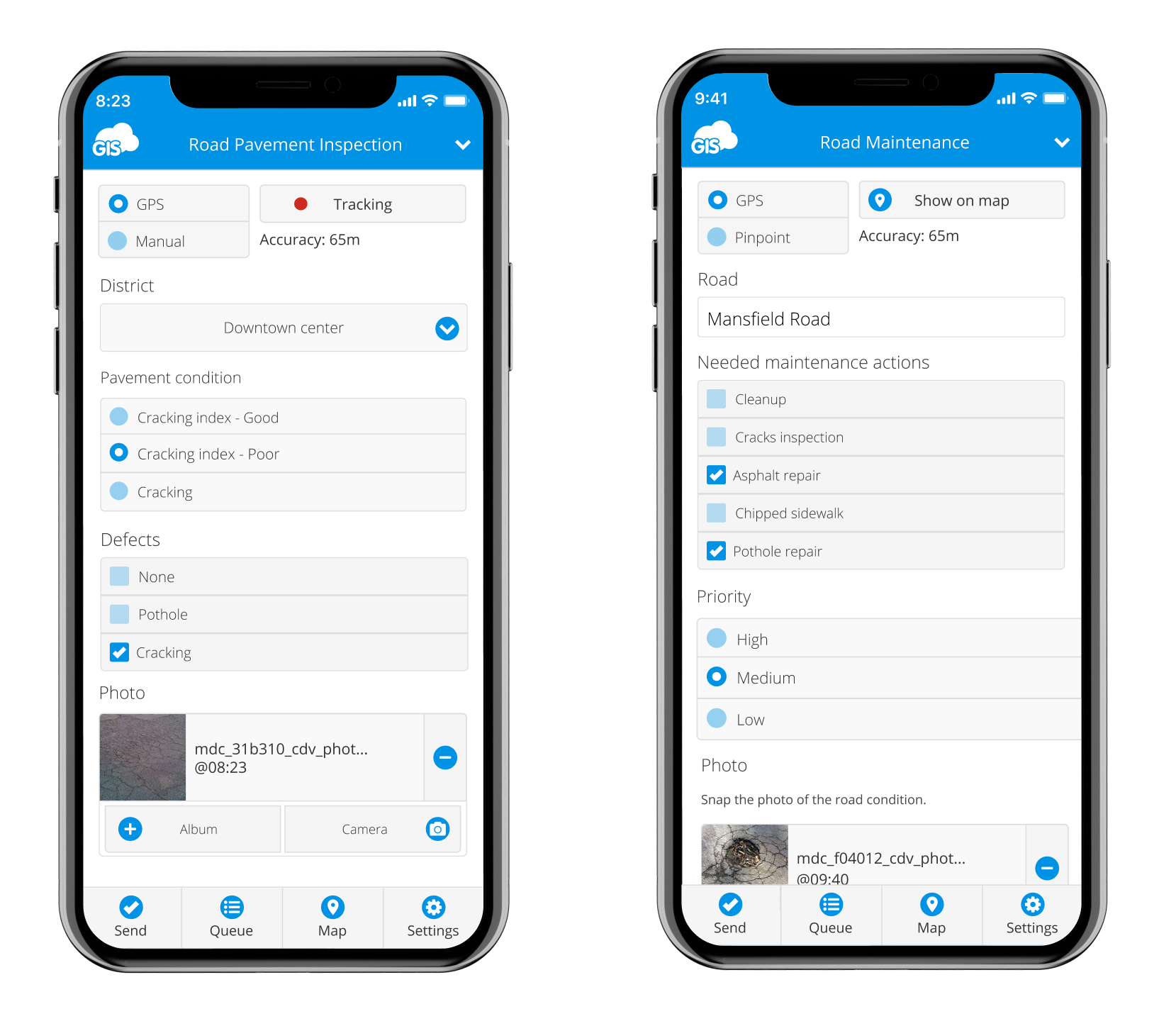 With GIS Cloud apps, multiple users can collect and edit data simultaneously in the field or with the Map Editor desktop web application. You can oversee all of the roadwork issues placed on ta smart map, marked with custom symbology whether it needs to be repaired, inspected, fixed, etc.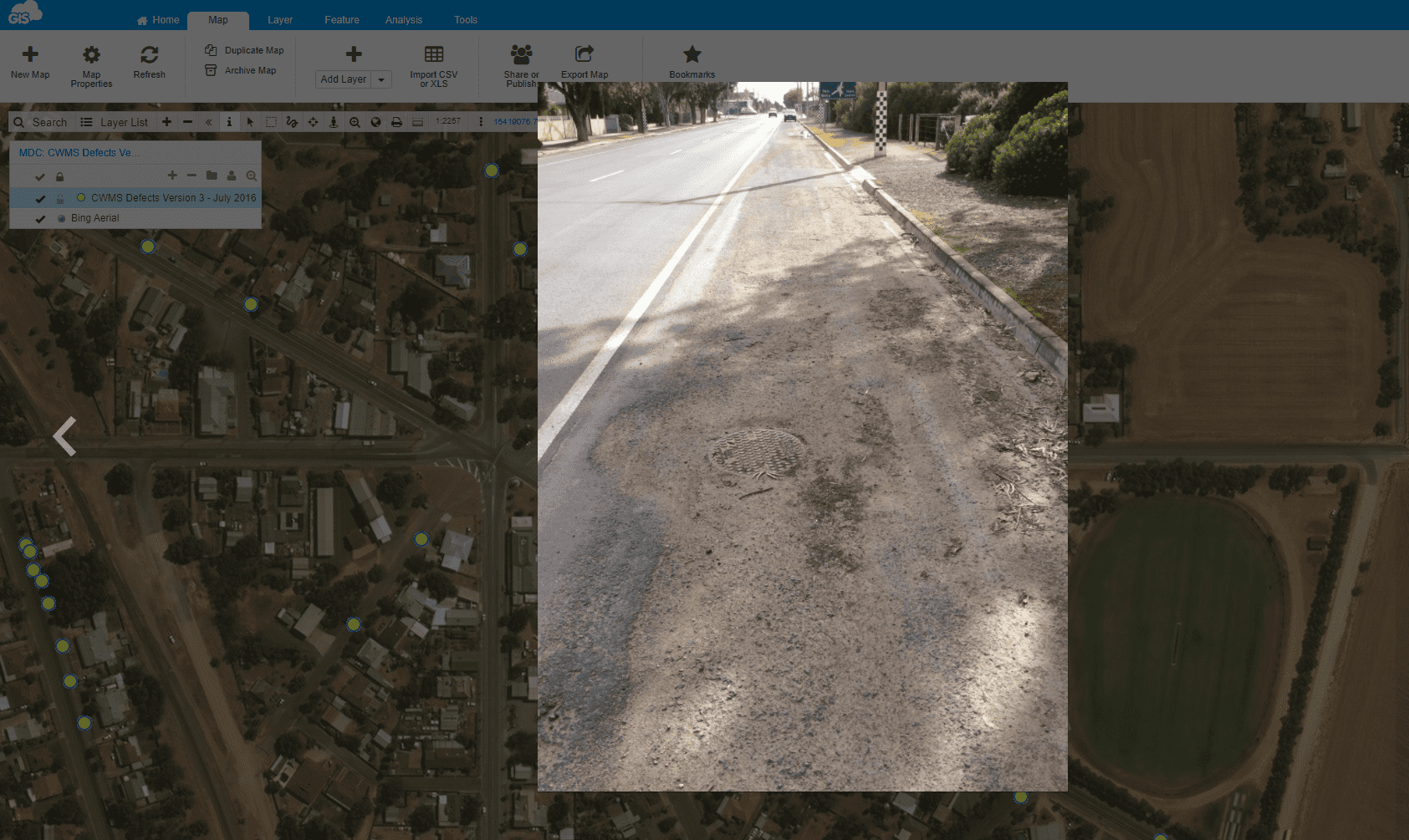 Also, with Map Editor you can edit, analyze and share the data with clients, stakeholders or coworkers in real time using only tablets or mobile devices!

With online GIS Solution, the District Council of Mallala was able to identify and schedule all of the roadwork issues and maintenance activities and plan day-to-day job strategies.

With custom work forms and real-time data collection even in offline mode, they were able to supervise and maintain the road infrastructure understanding immediately what work need to be done. Taking numerous photos of the same working positions and creating custom reports is something this project needed.

The ability to import and export data in various formats like MapInfo was crucial in their case! Accessing background data and maps such as google aerial and google streets in Map Editor via desktop is something that really helped in the future project management of the Council.


If you are interested in using GIS Cloud solutions for your projects, Sign up for the free 14-day trial.

You can also contact our Solution Consultants to help you set up a desirable, customized GIS Cloud solution for your specific needs and workflow!