The District Council of Mallala in South Australia is made up of approximately 926 square kilometres covering an area that is predominately rural with large tidal coastal region facing the Gulf of Vincent.
Background
The Council required a more innovative mapping solution that would assist with the following projects:
Road Infrastructure Collection and Maintenance
Road Signage abiding by Road Legislation
Project Management

With the first project Council wanted to be able to collect data about road infrastructure with tablets and smart phones in real time. Additionally they wanted to have an option to revisit the asset and update its current condition on the spot.
Second project consisted of finding a way to capture road signage information to satisfy signage legislation requirements. The ability to update the sign by any staff member on the spot was required.
Finally with the third project Council wanted to be able to track and capture the status, issues, defect of active projects. Important requirement was to be able to capture progress photos.
Challenges
The Council previously used offline collection tools which consisted of the following workflow steps:
Project set up on desktop
Upload to hardware via wired connection
Download nightly via wired connection
Merge data into one dataset
Given that this process was not productive and hard to maintain data set consistent, Council began to look for a more innovative mapping solution that would satisfy the following criteria:
Discovering a solution to collect and update data in the field, log your current location all utilizing smart phones and tablets
Take your maps and data offline, collect data, and get back in sync once reconnected
Use GPS to create and update map data
Fill out easy to use map driven forms
Report on data collected
Desktop access to software
Ability to handle various data formats e.g. Mapinfo
Solution
In the search of a solution that would satisfy all the criteria they found GIS Cloud to be the missing piece of the puzzle.
Mobile Data Collection allows data capture in real time to be displayed directly onto ones system. It has the ability for multiple users to collect and edit data simultaneously in the field and on desktop, eliminating multiple data sets and merging.
The creation of custom forms in Mobile Data Collection Portal is intuitive making the data collection process faster and automated. Map Editor allows users to add their own data in different formats and edit using the versatile software.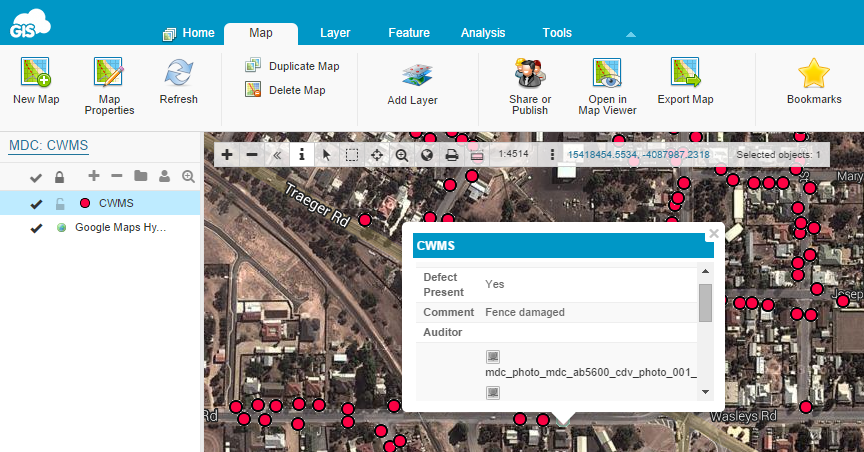 The Council found the following benefits of the software as highlights that made their workflow much more up to date and efficient:
Real time data collection with the ability of editing data in field and work in an offline mode
Customization of data collection forms
Ability to import and export data in various vector formats like MapInfo
Access to Mobile Data Collection Portal & Map Editor via desktop
Access to background data such as Google Aerial and Streets
Ability to take multiple photos per position
Create a formatted report