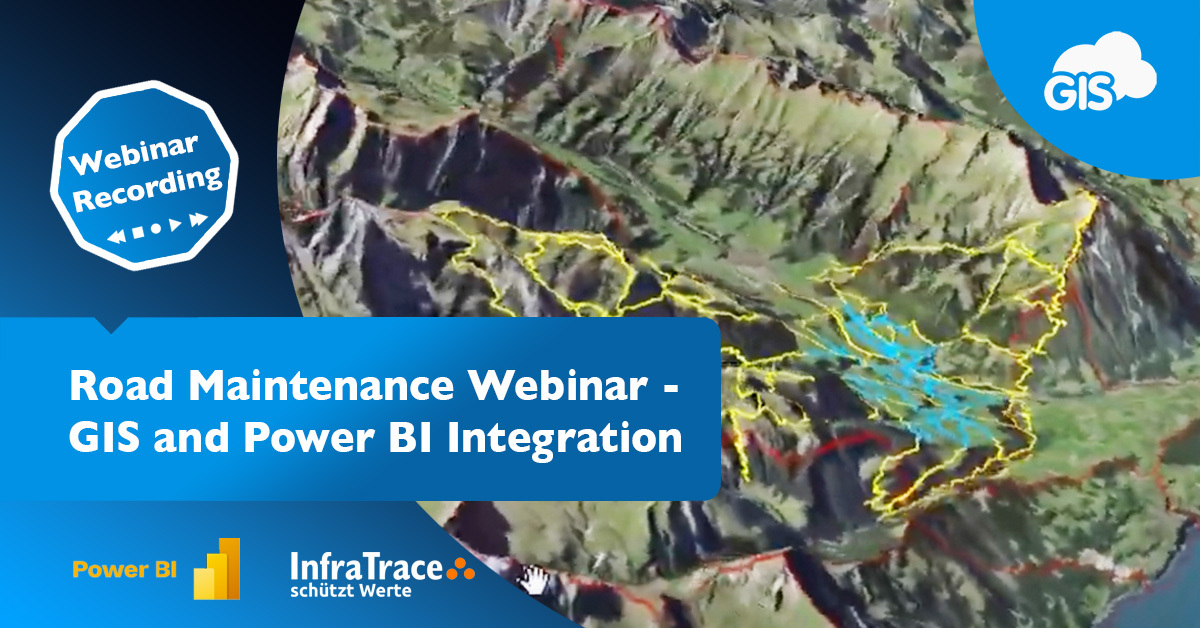 Last week, GIS Cloud hosted InfraTrace for a webinar discussing Road Maintenance use case with GIS and Power BI integration.

InfraTrace's Roland Christen showcased its methodologies in collecting data from the field, analyzing data, and leveraging GIS Cloud with Power BI. They develop informative dashboards and comprehensive reports for the local communities they serve.

Mr. Christen has over 37 years of experience in infrastructure management. That is evident in his ability to interpret the condition of a road using his vast knowledge and sense of smell.

The challenges of infrastructure maintenance:
Capturing accurate GPS locations

Connecting external data sources

Understanding environmental conditions

Sharing data with different partners

Presenting complex data

In last week's webinar, Mr. Christen walked us through the process of meeting these challenges.

GIS Cloud's suite of products and Power BI are essential in proper Road Maintenance plans.

The road data is captured using the Mobile Data Collection app. A Bluetooth-connected external GPS unit, a Trimble Catalyst, ensures any road damage is accurately mapped.

Using web services in GIS Cloud Map Editor, the surveyed roads are compared to the Swiss government's "blue stream" data.

GIS Cloud also allows InfraTrace to inspect a road segment in 3D. A critical feature when understanding roads in the Swiss Alps.

Combining real world video and photos with existing waterways allow for a comprehensive view of a roadway.

Mr. Christen's inspections of these roads go in the Map Editor before being pulled into Power BI as a CSV.

In Power BI, interactive dashboards and tables present the findings to the local communities.

Using GIS Cloud and Power BI, the challenges of road maintenance can be solved quickly and precisely.

If you weren't able to attend, you can see the whole process in the webinar here bellow.


If you think GIS Cloud and Power BI can take your organization to the next level, we invite you to
sign up for a free trial
. Our Solution Consultants are available to guide you through the process.