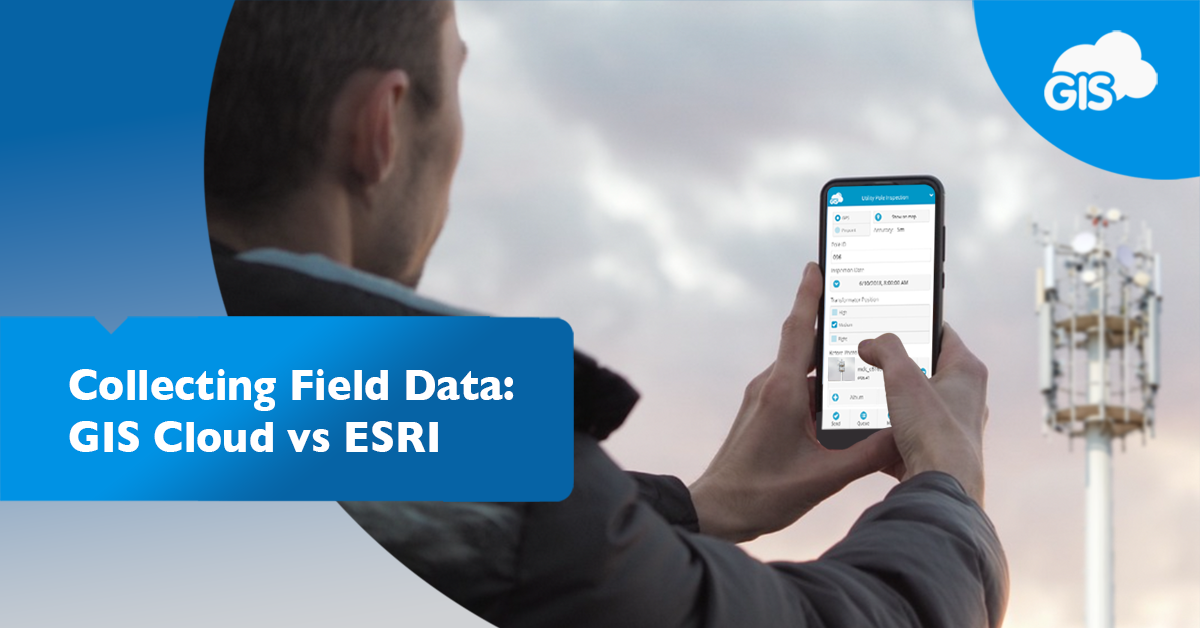 If you have collected field data in the past decade, you probably used ESRI's Field Maps or Collector application. Over 10 years ago, GIS Cloud created its Mobile Data Collection (MDC) application based in a cloud environment.

A recent debate on the high cost of enterprise GIS has brought attention to other GIS tools and software.

We are going to examine both of these applications. We will examine their features, their free trials, and of course, the cost of the software.

Features
Each application has similar features, but how they offer those features differ. ESRI has created tools that keep your data tied to its proprietary software. GIS Cloud maintains accessibility with different data types and has free plugins for QGIS and ArcGIS. They offer mapping tools and custom portals.
Offline Maps
ESRI's Field Maps allow you to make your maps available offline, but you must configure the items for offline use. Not just the map itself but all the items (tables, layers, and imagery).

It's another added step when you are trying to rush out the door to the job site.

GIS Cloud maps are available offline on the Mobile Data Collection app by default. In the settings of the MDC app, select the "Offline Maps" option and choose "Download".

No hidden switches here.
External GNSS devices
Both applications are compatible with many external GNSS receivers. Connecting your phone via Bluetooth to any compatible receivers will give you high accuracy data capabilities.

The GNSS receivers they work with include:
EOS Arrow
Bad Elf
Garmin
SX Blue
Trimble
Leica
Juniper

Each application also works on iOS and Android devices.
Navigate to Feature
This feature allows you to select a feature in your application and then route you to it using Google or Apple Maps. It has saved me a lot of time trying to grab coordinates from one application into another for directions.

GIS Cloud makes it easy to find in their Mobile Data Collection app. Simply select the feature you are interested in, and you'll see the link at the top of the screen.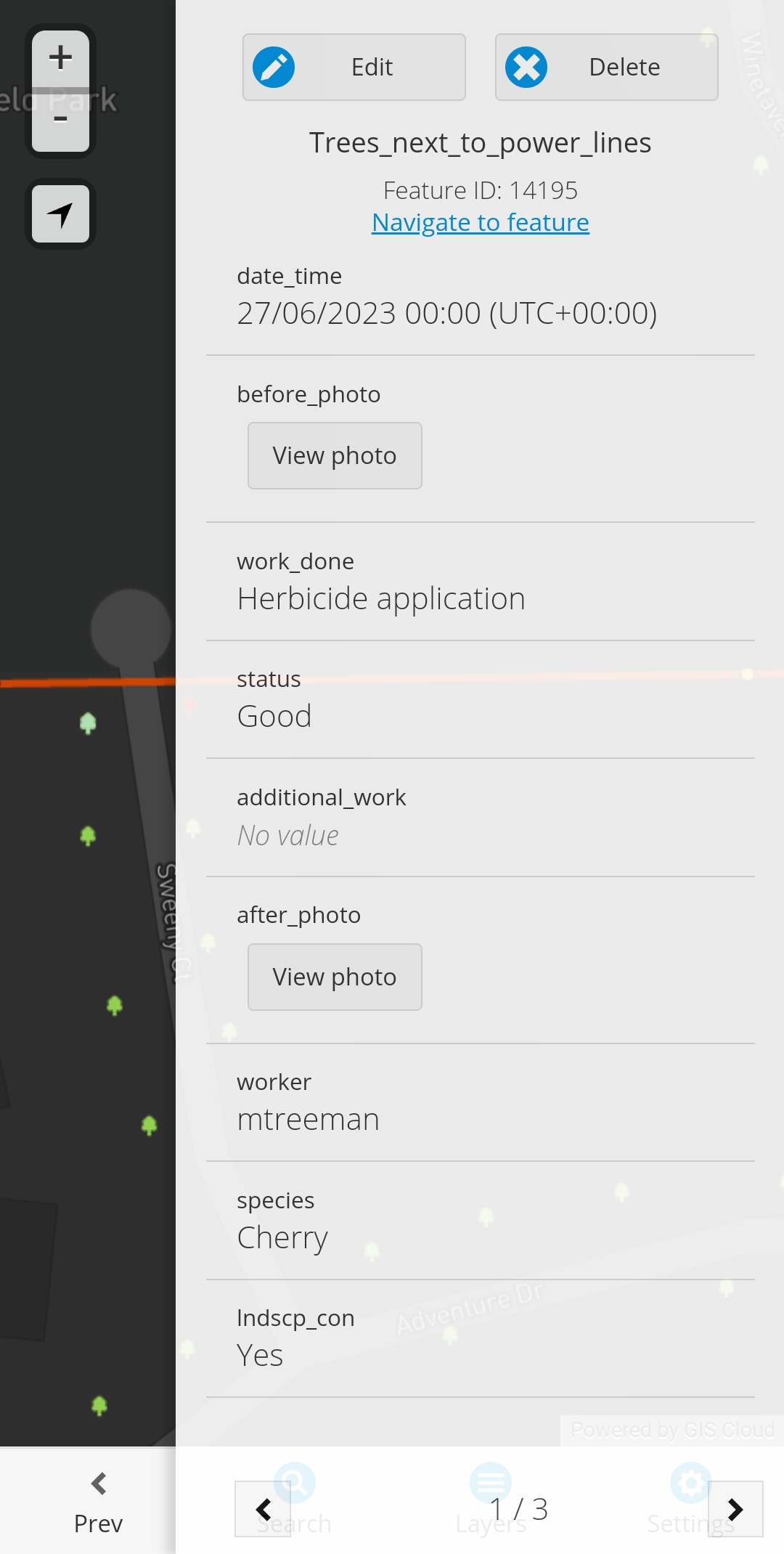 ESRI buries this great feature at the bottom of the window below the attributes table. You wouldn't find it if you didn't know where to look.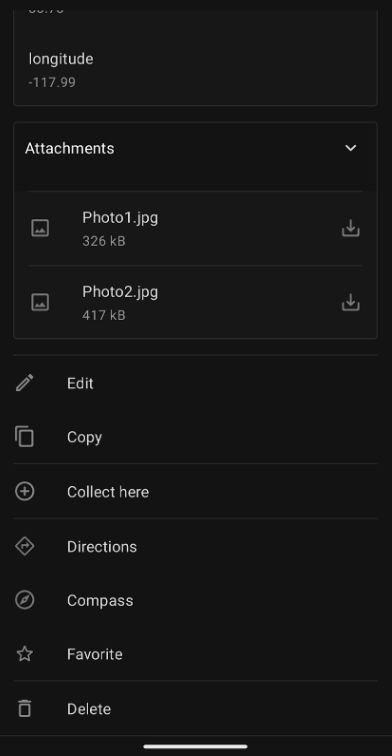 Design
After using both of these applications, despite their similar features, they feel different.

ESRI Field Maps focuses on the map and the feature layers within it. They do a good job of presenting the features aesthetically.

GIS Cloud's Mobile Data Collection application focuses on the data form. It's a clean workspace with easy to read options. The map is always just one press away.

Free Trial

GIS Cloud offers a free 14 day trial of its entire suite of applications and includes access to premium features. You can use the Map Editor and the analysis tools within it.

ESRI offers a free 21 day trial of ArcGIS Pro, which includes the Field Maps application and other Pro extensions. You will also get temporary access to ArcGIS Online.

These free trials will allow you to test the software and see how they fit into your organization. ESRI won't even notice you signed up for their trial. However, a GIS Cloud solutions consultant will contact you and offer you any support you may need shortly after signing up.

Pricing

Cost can be a deciding factor when it comes to software. It needs to answer the following questions:

Is this software worth the cost?
Can we move away from this software should we not like it?
Can we trial the software to understand its capabilities and fit into our existing workflow?
Can we buy the license once and keep it forever?
Are there recurring license fees?
How many licenses will we need?
Does it fill all our organization's needs?
What kind of customer service can we expect to receive?

ESRI's Field Maps have additional costs. It requires a foundational user type license. You must purchase a Creator or GIS Professional license alongside the Mobile Worker license.

A Creator user costs $550 per year. It gives you access to ArcGIS Online, ArcGIS Living Atlas of the World, and other Essential Apps, including ArcGIS InstantApps and Web App Builder.

You will also receive an additional 500 credits.

ESRI charges customers credits to store data, transact, and run reports in ArcGIS Online. They charge hourly, according to their credits website.

The GIS Cloud Mobile Data Collection license, costs $30 per month or $25 per month if purchased annually. The volume discount for additional licenses is great for budget conscious organizations.

GIS Cloud's pricing model is transparent, with costs presented up front. This includes their services, such as custom forms curated specifically for your needs. ESRI charges credits every time you run a form out of Survey123.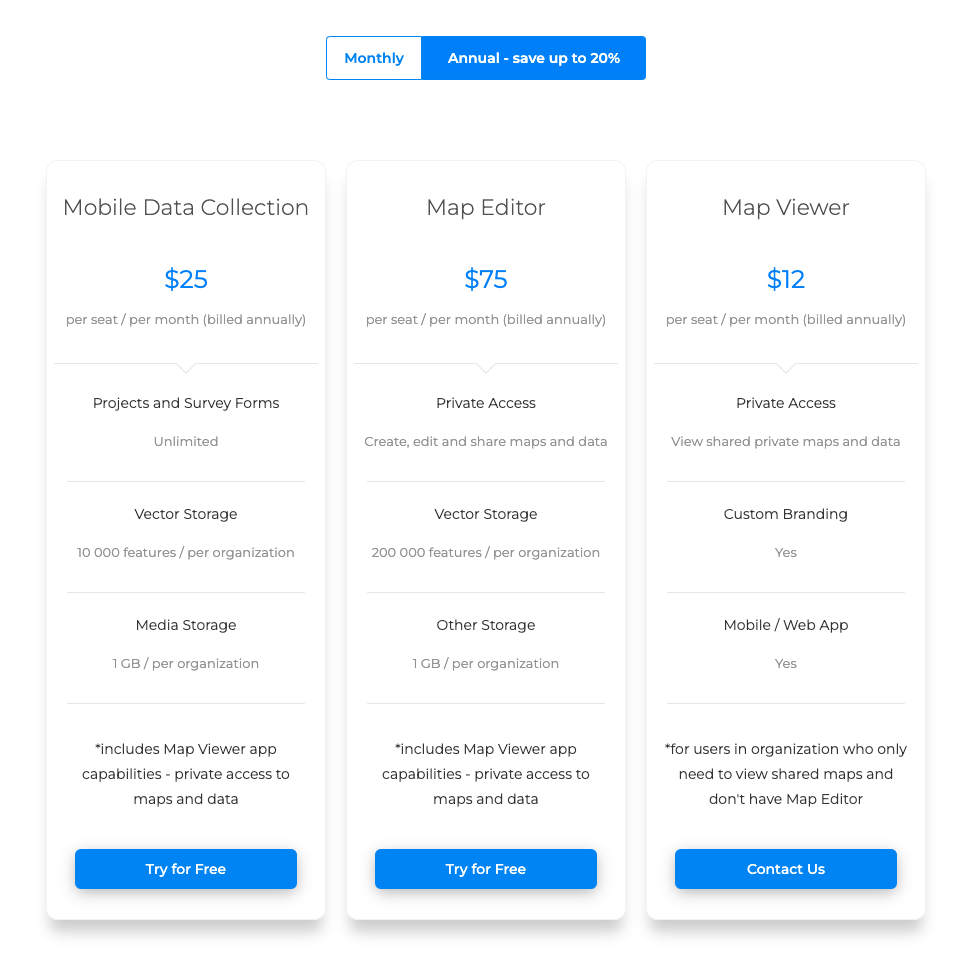 Conclusion

Both options will get the job done. But if you haven't tried one, each has its strengths:

ESRI's Field Maps is best for GIS specialized companies that don't plan to expand beyond the ESRI suite of tools
GIS Cloud's Mobile Data Collection app surpasses ESRI Field Maps for large-scale field data collection initiatives that necessitate either continuous, seasonal or temporary access to multiple licenses, catering to diverse projects or clients.

Give both a try and see which one works best for you.

If you decide to go with GIS Cloud, our solution consultants will be available to help you with custom forms or your industry specific goals.