We introduced a brand new feature in GIS Cloud Mobile Data Collection app – Line & Polygon collection!
In this post we are going to explain how to set up a line collecting project and highlight options and tools that can be useful for your field collection project.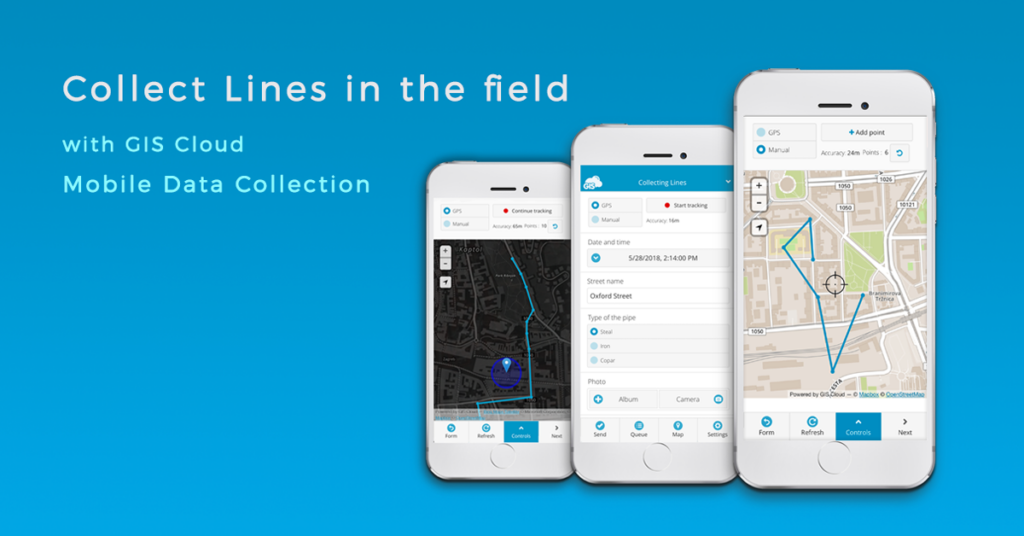 Line collection in the field can be an essential feature for organizations in utility industry, collecting data on electric power lines, sewer pipelines and inspecting pipes for leakages, repairing roads and maintaining traffic infrastructure, and so on.
How to set up a Line collection project
We are going to cover basic steps from creating a custom project, collecting data in the field to reviewing and editing the data with mobile or web GIS Cloud Mobile Data Collection apps. You can always find additional help in our User Manual.
Create and share a project
First you need to create a Mobile Data Collection project which is basically a structured PostGIS database. This means you are going to create a custom survey form for fieldworkers to collect data.
With a single MDC project you can collect only one type of geometry (point, line or polygon) so it is necessary to define the type of geometry you wish to collect from the select list in project settings. Project managers can create simple online forms with different types of questions and attribute fields. You can set up single or multi-choice questions, numeric or textual inputs or capture geotagged photos or audio files.
The greatest benefit of using MDC app for field collection is that you can share data with the stakeholders and other team members with different permissions. You can collaborate and organize your field teams so you know exactly which team is responsible for the collection process or for making updates to the existing data. Project managers and stakeholders can control how the project is progressing in real time through private and branded interface with custom options.
Collect by Tracking your location with GPS or manually Draw a line
Line features can be collected automatically with GPS from the mobile device or by manually adding points on the map to create a line feature. We implemented an option in the collection process which allows you to combine automatic GPS and manual collection methods to increase the accuracy of your features on a map. The option allows you to collect data faster and more efficiently when you are mapping large areas.
To begin recording, simply tap Start tracking button on the top of the form view. Below you can find information about the accuracy of GPS location and a number of points that you collected so far. In this section you can pause tracking while filling out the survey form and continue tracking if you're not finished. When you're done, tap the Send button to submit the tracking activity and attributes connected to the line feature.
After submitting the data, field collectors can review the data they submitted and make edits and updates to the data. Great option is Search tool which you can use to access your data by typing in the ID number or any other attribute value. You can select a feature on a map to open info pop-up with all the collected attribute information and documents.
You can toggle from form view to map view where you can view and control the tracking location on the map and edit the feature at the same time. If you hit the 'Delete' button you can choose whether you would like to remove the last vertex or you want to remove the whole line.
To get you started, read our user manual on Mobile Data Collection and how to set up your Line and Polygon projects.
We hope you find this article useful. If you are interested in utilizing GIS Cloud technologies contact us or sign up here.