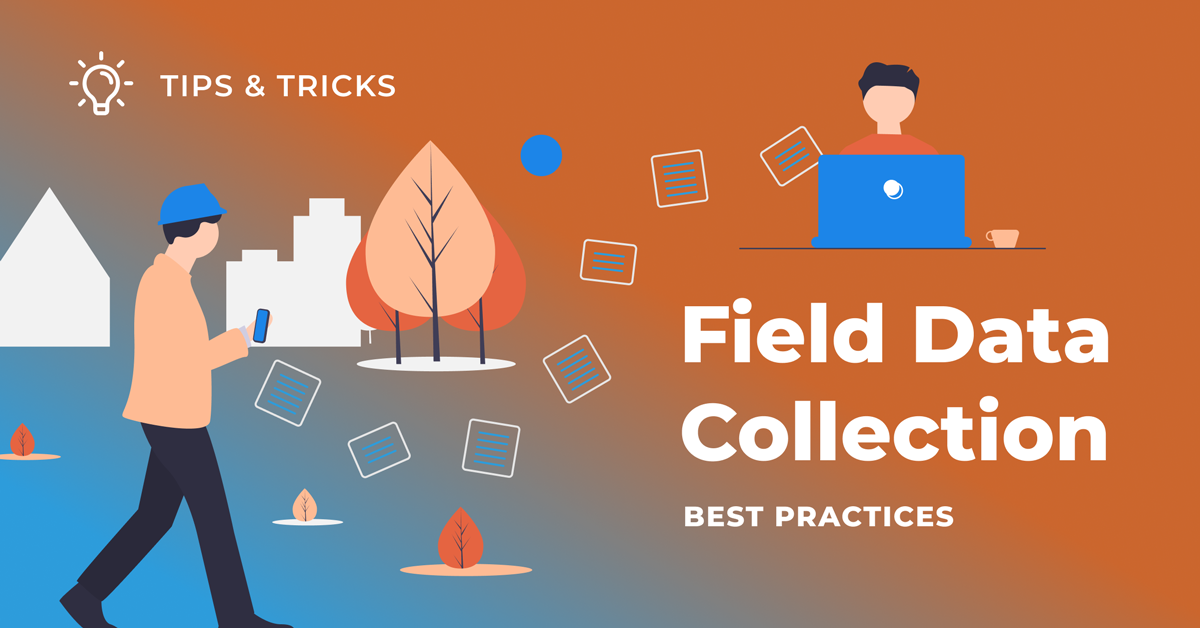 Every field project is a bit different in a way. Even if you're working in the same industry and on the same site for years, there will always be something you'll need to tweak and adjust to make it work. A big part, that's pretty much always lacking, is the time and resources you get for the job.

The problem is that you're expected to deliver the same quality results as always but with less time and a smaller budget. And, the cherry on top, this time the project is even bigger. Crazy, but not impossible if you implement a couple of tweaks and make initial proper decisions. Here are the 7 suggestions on how to save time and money without sacrificing the quality of your projects that matter:

1. Don't do it on Paper
This one's obvious and, considering you're reading this, you probably already agree. But, you would be amazed at how many organizations are still complacent with their paper workflow. To summarize, writing important pieces of information on a paper significantly increases the time it takes to collect the data on-site and transfer it to your data centers. Even if you have the time to do it like that, there's a huge risk of losing the information entirely or, even worse, getting bad quality data that will end up causing you to make bad decisions in the future. In short, if you want to significantly save time and money, don't do it on paper!

2. Make it Location Smart
Everyone has a device in their pockets that tracks their location so why not make the most use of it. Jokes aside, understanding the "where" of your data is not a commodity anymore but a necessity. It's not just about the location of the information you're gathering but also about its surroundings as that gives you additional insights about the location of interest. It improves the overall quality of the data collected, even if it's not a requirement. But how does it save time and money for you? Well, read on!

3. Plan it on a Map
If you already deal with spatial data in your organization, then you know the perks of overlaying various information in a single place to understand it and plan better. And if not, then simply try using the list of addresses that you need to visit and place it on a map – it can give you a whole new perspective on the project costs.
Information like what route to take to get to a certain destination or maps that show you the terrain and the surroundings of the site, can give you a better understanding of the time collectors will take to collect the data and the costs of getting to the destination and back.

Placing existing data on a map significantly helps you to understand the scope of the project, prioritize your teams' efforts, organize the schedule and predict potential risks certain sites have.

In short, it's a huge time saver and as such mandatory for projects that matter.

4. Make it easy for your field teams
It's all about controlling every step of the process as much as you can to ensure the best possible results. And that's not that easy once you send out your crew as they deal with different situations you can't always predict which causes human errors which then results in bad data.

The key is to create an environment for your crew in which they can't make many mistakes.

To ensure data quality use applications that enable you to control the following:
Automatically reject incomplete forms that are missing values

Prevent data duplicates

Prevent collectors from typing random values

Show only the form items relevant to the collector

Share sensitive data with "read" or "write" permissions

Collect data like accuracy, usernames, and location without collector's intervention
There are more but this should be a good starting point.

In addition to the above, features like the ability for collectors to navigate to a location of interest, pull up all the necessary information and documentation from the mobile device (preferably from a map) on the fly, and understand their surroundings on a map (especially important for projects that deal with assets beneath the ground) should also be considered as mandatory and must-haves.

And last but not least, please don't give your crew an application that will take them months to learn. It's 2022 and it shouldn't take more than an hour or two to fully adopt a new solution.

5. Do it in Real-Time
In today's world, if you're not online then you're missing out. It's the same with business environments in which you need to be aware of the ongoing processes in real-time.

In a data collection sense, knowing which crew is where, in real-time, enables you to coordinate your teams more efficiently according to the new information you're simultaneously receiving from the field.

Online environments enable you to react to any unforeseen situations your crews encountered simply by providing them with a solution via the tool you gave them for data collection. That can be in the form of an additional object you put on a map (i.e. alternative road they can take or a missing permit for accessing certain zones) that will then be instantly visible to your crews, or by giving them feedback on the data they potentially didn't collect or information that needs to be re-collected, all while crews are still in the field. Huge time saver!

That said, offline data collection is just as important as there are still a lot of areas that are not covered by internet hotspots. Make sure your tool of choice works in offline environments as well as it does in online ones!

6. Be Fancy with the Results
You've done well with the data collection and got good quality results. It's time to give your efforts justice and present it in the best possible way. Of course, you need to think ahead so when choosing the data collection tool, make sure you select the one that gives you the ability to present and deliver collected data in the best possible way.

You should be able to deliver the results in preferred formats like excel, PDF, various spatial formats, or even map prints as these are the basics but if you want to go the extra mile don't just send it over an email or put it on a USB stick (or hand over a stack of papers).

Be proactive and impress your stakeholders by giving them access to a map with data that enables them to pull up their own reports for the data of their choice. Bonus points for giving them a live dashboard that shows the results in real-time.

7. Don't Overkill it
Let's say you agree with the majority of the suggestions above. The next logical question is: is there a solution that enables me to do all of that in that manner? Well, there is but you'll need to choose what route to take with the resources you have on hand. There are plenty of desktop, cloud, or even hybrid solutions that can provide you with the tools you need. There are even open source options like QGIS that can reduce the overall cost.

If you already have a mapping tool in place then to get the functionality above seek a cloud tool that can easily integrate with your existing system or at least give you the results in a format your current tools can consume. And for longer use seek a tool that gives you access to APIs for easier and faster integration into your existing systems.

In case you don't have anything at all or your app is not location smart, then you should always opt to go for a tool that doesn't ask you to go to a university for four years to learn how it works or require you to invest thousands of dollars into the infrastructure first. Most desktop and client/server mapping tools require you to do that (even open source), so the solution you should go with is a cloud one that has the tools you need now, that will not cost you a fortune and that will be easy enough to learn and deploy in a matter of days instead of months.


We do all of the above and more
As they say, it's easier said than done but, here at GIS Cloud, we do exactly this daily for many customers in different industries and with many unique and interesting use cases.

We have built cloud-based tools by extracting the best out of the mapping world and bringing it closer to business teams to bridge the gap between the highly valuable but complex GIS systems and all the roles in the business organization:

Mobile Data Collection – a simple but extremely powerful application that enables you to create custom forms, control data access for your teams, organize crews and ensure the best data quality you can get. And most importantly, it gives you results the same day.

Map Editor – advanced but easy to learn app for users that need more out of their data collection project. You can introduce advanced visualization, bring in your spatial data, create collaborative environments, integrate with existing systems, manage data, perform data analysis, and much more.

Map Viewer – ideal for clients and stakeholders that "only" need to view and query the data in an environment they can understand. If needed it can be white-labeled to give that extra edge in your projects that matter.

There are many other products that when bundled together create a perfect tool so make sure to check them out. We'd love to give you a tour and set it up to fit your needs so don't hesitate to reach out and we'll do our best to help out!