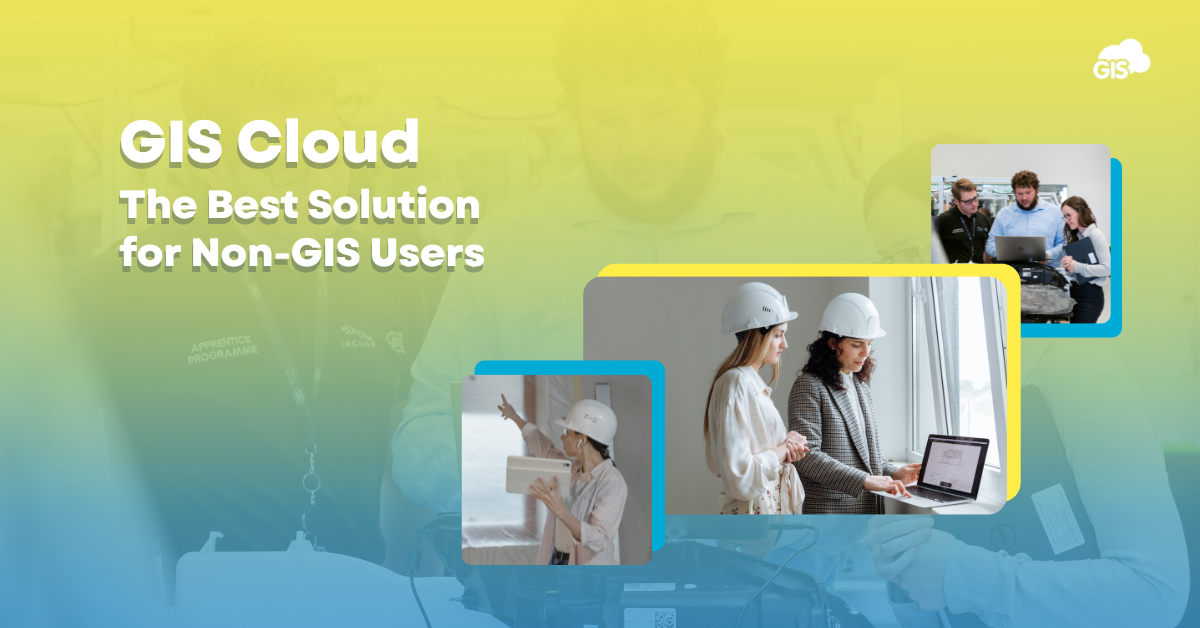 GIS software is constantly improving the process of how digital cartography benefits consumers with consistent and accurate personalized information at any moment. The wide variety of functions makes GIS a powerful tool for any enterprise.

However, learning the software poses many obstacles for the average person to overcome. Implementing and learning GIS solutions can sometimes be discouraging for novice GIS users and even more challenging for non-GIS users. This division between GIS-savvy and non-GIS users usually results in an unproductive project workflow. Nevertheless, a smart way for companies to avoid this drawback is to empower non-GIS users. By providing an easy-to-use solution for everyone, companies can increase the potential of their geospatial data and exceed in their respective fields.

GIS Cloud solved this problem by developing smart GIS software, consisting of several applications for different needs of GIS workflow. Our platform offers companies an all-in-one package customized to their needs. It can be used by both GIS professionals and non-GIS users. Involving non-GIS users in the learning process and distributing the workload will take the pressure off GIS specialists, making them concentrate on finer details.

GIS Cloud – One Platform Solution

Our specialized applications allow every team member to work on a specifically assigned project and tasks, enabling a streamlined workflow and faster organizational task management. Our apps can be used on all devices, online and offline, improving the ease of use.

The GIS Cloud platform is divided into several applications with different functions designed to enhance data quality control in various departments. All the while operating in real-time, the platform provides updated information ready to be used at a moment's notice.

Mobile Data Collection (MDC)

An excellent way for fieldworkers to transition from paper to digital reports and notes. The perfect tool for data collection, visualization, and monitoring in real-time. It is a fast and easily deployable solution helping you collect data on different types of assets in online and offline work environments. All of the above makes Mobile Data Collection the most cost-effective solution for your data collection projects.

Map Editor

A powerful cloud-based map application is used for creating and sharing maps, surveys, and general project management. Map Editor supports many vector and raster formats, rich symbology, and built-in collaboration capabilities that allow real-time editing and sharing. It has numerous feature and attribute editing and data analysis tools, spatial filters, and data filtering tools.

Map Viewer

Used as an easy collaboration tool to view and access maps and data, Map Viewer is optimized for non-GIS users. It enables you and your clients to access shared or public maps on any device in real time, making it an efficient tool for decision-makers.

Map Portal

A friendly way of displaying your data to the public, Map Viewer offers an affordable and effective solution for your viewers to search, visualize, and explore media-enriched data.

Usability & Intuitive User Experience

Since we want to encourage non-GIS users to use our platform, the GIS Cloud team developed products that provide customers with the best possible user experience.

To start using our products and services, create your GIS Cloud account, which enables a 14-day trial period to check out our apps and features. After purchasing the desired application, you can log in to your account and start using it. If your team consists of non-GIS personnel, implementing a GIS Cloud platform to your project/workflow will save you training and project time. Users will not experience a steep learning curve and will not require extensive training to use our apps. For more advanced functionalities, you can always look up the solution in the GIS Cloud manual or contact us directly at info@giscloud.com.

Performance-wise, GIS Clouds' robust and fast engine allows you to view data on a map at an astounding rendering speed. Aside from working online, our apps can run offline, enabling fieldworkers to collect data in isolated places. Furthermore, sharing maps and data with users outside your organization is not only easy but safe. We use Amazon data centers for cloud servers, world-renowned for their security and reliability.
Price
GIS Cloud offers a highly flexible price that can be tailored for all budgets. Our pricing plans are transparent and straightforward. You pay only for apps that you use and when you use them. Also, there is a discount for nonprofit organizations and users from the education industry.
Features
At GIS Cloud, we listen to our users, and we constantly work on improving and updating our platform and our apps. A steady stream of new features is regularly developed and presented on our blog and via webinars. Some of the features that we have recently released are:


We have recently released a new integration between PowerApps and GIS Cloud to introduce that spatial component in the PowerApps environment.

Our next upcoming feature is implementing 3D modeling into our software, and it will be followed by a webinar explaining how it works.

Stay tuned for the upcoming release and our sneak peek webinar coming soon!