Life Vest Inside, one of the winners of the GIS Day Contest 2016, used GIS Cloud Crowdsourcing solution to engage people in pledging acts of kindness worldwide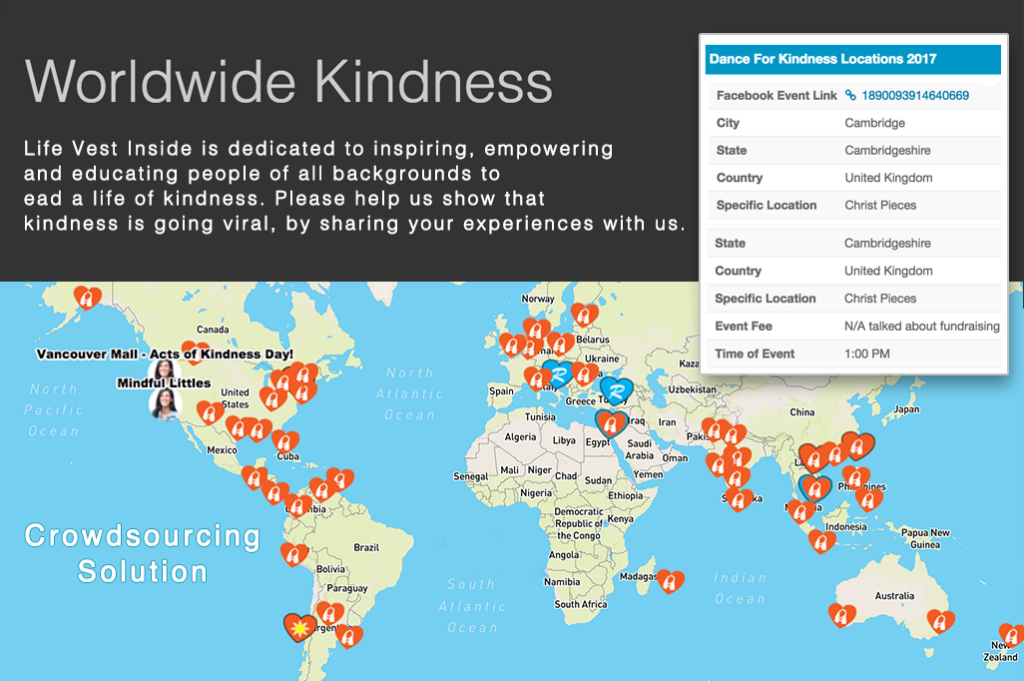 Our Crowdsourcing solution, which allows people to send data on a map in real-time, is used by nonprofit organizations for various purposes. Engaging the community and increasing visibility of the projects is one such example. Life Vest Inside, a non-profit organization that inspires, empowers and educates people of all backgrounds to lead a life of kindness, used GIS Cloud to increase the visibility and impact of their projects.
One of the events Life Vest Inside organizes annually is the Dance for Kindness. It is a celebration of World Kindness Day in which groups from across the globe join together to perform a Kindness Freezmob/Flashmob to the same song and dance. To spread the word about this event and to inspire people to engage in acts of kindness, they decided on an innovative approach – to design a portal where people could pledge their acts of kindness in real-time on a map.
Building an interactive map portal to pledge acts of kindness worldwide
Considering the limited resources and time any NGO has at its disposal, the main prerequisite for building an interactive portal where people could pledge their acts of kindness worldwide was that it's very easy and quick to set-up, manage and utilize by both the Life Vest Inside team and the end-users worldwide. This was important not only because they didn't have dedicated IT staff for the projects, but also because they didn't want to waste additional resources for educating staff and people who are going to use the app. All this is necessary to ensure the long-term viability of the project.
They needed a platform which can also work in a web browser. The interactive portal needed to contain different features – a pinpoint tool which people could use to add their locations manually, a fully customized and branded interface with the organization logo and legend, as well as a custom data collection form. Also, it was important to enable the "admin view", in which Life Vest Inside staff could easily review submissions and update the map.
Last but not least, their platform of choice should be cost-effective. Engaging in the development of a fully customized and specialized app usually involves high costs and considerable time for development. For many nongovernmental organizations, this isn't a very popular option because of limited resources. So, they were looking for a pre-developed solution which could be easily customized, set up quickly, and wouldn't require additional education or IT staff.
Setting up the Crowdsourcing mapping solution
"We wanted to show how acts of kindness can spread throughout the world and make a positive impact on others. We chose GIS Cloud because of its new Crowdsourcing solution, which was a good fit for what we were trying to accomplish. It also seemed like it was the easiest platform to accomplish this." – Mickey Dietrich
Life Vest Inside utilized GIS Cloud Crowdsourcing solution, which was set up within a couple of days. Prior to the release, they were able to test and tweak it. The end result was a fully customized, interactive web portal, which you can access here.
People worldwide can access the portal set up at a custom domain (kindness.giscloud.com), where they can pledge their acts of kindness by pinpointing their location on a map and filling out a form. It contains different information about the person who is sending the data, including the type of kindness act, their postal or zip code, and other information.The portal is very easy to use and it doesn't require any technical knowledge on the side of either the organization or its end-users.
"The main capabilities of GIS Cloud that helped us reach our goal, was the ease of use of the Crowdsourcing solution and the great support they provide." – Mickey Dietrich
The solution also includes the Admin application where the Life Vest Inside team can manage submissions and change or update the map if necessary. Because Crowdsourcing solution can be deployed within a few days, it doesn't require developing a full solution from scratch.
In addition to the interactive map portal for collecting data from anonymous users in real-time and the admin app, it can also include custom mobile apps for sending data on a map. One of the key benefits of the Crowdsourcing solution is that the data collected can be further used, shared and analyzed in other GIS Cloud apps, such as GIS Cloud Map Editor solution. To learn more about these benefits and options, contact our sales team.
"GIS Cloud Crowdsourcing solution provides a great way to engage people and also to collect information that can be used to help lead the organization's efforts in how best to spread kindness." – Mickey Dietrich
Plans for the future
The next step for Life Vest Inside is to get the word out about their Crowdsourcing portal and to use it actively during the next Dance For Kindness event, taking place worldwide on November 11, 2018.
"We hope to make a push to get people to share our application and utilize it in sharing their acts of kindness. We want people to know that they can inspire others to take action." – Mickey Dietrich
Make sure to visit the Worldwide Kindness portal and bring a little good to the world!
If you are interested in learning how to utilize the Crowdsourcing solution for NGOs, check out our latest webinar. If you want to try it out for yourself, request a demo here.