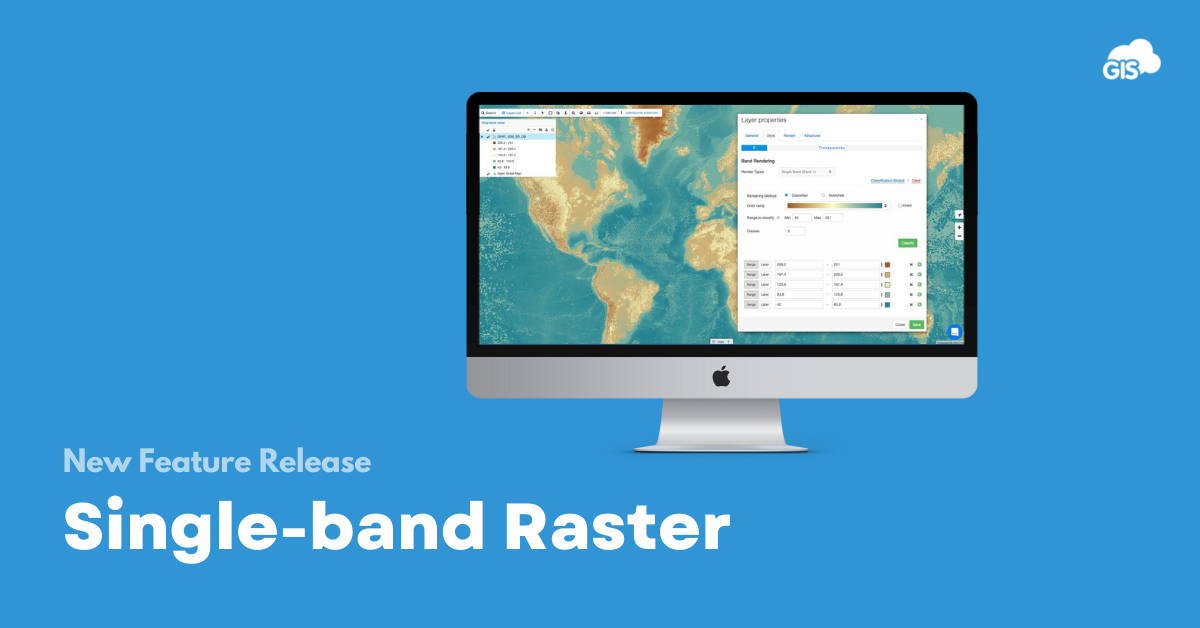 Raster data has always been a big part of our users' workflow – from adding drone imagery to maps in order to keep track of changes on construction or development sites to monitoring crops, from watersheds to monitoring water leakage. You can always add a basemap – they are a great, easily available resource to ensure your vector data isn't simply "floating in the air", but adding your own images and data takes your map to the next level.

We're happy to say that we made some upgrades to this feature, and are now also supporting single-band raster files! You no longer need to worry about converting your raster to RGB before adding it to GIS Cloud, and can take full advantage of different visualisation options to help you provide more information to the end-user.

If you'd like to learn more about using single-band raster in GIS Cloud, join us on the next webinar where we'll cover:

How to use single-band raster in GIS Cloud

What classification options you can choose from

Why you should be using this feature in the first place
Webinar Time and Date:
WEDNESDAY, July 20th at
5 pm CEST (4 pm GMT), 11 pm EDT, 8 am PDT

We can't wait to show you more, but in the meantime, you can also take a look at our guide and prepare some questions for our Q&A at the end of the webinar. Try some raster visualization options yourself by signing in, or if you already haven't, create your account and start using GIS Cloud today!
As always, we would be happy to hear from you, so feel free to send us an email at info@giscloud.com and we can help you with your setup.