In GIS Cloud Map Editor, you can often stumble upon interesting public maps created by our users who utilize GIS Cloud apps for a wide variety of purposes. So, we made a selection of a few cool maps that caught our eye. There will be more interesting maps to come – don't hesitate to drop us an e-mail if you have a cool map to share with our community.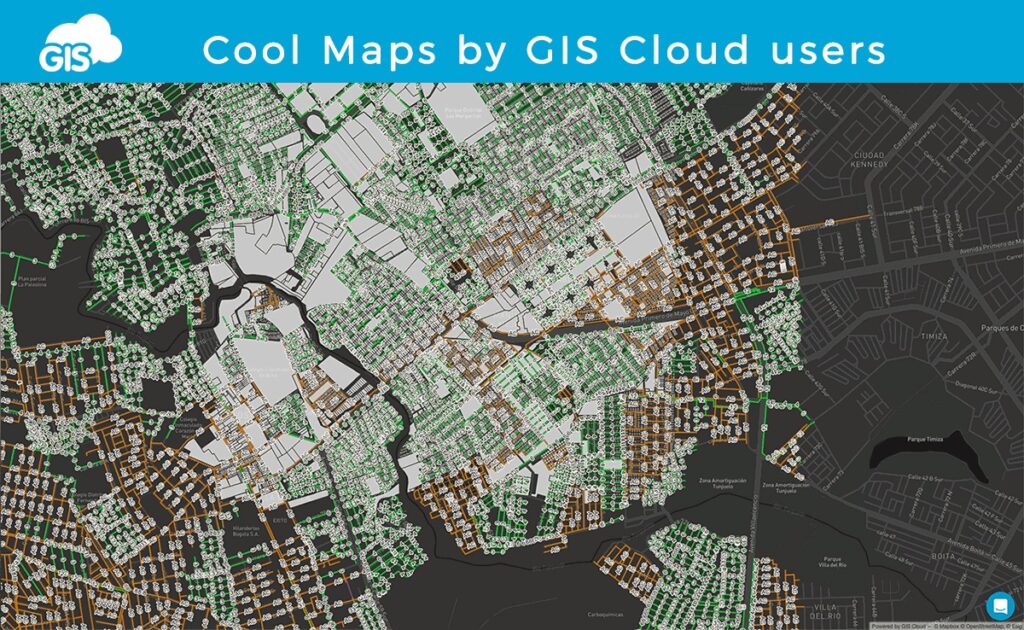 1. Map of Utilities in Honolulu
This sample map of utilities in Honolulu shows the locations of Utilities, Sewer Fittings, Main Sewers and Lateral Sewers. It is a good example of using the line feature in the Map Editor app and rendering a large amount of data in a map. When you click on a line, you can get additional information that can also be updated directly from the field using the Mobile Data Collection app.
View here in a separate window.
2. Map of Brazil
This awesome Map of Brazil shows a large amount of data on urbanisation, points of interest (parks, zoos, bars & restaurants, bookshops, nursing homes, police stations, post offices…), population in different areas, female/male ratio; various buildings…
It also has a land use layer with different categories; commercial, forest, industrial, military, nature reserves, roads, and railways; natural inventory (beaches, trees, volcanoes); vegetation layers as well as waterways. Even though this beautiful map contains many features, you can see that the data is rendered quickly.
View here in a separate window.
3. Pima County Distribution of Residential Property
"This map attempts to visualize Pima County's respective distributions of residential property that is owner-occupied and residential property that is not. The latter category consists almost entirely of rental property, but also includes a few other instances of a non-owner-occupied property, such as vacation homes, certain group homes, and bed-and-breakfasts. It is represented in orange; the owner occupied property is represented in blue."
This is a map done by our user Luke Knipe who also shares some of his work on his blog.
View here in a separate window.
4. Map of London City Infrastructure
Map of London in GIS Cloud contains various datasets, from points of interest (automotive, eating & drinking, healthcare, leisure, nightlife, shopping, sports, tourism) to Nature (Forest, Park, Water), roads and allotment gardens (community gardens). Here you can see how to combine GIS Cloud symbology with cool dark basemap.

View here in a separate window.
5. Map of Water Distribution Network in a City District in Bogota, Colombia
Here you can see how to utilize point, line and polygon features in GIS Cloud, as well as feature labels that correspond to the line features. The map shows water distribution network in one of the city districts in Bogota, Colombia. You can see that the data is classified according to the type of material used for water infrastructure in the each of the residential units specifically marked on a map.
View here in a separate window.


Have your own public GIS Cloud maps that you would like to share with our community? Drop us an e-mail with a link and information about your project or use a Twitter hashtag #GISCloud to show your work.