We did an interview with NubiGroup, company that creates a new generation of services and products, exploiting the geospatial information and cloud computing. The focus is on collaboration between different actors and their customers.
Background
GC: Can you tell us some basic information about the project you are doing and why was there a need for a cloud GIS based solution?
NG: This project is a "pilot" project dealing with precision farming. More specifically, we are using NIR (Near Infrared) images acquired by a drone (eBee, Geosense company Greece) in order to monitor corn fields and to correlate different spectral transformations with crop growth and crop yield and also to investigate the performance of different cultivars under different fertilization treatments.
We used the GIS Cloud apps, since the project is a small scale project and the spatial data have to be shared, in a short period of time, to different groups of interest. In that way, we exploited the ready to go apps which are provided at affordable cost and have great performance.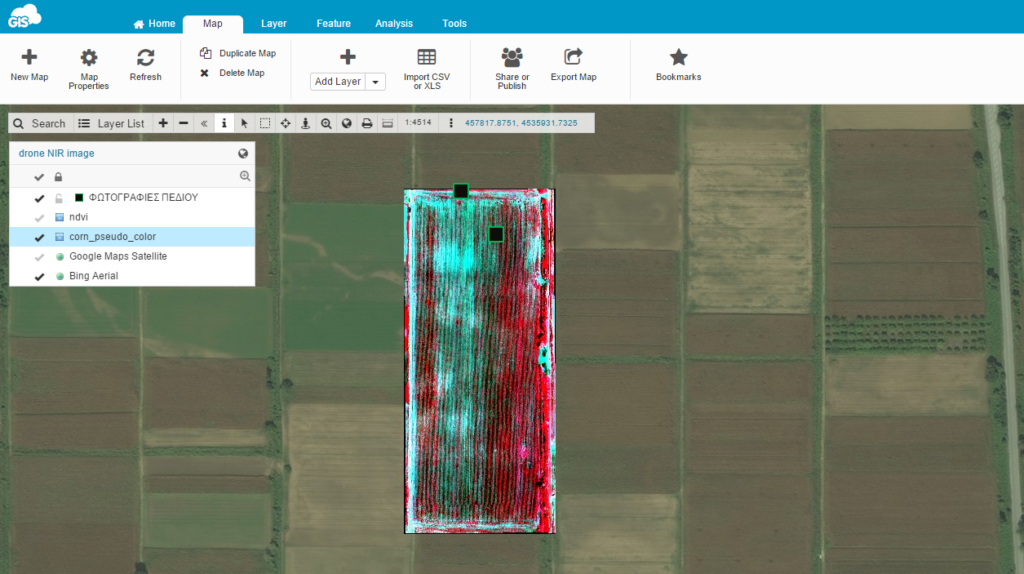 NIR drone image (6cm pixel size), false color composite (RGB: NIR/R/G). Light blue pixels denote low crop growth
Challenges
GC: What were some of the challenges that your project had and that you overcame with GIS Cloud apps?
NG: In the project framework there is a need for field data collection as well as for cooperation and exchange of spatial and attribute data among different groups of people involved in the project such as agronomists and farmers as well. For these reasons, we considered to use the GIS Cloud's apps in order to overcome the "challenge" of "collaboration".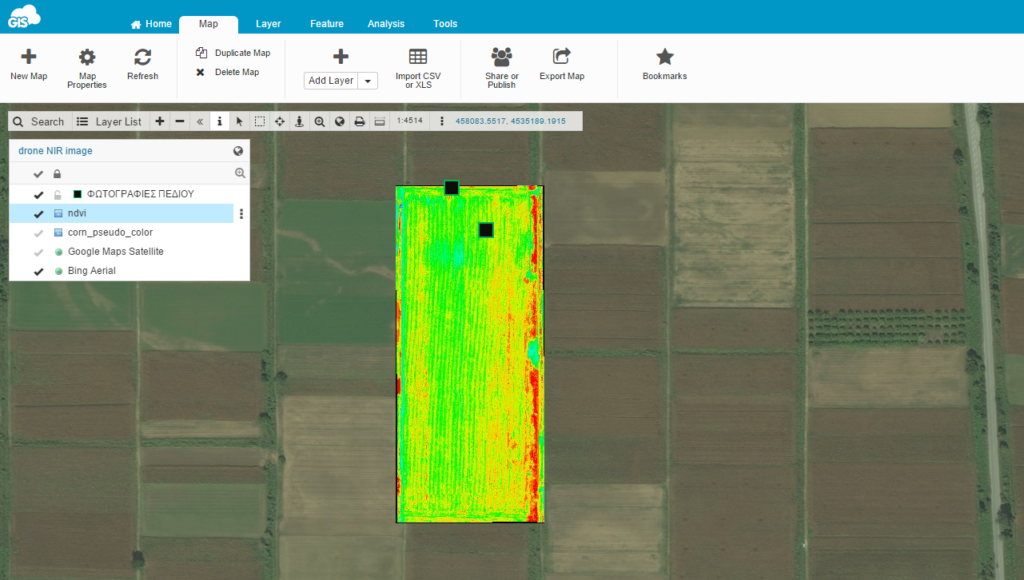 NDVI image – Quick assessment of the crop condition. Light blue pixels denote bare soil and light green pixels depicts low crop growth, in contrast with yellow and red pixels
Solution
GC: Can you describe us your project workflow once you deployed GIS Cloud apps?
NG: With the use of GIS Cloud apps such as Map Editor and Mobile Data Collection we established a "direct" collaboration between the people who are involved in this project and are not located in the same region. So, we overcame the difficulty of the regular meetings and the hardcopy job (printing maps, photos etc).
Moreover, the GC apps provide an easy to use interface that can be used even from non -"GIS experts". For example, the MDC with predefined forms can be used easily from the farmers in order to provide us with field data.
GC: How has GIS Cloud specifically helped you given your industry and area of expertise?
NG: Generally, that kind of projects require the involvement of people with different expertise and also spatial data exchange between them is absolutely critical. In that way, we managed to collaborate from a distance, with an affordable cost, without any need of investment in hardware /software and maintenance.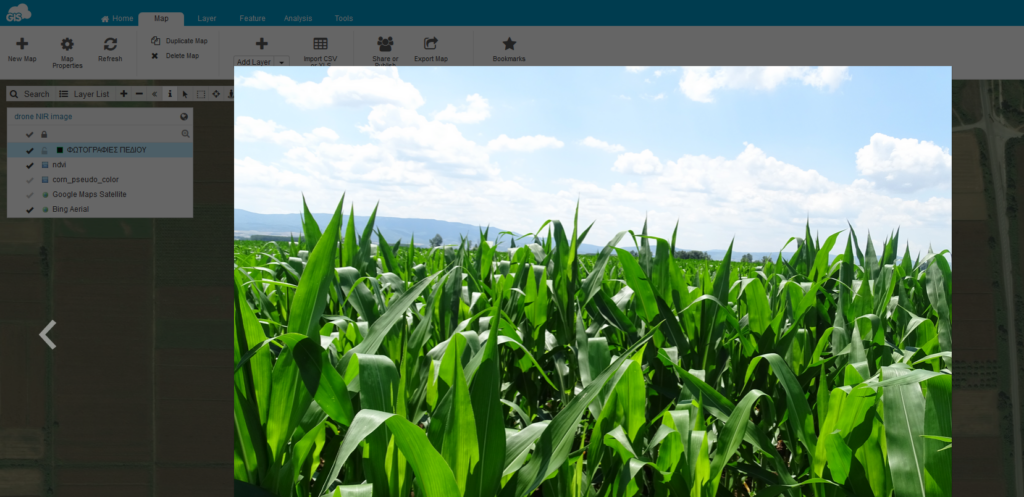 Field survey crop filed photo – Corn plantation
Recommendation
GC: What would be 3 key features in your opinion that you would recommend GIS Cloud for coming from Agriculture/Precision farming perspective?
NG:
Great performance
Affordable cost
Ease of use