One of the largest hospitals in Tanzania needed a land use map to help them build a new hospital extension. To improve medical care in this area and speed up the development of the community, an NGO provided engineers to plan the extension and the drone survey. Yet, their hands were tied on account of outdated hospital property data.

We spoke with Rune Hetlelid from Engineers Without Borders (nonprofit organization), responsible for planning and organizing daily activities in the field. Read how they completed this land use mapping project with drone surveys and using GIS Cloud to visualize high-resolution drone imagery, achieve real-time data editing and team collaboration.




Engineers Without Borders, Norway Division (IUG) is a nonprofit focused on promoting community development. They distribute engineering expertise to other aid organizations while supporting UN's sustainable development goals in all their activities. Every year they carry out many assignments worldwide for Norwegian aid projects, where qualified engineers are their contribution.

Hospitals are one of the most complex building types with many functional units. To plan the extension, it was essential to have an overview of the current configuration and implement the right land use mapping methodology. The main issue was having only a limited amount of existing technical documentation on hospital property.
Initials Roadblocks Engineers Faced When Planning the Mapping Project
Even though we are a nonprofit organization working for charity, we still need access to professional systems. Thus, the price tag is always a question when it comes to implementing a high-grade technology. I would say that this level of accessibility, both in terms of costs and the ease of use, would not be possible without GIS Cloud.
– Rune Hetlelid, Engineers Without Borders Norway Division


While the technical staff was experienced and knew the situation in-depth, there were no recent data updates on the property infrastructure. The existing documents were incomplete since they dated back to the renovation in 1984.

Much had changed in hospital configuration and land use since then, and engineers needed a recent data overview of the area. It was challenging to plan extension and land use without the area master plan. To be able to provide the best care for its patients and achieve maximum efficiency of the hospital staff, it is crucial for every hospital to have a functional design of its complex.

The team previously used QGIS desktop software for creating maps and making analyses. The problem was that QGIS was a too complicated softwarethat required knowledge and experience from end users.

The ideal solution needs to be easy to use, even for the users without GIS experience. At the same time, the solution should be cost-effective and offer a possibility to share maps and collaborate on projects in real-time.

This can't be done using a desktop solution.
Implementing A User-Friendly GIS Solution for Land Use Mapping
At this point, Engineers Without Borders took upon themselves to map the hospital area using drones (UAV mapping). The output were the orthographic photos of the property. They needed to create a high-resolution map, using a system which would smoothly handle rendering large files.

For this purpose, the staff deployed the Map Editor, an app used for drone data visualization and map editing. The orthographic drone photos were stitched together to get the high-resolution images of the property. GIS vectors in separate shapefiles were quickly uploaded and added to the orthographic map.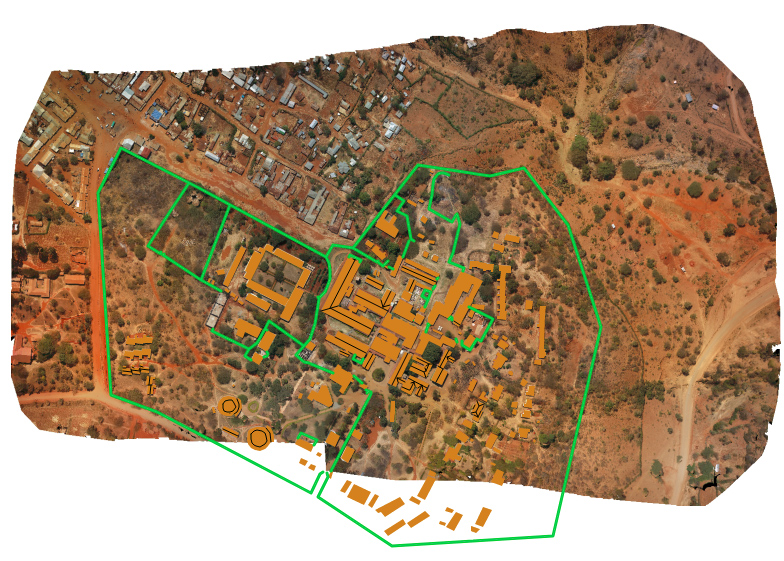 The app is user-friendly, so it didn't require any specialized knowledge from the staff. Map Editor provided an optimal performance in handling large files, even with the slow internet connection.

The map was shared with other stakeholders of the project, making data accessible in real-time on any device. To allow specific members private access to the data, they had used the Map Viewer app.

The maps were accessible in real-time, so Engineers Without Borders staff could collaborate on a project and edit data at the same time. In the words of Rune Hetlelid:
GIS Cloud significantly speeded up the workflow. Additionally, there was no need to develop new systems.

Most useful GIS Cloud benefits for Engineers Without Borders:
Data visualization process simplicity and speed

Collaborating on a project and accessing data from any device

Real-time online data editing
Choosing the GIS Cloud was a very cost-effective decision because of the flexible pricing model. It saved money on training the staff and diminished the number of working hours needed to finish the land use mapping project.

If you want to try this solution and test it out, sign up here to start your free trial.