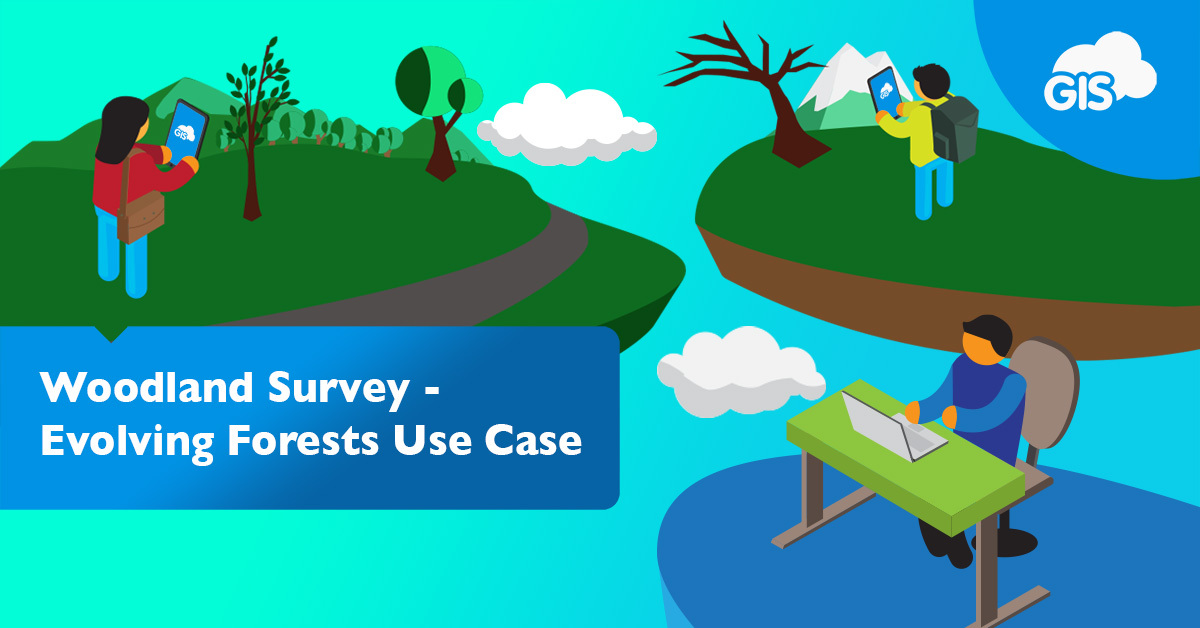 Delighted for the opportunity to design and deliver a woodland survey focused on Dartmoor commons, our client Evolving Forests joined the 'Healthy Trees for Tomorrow' project. A joint venture with Dartmoor National Park Authority, Foundation for Common Land, and the Lottery Heritage Fund, realized by volunteers.

Dartmoor on their doorstep and in their veins, investigating tree health and natural regeneration, was right up their street. Evolving Forests joined forces with friends and all-around great beings Paul and Bea from Corylus Ecology to bring that expert edge to habitat surveying. Then they rallied some twenty-plus volunteers in the name of citizen science to help them collect the data.

We spoke with Katherine Giles, Sustainable Timber Specialist at Evolving Forests, about the project and how have GIS Cloud solutions improved their workflow.

About Evolving Forests:

Evolving Forests, based in Devon, England, works with people looking to use more timber in more considered ways. Always looking for new solutions, their work seeks to better human connection and relationship with trees and work with other organizations and people growing trees to benefit ecosystems, society, and beyond.

The team at Evolving Forests lives for innovation, curiosity, challenging convention, and creating symbiotic relationships with the natural world. Their work does not differentiate between timber product development and ecological surveys. They believe that the path to better business development and land-use change is through seeking out the spaces in which environmental, social, and economic aspects can come together and complement each other.

What motivated you to start the project? Why did you choose GIS Cloud?

Regarding curating our methodology, we were a little stumped by the lack of digital software available. Bored of endless days of data entry associated with paper surveys, we searched high and low to find a solution. We finally discovered 'GIS Cloud'. It did everything we needed (I know this answer reads like an aspirational advert for some lifestyle product, but stick with us).

The smartphone app is user-friendly, with a clean interface and automatic geo-location that pinpoints data collected. It connects with the mapping program we use to analyze data (QGIS).

Unfortunately, we're not cool or clever enough to design that sort of thing ourselves, so we almost gave up looking. Working with GIS Cloud, we could develop the data collection form easily and quickly. The GIS Cloud tech support team was always on hand when she tried to break it.

How did GIS Cloud change how you usually do things?

App in hand, our invaluable team of doggedly-determined volunteers have traversed boggy divots to woodland edges collecting tree health data. Because data in the app is uploaded in real-time, we could react swiftly to areas that demand further investigation. With that, we can have confidence in our data set long before official data processing starts. As a result, our baseline data on tree health on Dartmoor has benefited dramatically.

The confidence of knowing that everything collected is safe has been invaluable. Nevermore will we see data flutter away on a gust, dissolve in a downpour, or suffer misinterpretation. And gallant efforts to gather data are instead meticulously captured and judiciously stored.

We have also curated an open and positive working relationship with the GIS Cloud Support Team, which supported the development of our survey forms at every step.

What was the biggest challenge in achieving your project goals?

Employing citizen science with a diverse group of volunteers to gather as much data as possible meant finding a solution with an easy and intuitive data-collecting capability was essential. Using GIS Cloud also meant that training our group was simple and fun.

We gathered together on Dartmoor, briefly discussed how the app works and got out in the field to test it together. The session threw up many questions we could work through as a group. By the end of the 2-hour session, everyone felt confident and happy to get out to their survey areas on days and at times that suited them.

The paperless aspect of GIS Cloud was a massive bonus for us. Keen to reduce our consumption of raw materials and even keener to cut down the amount of data entry, the app allowed us to simply download an Excel file when the data collection period finished, and we could start analyzing it straight away. This also fed into the project's costs, significantly reducing them by cutting out the days required to input everything from paper-copy surveys into Excel.

The integration of GIS Cloud with QGIS is perfect for how we work. We love to use maps and visuals to communicate our projects, and quickly pulling our results into our mapping project has been great! We can't wait to share our findings with our stakeholders and work together on the next steps for the health and future of Dartmoor's trees.

In your opinion, what are the main uses and benefits of the GIS Cloud Solution for organizations like yours?

The confidence of knowing that everything collected is safe has been invaluable. Nevermore will we see data flutter away on a gust, dissolve in a downpour, or suffer misinterpretation. And gallant efforts to gather data are instead meticulously captured and judiciously stored.

Since developing GIS Cloud for our use, we also started working with the Woodland Trust and Plantlife to use the digital platform to collect woodland survey data for Rapid Woodland Assessments. In our opinion, there is great potential for GIS Cloud solutions usage in our sector.

If you are looking for an easy and intuitive solution for your data collection projects, sign up for the free 14-day trial. Of course, you can also contact our Solution Consultants to help you set up a desirable, customized GIS Cloud solution for your specific needs and workflow at info@giscloud.com.