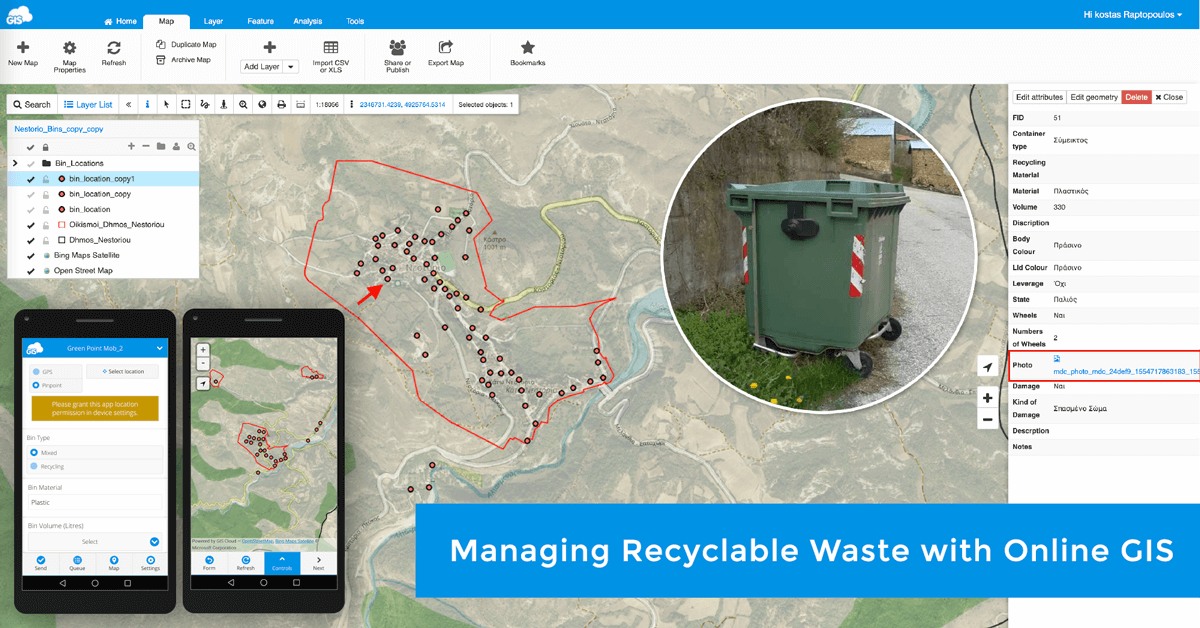 Our Partners NubiGroup from Greece helped the "GreenPoint – Mob" project collect the data on mobile waste containers in remote areas in different countries and create a spatial database on waste and recycling bins, as well as monitor the status of the "GreenPoint-Mob" containers. This significantly improved waste management, saving the project time and costs.

"GreenPoint – Mob" is a mobile waste container consisting of smaller containers for different waste streams (plastic, paper, glass electronic appliances, aluminum, and organic waste).

Fulfilling the operation tender was challenging on behalf of the Municipality of Nestorio in Greece because they needed an operational, easy-to-use online collaborative solution without any paper workflow.

Also, they needed a fully synchronized application system that is cost-effective and scalable for their tender needs.

With NubiGroup and GIS Cloud solution, they managed to share collected data and maps with locations of mobile waste containers to non-GIS experts throughout the project in different countries with a flexible all-in-one online solution!


Table of Contents
Building Recycling Awareness with Location Information

NubiGroup our partners from Greece create a new generation of geo-services, research, and products by exploiting geospatial information and GIS Cloud solutions.

Their focus is on providing geo-solutions to the wider public and private sector.

In this particular case, GIS Cloud applications were used to meet the requirements of the "Development of a mobile Green Point (waste container) at the cross-border region, and promotion of prevention and recycling "Green Point – Mob" project on behalf of the Municipality of Nestorio (project partner).

The main objective was to Improve the management of recyclable waste (paper, plastic, glass, aluminum, batteries, used oils, electrical and electronic equipment, bulky waste, used clothes, and lamps) in the remote areas.

The "GreenPoint – Mob" is a mobile container consisting of smaller waste containers for different waste (plastic, paper, aluminum, glass, electronic appliances, and organic waste). The reason for this idea is the need to cover recycling in distant and remote areas but also to reinforce the local citizens to start waste recycling through waste collection at home.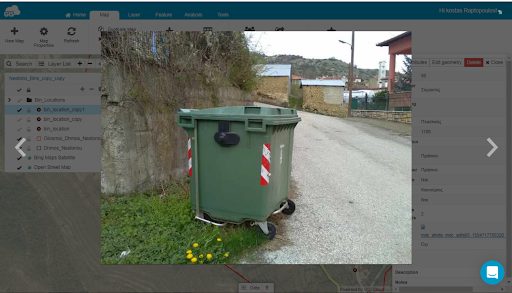 The container will remain at each selected area for a necessary number of days following training activities for awareness through a strong information campaign and storytelling for the people.

Improving daily workflow processes, with real-time, collaborative solution and location intelligence is going to increase the efficiency of the project and reduce the costs for individuals and stakeholders that NubiGroup consults and provides services to in this project.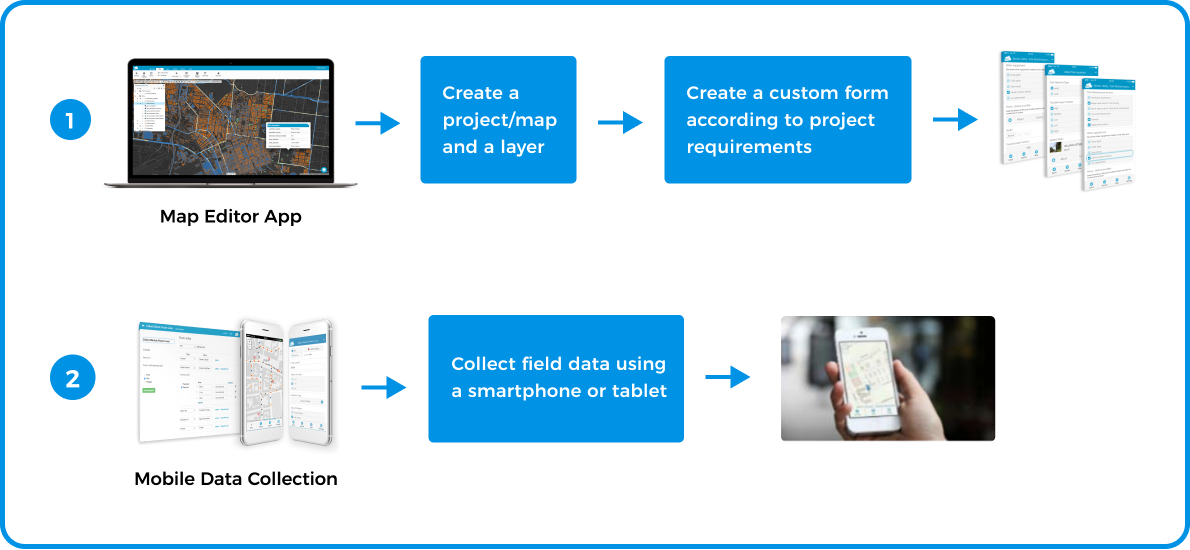 Overcoming the Operational Challenges with Collaborative Solution

In the framework of this project, GIS Cloud applications were used to develop a spatial database on waste and recycling bins as well as to monitor the "GreenPoint-Mob" containers.
The Municipality of Nestorio recognized the vast benefits of new technologies, especially online GIS for their upcoming project.

They had earlier incorporated the GIS Cloud solution for the monitoring and management of municipal green spaces. The value of understanding the condition of their assets and field information in one place under a single solution helps with tender setups and budget planning.

Transforming their everyday operations and workflow with online GIS helped with this particular project as well.
Reducing the unnecessary paperwork for field data collection and inspection was crucial. Creating custom online forms (surveys) to facilitate the data collection in the field like collecting recycle bin locations with full descriptive information was achieved with the Mobile Data Collection application.

It was really important to replace the messy paper surveys and provide clear communication and fast reaction between the teams, especially because the project is connecting different countries together.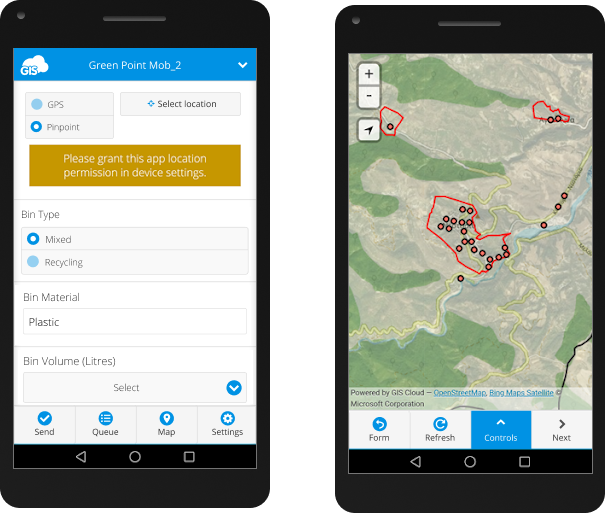 All of the information collected was presented on a map with custom symbology in the
the Map Editor application
Within the Map Editor, you can create, edit, and manage geospatial data.

Unique ability to share maps and projects between different teams and project managers helped project managers to stay in sync and make fast and informative decisions.
All of the actions in Map Editor and the Mobile Data Collection app are visible in real time and synchronized immediately.
Easy and user-friendly applications within the GIS Cloud platform additionally helped bridge the gap between the GIS staff and non-GIS experts on the project.
This helped them save time and additional money regarding the project communication and collaboration. That's half of the job done already.


Benefits and Results of Online GIS Implementation

Single online GIS solution helped NubiGroup with:
Easy and efficient collaboration between international teams

User-friendly and accessible application from any device at any time

Scalable and flexible solution without the need for any hardware investment

Documented decision support

Real-time synchronization of the data
All of the existing and collected data of bins, recycle bins, and green point mobile containers were easily accessible and visible to all project partners and managers through GIS cloud Map Editor and Map Viewer applications.




The collected data on the project can later be used for further analysis. For example, the reallocation of waste and recycle bins based on different criteria like density, settlements population, etc.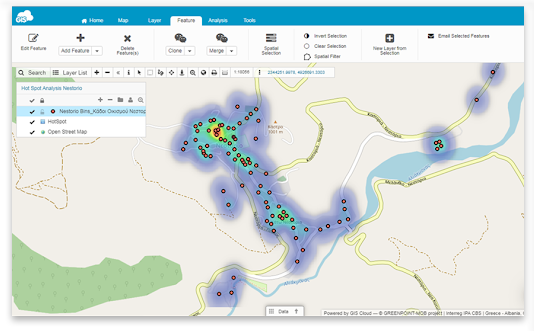 Also, the location and schedule of the "GreenPoint – Mob" containers are accessible and can be viewed through an online map that is shared with the project stakeholders.

This helped with predictive analytics. Identifying and rightly scheduling all of the field and office activities is decreasing any future costs.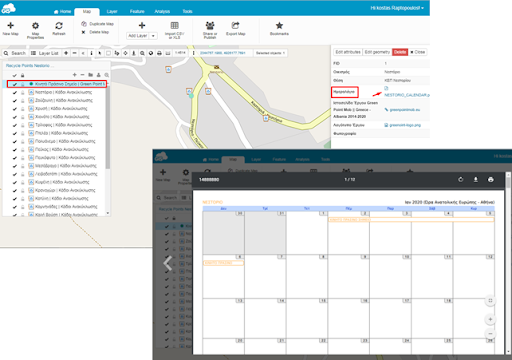 With share and publish options, maps are accessible to the stakeholders and teams privately and publicly, depending on your project need. There is also a full data report option with just a couple of clicks on the map.

Maps bring an easy visual language to stakeholders and project managers, improving collaboration, and displaying project progression and results.
Using a location intelligence to communicate the project inquiry and solve issues on the spot gives you a strategic advantage!

GIS Cloud is a fully scalable, pay-for-what-you-use online platform with no desktop installation required.

However, suppose you need additional data control and abide by internal security policies. In that case, the GIS Cloud system can be installed on your servers behind a firewall as an on-premises private cloud solution.

You can easily scale your app subscriptions at any time per your project needs, get new subscriptions or downgrade if your project scope changes.

If you are interested in using GIS Cloud for vegetation management projects, Sign up for the free 14-day trial.

You can also contact our Solution Consultants to help you set up a desirable, customized GIS Cloud solution for your specific needs and workflow!