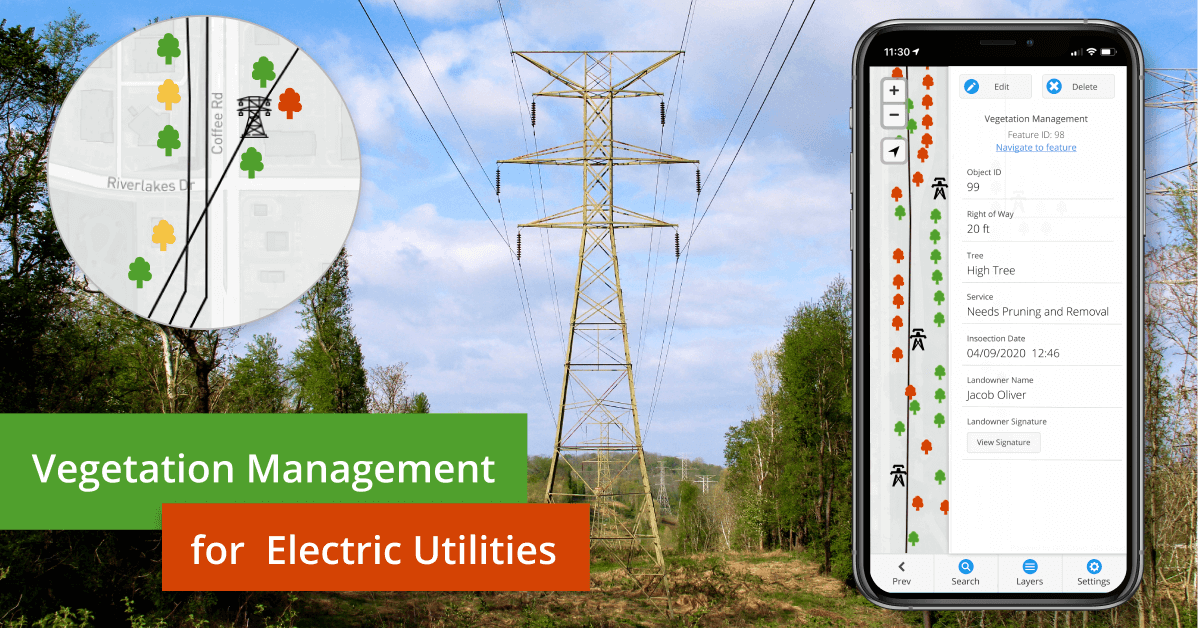 Managing vegetation is crucial for the utility industries, especially for the power and electricity sector. Negligence to maintain vegetation results in destructive wildfires, and dangers of tree falling hazards on utility infrastructure. This brings considerable expenses to the budget and economic loss for both power companies and end customers, not to mention liability issues and facing substantial penalties for noncompliance with vegetation management government regulations.

Optimizing vegetation management is one of the biggest challenges for utility companies because it ensures public and environmental safety.

In our previous article GIS for Vegetation Management, we looked at all the benefits that online GIS can offer as the go-to solution in managing your assets and empowering communication and decision making in your organization.

This time, we touch upon a more delicate issue of maintaining vegetation over vast distances of power lines and power grid infrastructure. Improper handling of tree and vegetation incidents is one of the major contributors to massive power blackouts. It can also spark wildfires, even if the vegetation is not in direct contact with the powerlines.


Table of Contents:
Challenges Of The Traditional Approach To Vegetation Management

Utility companies need to manage their assets in a variety of terrains that often expand many miles throughout deserts, forests and urban areas.

That results in high-cost and complex field data collections and inspections, including necessary sustainable funding by the utility decision-makers, regulators and customers. Imagine how time-consuming it is to identify locations where trees and other vegetation need to be pruned and trimmed to avoid potential contact with numerous poles, wires, meters, and stations that are exposed to vegetation impacts.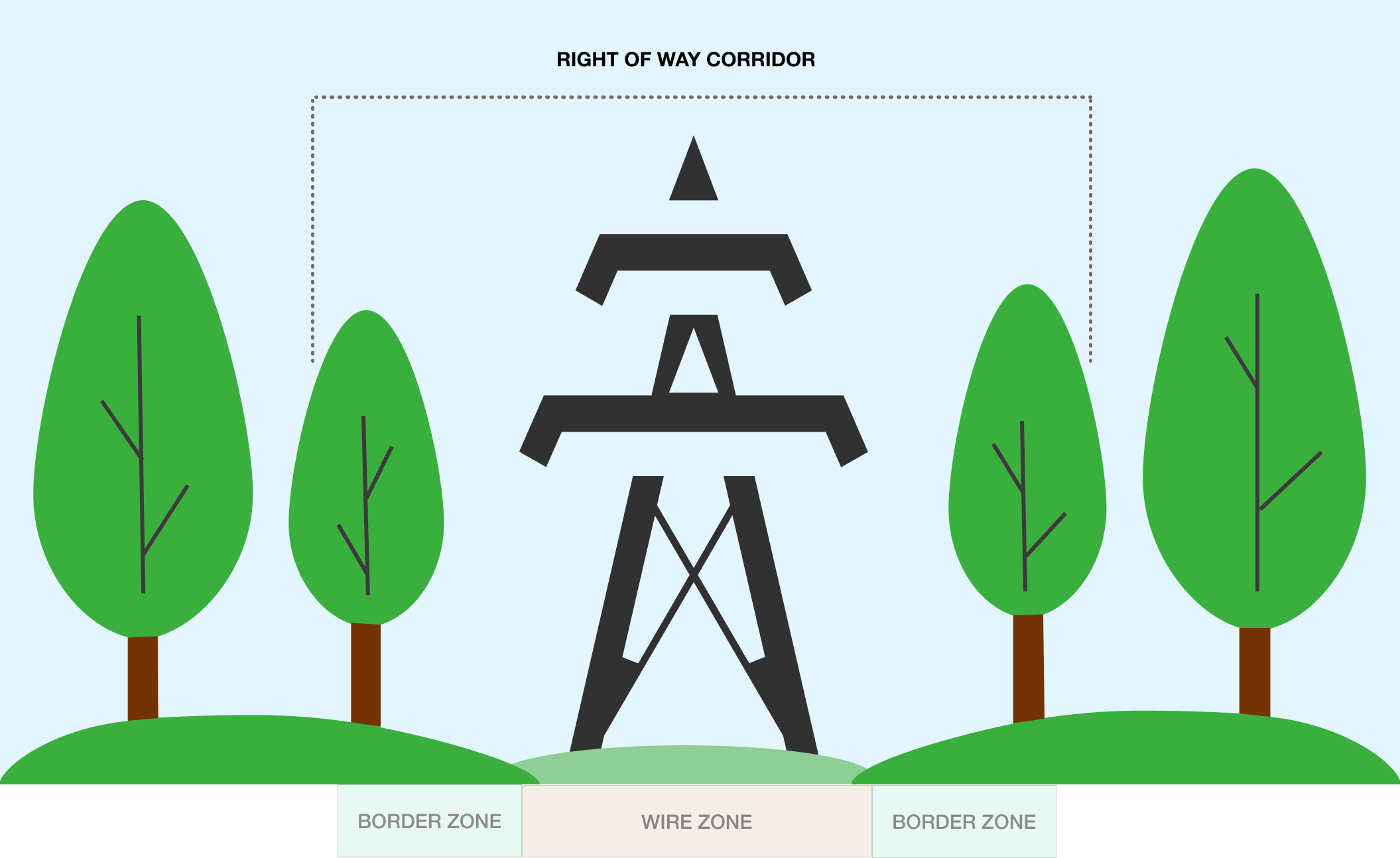 Vegetation management teams need to have precise models on planning, practice, and reporting of the assets. More traditional methods and procedures can present a problem in today's modernized and digitized world. Unoptimized routines require vast amounts of time and a bigger budget.

Adequate planning of individual workflow methods and field record collections is the key to future success.

Typical vegetation management program includes:

Pruning and removal (tree detection, tree damage)

Vegetation controls around electric facilities (fire risks, proximity to powerlines)

Pre and post-work inspections (hight, species)

Tree planting

Suppose your team is still running unoptimized manual procedures with excessive planning and paper documentation, which takes a lot of time and effort. In that case, it can cause mistakes between field data and database when transcribing from paper, and make it difficult to update and optimize the database.

Also, poor map visualization of the vegetation assets can lead to reactive field maintenance by your crew instead of being carefully monitored and executed only when planned and prioritized.

Questions you need to ask are:

What technologies do you use to track your current workflow?
Where do you keep your assets records?
How do you communicate work assignments to field and office teams?
If an answer to these questions remains "pen and paper, spreadsheets, printed maps and reactive maintenance", you are undoubtedly facing increased vegetation management costs with outdated and unreliable work procedures.


Digital Transformation: Optimization, Visualization And Risk Prevention

Meeting performance goals, rather than defining required tree and vegetation maintenance, can be a difficulty. Utility companies are under continual pressure to balance their ever-changing work priorities. It is impossible to predict which of the assets will require assistance or cleaning up by a routine fieldwork cycle.

In short, the team needs to evaluate the area and the location of the vegetation, anticipate the growth rate and perceive the threat to the utility assets based on the surroundings. Let's not forget that the pruning needs to be done on time and correctly, or else available resources to address the right issues go to waste.

The biggest challenge is the optimization of the work process. There is a short window between identifying the imperative and completing it before it results in a potential risk hazard.


The solution to time-consuming manual vegetation management is:
Quick and efficient data collection and inspection
Data accuracy and quality
Effective team coordination and collaboration

Understanding the data and the state of your vegetation will optimize the operation planning based on the potential risk areas, and prioritize the required pruning and trimming cycles for your team.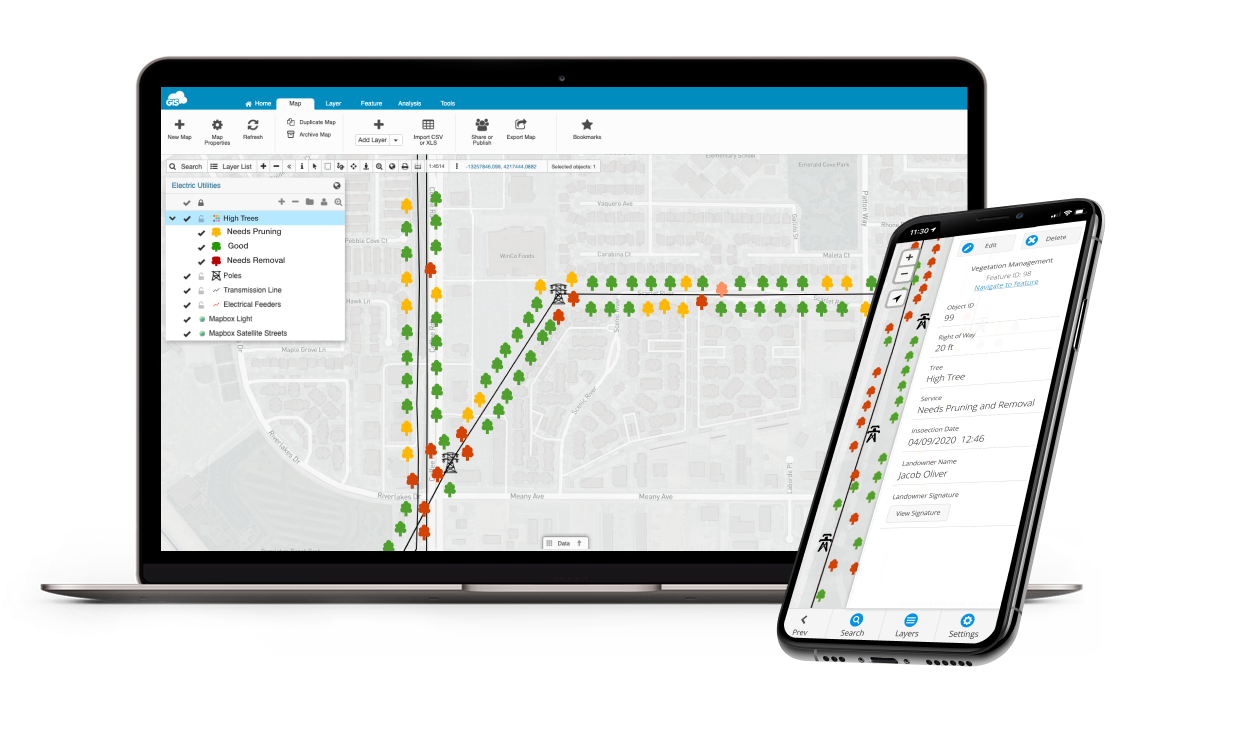 With online GIS, you can transform your field and office operations using all in one solution that will help you increase work productivity. Mapping vegetation in advance will help you perform quality routine inspections and efficiently improve your field workflow.

Visualizing your work routine is half of the job done!

Replace your paper maps with a powerful Map Editor and messy paper forms with the Mobile Data Collection app and digital forms.

GIS Cloud apps and services will help you store spatial data and other information in thematic layers that are represented by the same symbology. Your vegetation data layers combined with the power grid and electrical lines symbology are all connected with the specific geo-locations (coordinates) which helps you see it spatially on a map.

This corresponding data gives you valuable insight and helps you identify and predict environmental hazards such as wildfires, grow-in or fall in vegetation risks, and economic losses. You can color-code different area layers depending on priority.

Connect and collaborate with your team in real-time, with all of your geospatial data centralized and available on any device. Instantly see the record of performed operations and improve the safety and reliability of your entire organization and assets.


Vegetation Management Program That Will Reinforce Long-Term Sustainability
The workflow is intuitive and straightforward.
Field Data Collection

With custom forms in the Mobile Data collection app, you can prepare your team for every field project needs. Collecting quality data is an essential part of your vegetation management process. Get rid of the outdated paper surveys and start your data collection with our flagship app!


You can customize each form according to your project needs:
Work type

Checklists

Dependency and conditional form fields

Photo and audio requirements

Dropdown menus

Autofill

Barcode & QR Code, etc.

To ensure additional data accuracy, increase speed, and eliminate errors when filling in digital forms, make your form fields required, dependent (conditional) or persistent.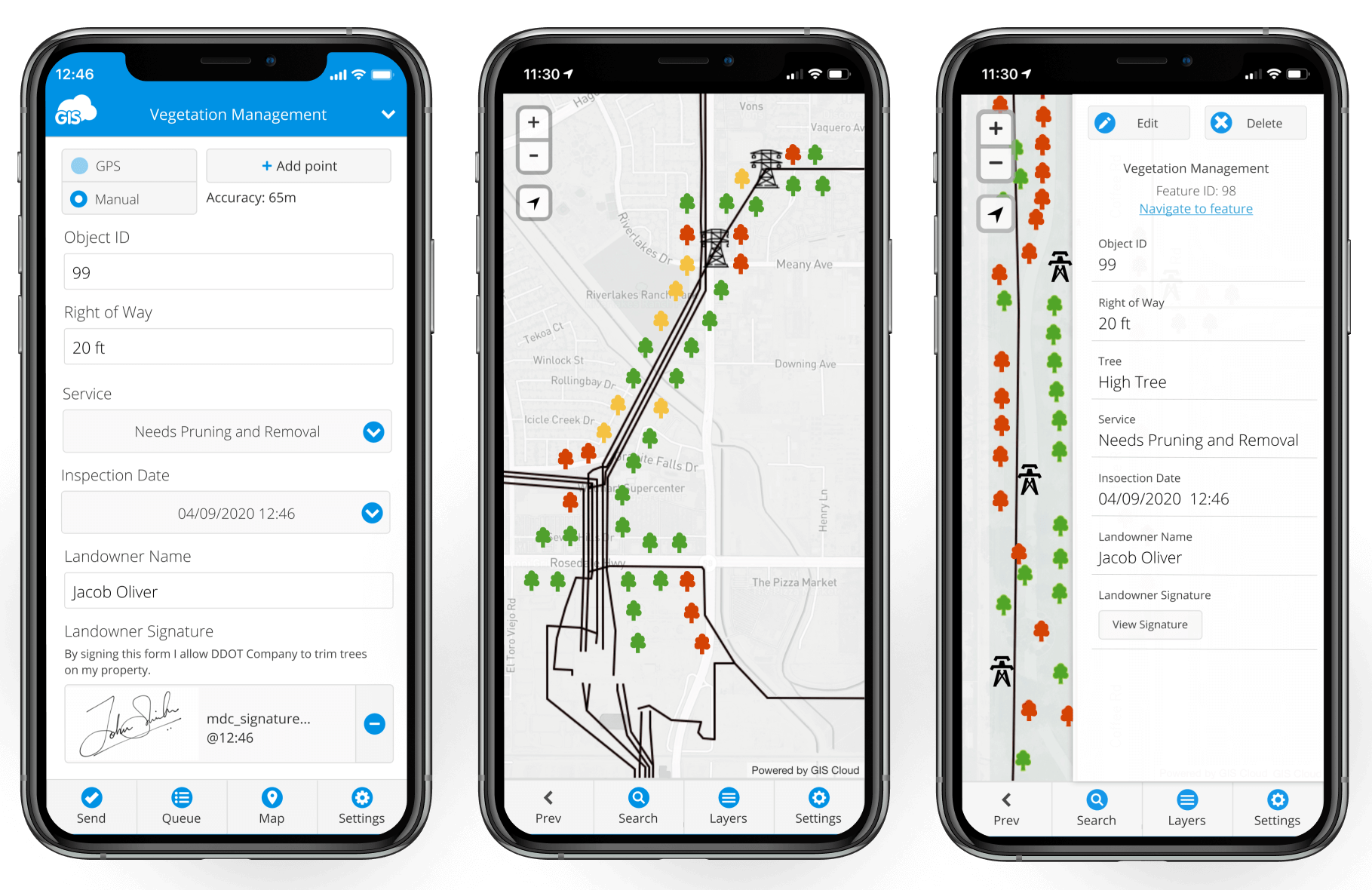 In the MDC app, there is an online and offline work mode in case you struggle with poor internet connection in remote areas.

If your GPS signal is weak, you can use the pinpoint and drawing tools to precisely define the location you need, as well as point, line or polygon features!


Data Visualisation and Perception Analysis

Managers and coordinators require a good overview of the data to define project workflows and assign tasks based on the collected information on the field.

There is no better way to do it than through an interactive map.

With the Map Editor app, your day to day tasks, like editing field data, analysis, sharing maps and reports are all completed in one place. Field data recorded with mobile devices is instantly visible on a map and accessible across the GIS Cloud platform, in Map Editor, as well as in the Map Viewer app, and ready for further operations in the office.

No more flash drives, DVDs, Dropbox links, all of your data is centralized and uploaded to the cloud, visible on the map in real time!

You get a full view of what's going on, including the crew's location, task list, and completed jobs, allowing you to make crucial project decisions immediately!

When the project is ready, share it with your coworkers and stakeholders, privately or publicly, using Map Viewer and Map Portal applications. Shared data can be customized for GIS experts or optimized for non-professionals with different access and permission levels on any device at any time.


Risk-Informed Planning and Task Prioritization

With all of your data visualized, and regularly updated by your field crew, you will be able to identify and analyze various geospatial information and predict potential risk areas in advance.

Different assets can be marked and filtered with distinctive symbology and colors that will help you highlight the zones of grow-in or fall-in vegetation and trees, areas affected by fires, windstorms, or infected tree areas.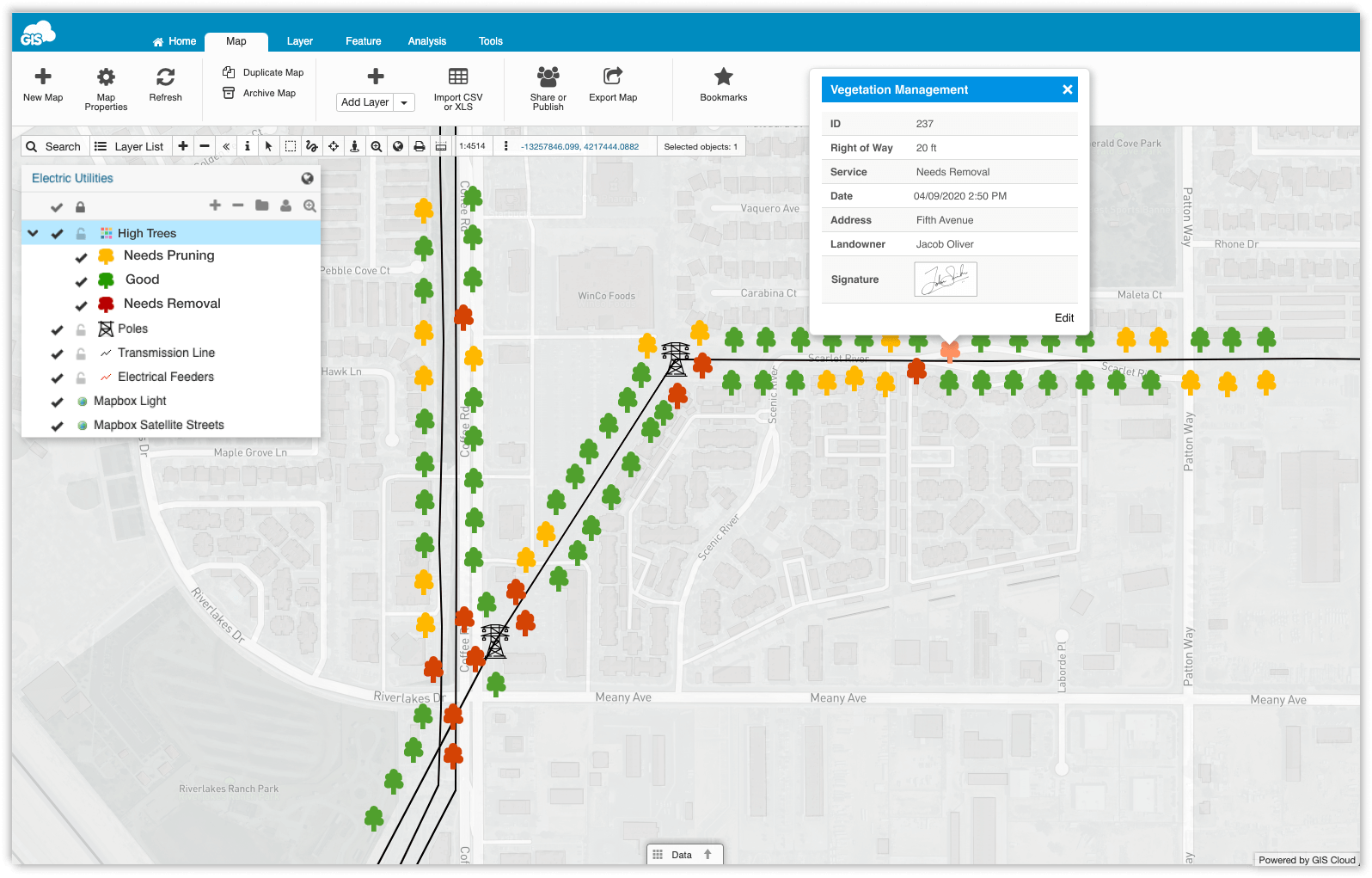 You can identify the location of the latest assignment and set new assignment priorities depending on the status of the team. With attached photos and notes, field workers can literally see the pictures of fallen trees and other hazards connected to their geolocation. Once the job has been successfully done, they simply set the assignment status to complete, which shows automatically on the map for the office crew.

Photos and other records of performed jobs, including date and location information, also serve as proof of completed maintenance obligations and can be crucial in mitigating company liability in case of accidents, power outages or fires.
This will help you create custom reports to address complex vegetation growth rates, track field productivity and be up to date with treatments of risk affected areas.

With optimized vegetation maintenance plans, cost-effective trimming and pruning actions, you will save time and money. Identify, prioritize, and mitigate risks to reduce vegetation and tree damage.


Performance Management and Reporting

Now when you have your workflow system in check, and the feedback-loop on performed tasks is on schedule, supervising and measuring the performance of the project is easy. As we mentioned before, quality vegetation management programs should use analytical methods to inspect, collect and analyze risk assessments.

In the Map Editor, you can supervise, edit and maintain all of the field data with the understanding of how to evaluate and improve your day to day strategies and plans.
On an interactive map, you will be able to increase the effectiveness of team communication, facilitate an understanding of all work conditions and actions that need improvement. There's no need to import or download the data onto your computer, with GIS Cloud, it's all accessible at request, online, in real-time!

With the help of predictive analytics, your vegetation management operations will be effective and decrease any future costs. Rightly scheduled field and office activities will optimize your expenses and improve customer satisfaction.

Using GIS Cloud as the go-to solution will improve managing your assets in a variety of terrains and empower field communication and decision making. GIS Cloud is fully scalable, pay for what you use online platform with no desktop installation required.

However, if you need additional data control and abide by internal security policies, the GIS Cloud system can be installed on your servers behind a firewall, as an on-premises private cloud solution.

You can easily scale your app subscriptions at any time per your project needs, get new subscriptions or downgrade if your project scope changes.


If you are interested in using GIS Cloud for vegetation management projects, Sign up for the free 14-day trial.

You can also contact our Solution Consultants to help you set up a desirable, customized GIS Cloud solution for your specific needs and workflow!