We bring you a case study about creating a Tourist Map of the Island Šolta, a project done by a Geography student Ana Mihojević, who is also the author of this article.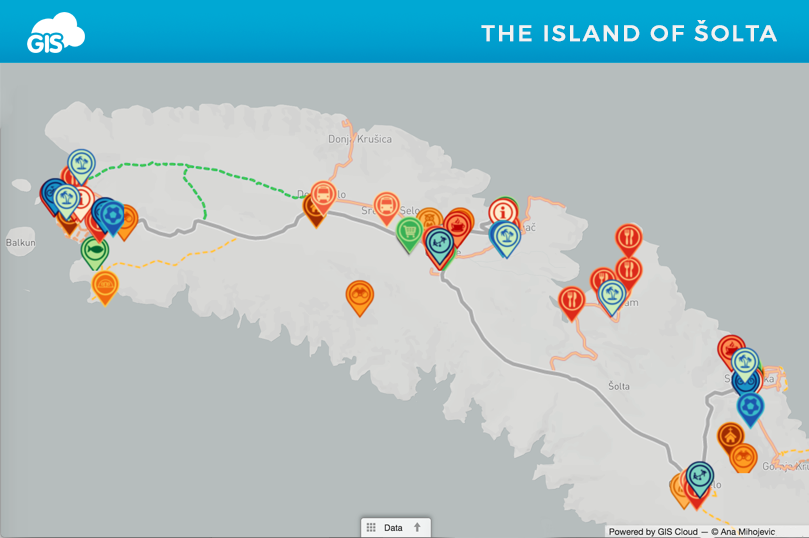 Over the last few decades, tourism as an industry has become one of the fastest growing economic sectors in the world, according to UNWTO. As in every industry, supply and demand are changing rapidly. Considering the growth of the tourism industry, nowadays tourist hosts are looking for a way to modernize their service. So, the idea is to provide tourists more information in one place, to comprise all information from tourist guidebooks and give them a spatial component.

Another factor to consider is the fact that tourists are seeking more experiences in a shorter period. They want to experience the most of some location at a reasonable price. Also, more and more tourists are no longer led by the so-called 3 S model (sun, sea, sand), but are interested in all types of activities whilst on holiday, such as bike tours, hiking, learning and experiencing local life, etc.
GIS can be a very helpful tool for combining and presenting all those activities. It is good for planning, organizing or analyzing tourist data and activity by creating maps. Maps with marked tourist locations, such as beaches, restaurants, and supermarkets are a must have for every tourist guidebook.
The location chosen for this project is the island Šolta in Croatia. Šolta is an island only 20 km long and has ten villages. Over the last few years, the number of tourists visiting Šolta has grown up to almost 15 000 per year with more than 150 000 overnight stays per year. The island is developing, there is always more to offer, and demand is high, which was reason enough to acquire this type of map.

Šolta's main quality is its intact beauty of nature. On the one hand, there are villages with a variety of things to see and discover, and on the other hand, there are many macadam roads through olive gardens ideal for biking, hiking or just a relaxing walk through nature. All those Šolta's features needed to be presented. So, let's see what were the main challenges and solutions in conducting this project.

Challenge

There was a need for an interactive map that could be of use for tourists and also for the locals, owners of different types of business, etc.
Information about certain locations is often being changed, such as phone numbers for reservations at restaurants. So, it was important to have the possibility of quick and easy update of attributes. Also, information given in the description of features have to be valid so that the map could be accurate. There is already a Google map of Šolta with some pinpoints showing certain locations. That map is relevant for providing basic location info, but it is outdated and lacks locations such as local infrastructure, restaurants etc. and information about the facilities. As mentioned before, there are maps within tourist guidebooks. The problem is that those maps are in a small scale, with imprecise locations. Since there is no map of this kind for this particular area, the main challenge was collecting all the data.
The second challenge was to decide what is relevant to be shown on the map. The map had to be adjustable to the user too, whether it is by using filters, show or hide layers or the simple zoom in and out option. Another important item on the list was that the interface is simple and easy to use.

The database was created from websites of the Tourist Board of Island Šolta and Association My Šolta.
All this information were already listed and emphasized, but they were missing a spatial component – a place where you can visualize them.

Solution

Using the GIS Cloud platform, it was easy to organize collected information. The map was done in just a few days. GIS Cloud Map Editor was used to create the project and to display roads of interest by using polylines. The biggest job was to add all point features and their attributes. Search by address option in GIS Cloud made that job much easier and also more precise than just pinpointing features.

Access the portal directly on this link.
The map, published in Map Portal application, shows a variety of content organized in 6 groups of features:

Services give information about tourist information centers, restaurants, bars, transport etc.

Activities answer the question what to do while on holidays on Šolta. In this group are listed beaches, sports centers, rent a bike or scooter businesses.

Attractions give a list of Šolta's highlights like viewpoints from where you can see the panorama view over the nearby islands or mainland. There is also a list of churches and locations where to try some of Šolta's authentic products.

Shops show locations of all supermarkets, green markets and a fish farm as well.

Healthcare and Safety contain information about pharmacies, police and fire departments and an ambulance in case of emergency.

Spatial Information show all the roads of Šolta, macadam roads, bike routes and seaside promenades.
Interactive Tourist Map of island Šolta demonstrates how to combine GIS technology with tourist guidebooks which are of everyday use for the wide specter of people.
This type of map could even be used for other purposes and other industries such as real estate. It could be easily updated to a map of accommodation with listed hotels, private accommodation or even yacht marinas.
The map is publicly available and hopefully can be helpful and informative to users.
Want to create a tourist map of your area? Sign up and try it for yourself.