This use case describes the project done by a GIS student Morana Labović, who collected data on the illegal landfills in Zagreb to create an interactive map for raising citizen environmental awareness.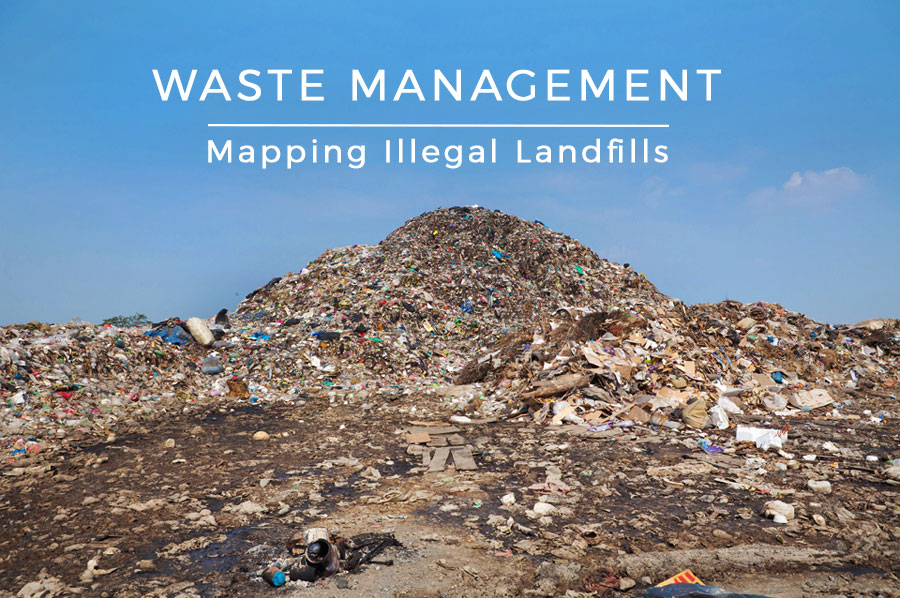 Due to the increasing quantity and its harmful effects on the environment, waste is one of the most significant ecological problems of the modern world. Waste management is one of the vital factors contributing to the development cleaner, safer and smarter cities.
Many processes are involved in effectively managing waste. GIS Cloud can assist in collecting spatial data and the direct use of these data for further analysis and cartographic representation.
The location chosen for this project is the City of Zagreb. Zagreb is the capital of the Croatia whose population is growing with each year.
With the demographic growth of Zagreb, the amount of waste production is also increasing. With the increased amount of waste, there is also an insufficient number of landfills as well as finding an adequate location for new landfill sites which should be spacious enough, but also in accordance with environmental protection criteria.
The waste is illegally disposed at several locations in the city. Such unregulated disposal locations that are not intended for disposal are called dumps. Dumps indicate that there is still insufficiently developed citizen environmental awareness, and there is also a great danger of pollution of soil, surface, and groundwater and represent potential sources of fire. Directly and indirectly, they affect human health and other living organisms. Therefore, people should be educated about the harmful effects of illegal dumping because raising environmental awareness is the best way of preventive action to avert the occurrence of illegal dumping.
The questions behind a field research that resulted in an interactive map were: How much illegal dumping locations, in fact, we have in the city? What are the most vulnerable locations? How to prevent illegal dumping in nature?
CHALLENGES
In the city area, new dumps are appearing every day, and a large amount of them are being reported and being taken care of. According to the Zagreb Holding report, in 2014 and 2015 in the Zagreb area there were over 1200 dumps.
To report illegal dump sites, citizens needed to make a call to Zagreb Holding City Cleaning branch and provide information such as time, date, location (approximate address) and type of waste. Using these old data collection methods, doing paperwork and adding data manually to a map for more than 1200 locations across the city, was an impractical and imprecise solution. There are some potential solutions to do it, but the idea behind this project was to find an alternative and more efficient way to collect and organize data that can be handled by anyone, even non-GIS expert, and that will work even in offline conditions.
All of that data needs to be visualized because it is easier to understand a large amount visual data in the form of the map than to try to make sense of spreadsheets or paper reports. Environmentalists, associations for the protection of nature and other stakeholders may benefit from visualization on a map by finding and analyzing spatial patterns, distributions and spatial relations in the field.
Another challenge was how to share a large amount of data to the public so that we could raise environmental awareness. Updating and changing data attributes is slow when using GIS desktop solutions and sending data between stakeholders via emails, CDs or flash drives is inefficient and doesn't offer real-time insights that allow prioritization of tasks.
SOLUTION
The idea was to show the locations of illegal dump sites and to provide info on the addresses of recycling yards, working hours and contact number on an interactive map.
GIS Cloud enabled data collection, visualization and publishing. It was also important to enable quick and easy update of the situation in the field in real-time.
Cloud-based GIS platform enables the citizens and researchers to collect data in real-time with Mobile Data Collection. This data is instantly visible and visualized on a GIS Cloud Map Editor in a web browser, so there is no longer need to rely on GIS desktop software and paper reports.
The web map data can be accessed using any device (mobile phones, tablets, laptops). With the help of their smartphones, citizens would also be able to log the location of the new illegal landfills with the corresponding address, GPS coordinates, type of waste and attach images if possible.
In that way, data visualization helps municipal security guards to get more information about dumps and most importantly – about its locations which would certainly enable faster riddance of such landfills. There is also the Offline Maps option for collecting data that was extremely helpful in some areas with without access to the Internet.
The map was made using GIS Cloud Map Editor while data was collected during field research using Mobile Data Collection with customized forms.
With field research and interviewing there have been found 42 illegal landfills. Surely there are much more, but due to locations of research and in some cases inaccessible terrain it is hard to locate all illegal landfill locations. Also, this was only a preliminary phase of the project, where the main goal was to assess the possibilities of field data collection and GIS Cloud for mapping landfill data.



The interactive map displayed in the Map Editor, shows the content organized into three groups:
Recycling yards

are marked with dark green signs. They are located in easily accessible sites which can be reached in a short amount of time and cover the area with a radius of 2-4 km. (Type of waste)
Mobile recycling yards

are marked with light green signs. They are portable units, container type with the possibility of opening the area, where the reception and storage of up to 30 different types of pre-sorted waste including some types of hazardous waste are possible, all of that in smaller quantities.
Illegal landfills

are shown with orange symbols. Most are present at locations outside the immediate city center, on the outskirts of the city.
Knowing that in the City of Zagreb new dumps appear on almost daily basis,  having the interactive map enables quick and easy update of the situation on the field in real time, including new and updated information about recycling yards.
Raising awareness and knowledge of illegal landfills and their damaging effects on the environment and nature is very important for their prevention and termination of uncontrolled waste disposal. The population is an important factor affecting the appearance of illegal landfills, but also a factor that can influence the reduction of such places, and one of the possibilities for educating citizens is definitely by engaging citizens to use this map and update it with new information.
Furthermore, as the problem with the illegal landfills often reappears in Zagreb as well as almost every other city, it would be useful to extend the data collection with the crowdsourcing possibilities for the citizens who could easily report such sites in the future.
Interested in using Mobile Data Collection or the Crowdsourcing app for your environmental project? Contact us here.