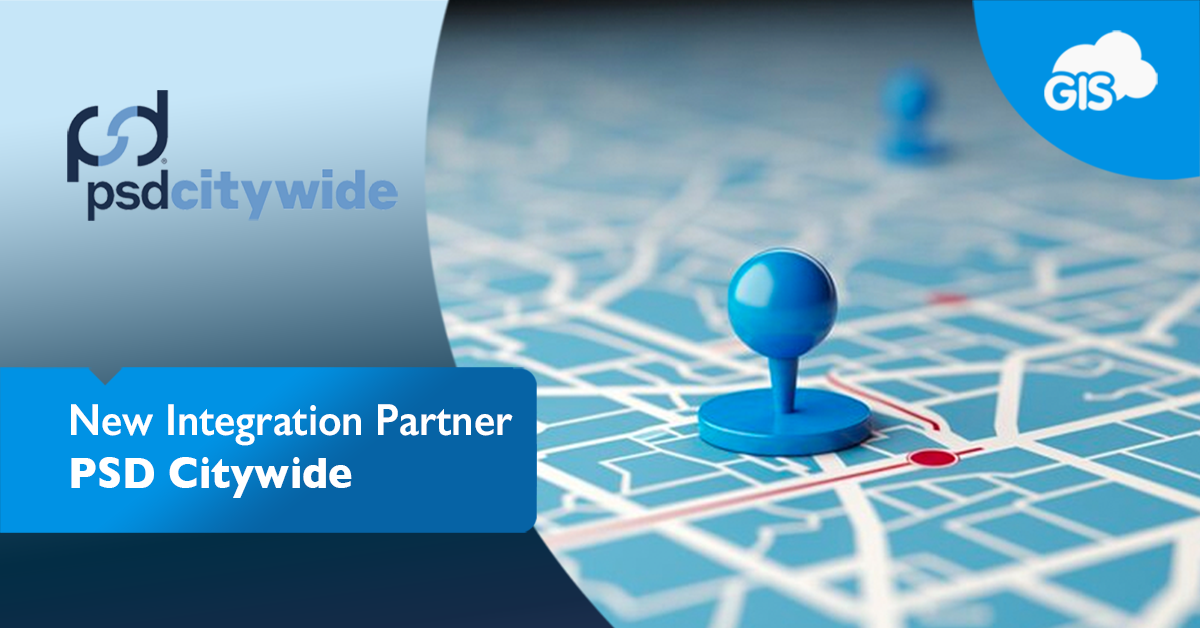 London, Ontario & Zagreb, Croatia – September 21, 2023 – PSD Citywide® is pleased to announce its new integration with GIS Cloud, a leading European provider of GIS mapping working in more than 50 countries worldwide. Fully integrated with Citywide GIS, current and future clients can access a wealth of new public mapping options to provide greater transparency and value to citizens using easily accessible public maps.

GIS Cloud offers a complete location-based solution for different workflows in a wide range of industries, including utilities such as water and pipeline management or electric utilities, telecommunications, roadworks, tree inventory and inspection, retail, smart cities, natural resources, public city maps, and many more. They deliver a cutting-edge mapping technology accessible to a wide variety of users and companies, regardless of expertise, industry, or size. The company's vision is to create advanced technologies that are simple to use, bringing the benefits of GIS to every corner of the world.

PSD Citywide client feedback showed a strong demand for being able to share more information with their citizens online. With GIS Cloud, existing and future clients of PSD Citywide can create, customize, and publish maps that the public can see online. Local governments can take data from the Citywide GIS solution to create their own maps and choose to publish those maps with a system-generated URL. They can then share the link or embed the map on their website to provide more transparency and citizen engagement. This is helpful for sharing details on capital projects like road work, a park enhancement, or a downtown revitalization project.

"Adding this new capability is something our clients have been asking for, and we are thrilled to be delivering this with our new integration with GIS Cloud", commented Peter Scott, Chief Technology Officer at PSD Citywide. "With our existing GIS solution, clients were only able to share maps and data with platform users working within their local government. Now, they can choose to share something like splash pads, which they have in the GIS tool, and make that available on their municipal website so citizens can click on it, interact with it, and see every available location. This is just one of many examples our clients are excited to be able to share with their citizens."

The integration with GIS Cloud opens many opportunities for PSD Citywide clients. They can create and share maps outlining garbage pick up schedules, park trails, ward zones, and more, all generated through the Citywide GIS solution. Existing clients can begin using these new features powered by GIS Cloud by speaking with their dedicated account manager or by sending an email to info@psdciywide.com.

About PSD Citywide
PSD Citywide is a leading provider of enterprise asset management, maintenance, financial, GIS, and permitting advisory and software solutions. They deliver the only all-in-one solution in the market to support municipal governments, managing more than $350 billion in municipal assets across North America. With a multi-disciplinary advisory team of finance, engineering, municipal practitioners and a leading in-house software development group, PSD Citywide provides holistic solutions to deliver best-in-class service for their clients. For more information, please visit www.psdcitywide.com.

About GIS Cloud
GIS Cloud is a web-based geographic information solution (GIS) that can visualize any data as maps. It helps organizations and businesses improve decision making and optimize operations to save money.

Unlike consumer oriented mapping such as Google Maps, GIS Cloud has additional strength in delivering simple and advanced tools and analysis for business and government as well as enabling easy data sharing and collaboration within organizations. Running in the cloud, it can be integrated with client data and various external web applications and provide significantly lower IT costs, and eliminate time maintaining, scaling, and updating software and servers.

GIS Cloud is a European company, working in more than 50 countries worldwide with partners around the globe. For more information, please visit www.giscloud.com.


Media Contact:

James Geneau
Chief Marketing Officer, PSD Citywide
jgeneau@psdcitywide.com

Dario Andrasek
Head of Marketing, GIS Cloud
dario@giscloud.com


PSD Citywide, Citywide, and Citywide GIS are registered trademarks of PSD Citywide Inc. All other trademarks are the property of their respective owners.