Museums are central institutions for culture, education, and tourism, preserving history and art for generations to come. Interactive online maps can help people discover and navigate to the closest cultural attraction in the area. Scroll down and try an interactive map of 140 most visited museums across Europe, including their famous exhibits.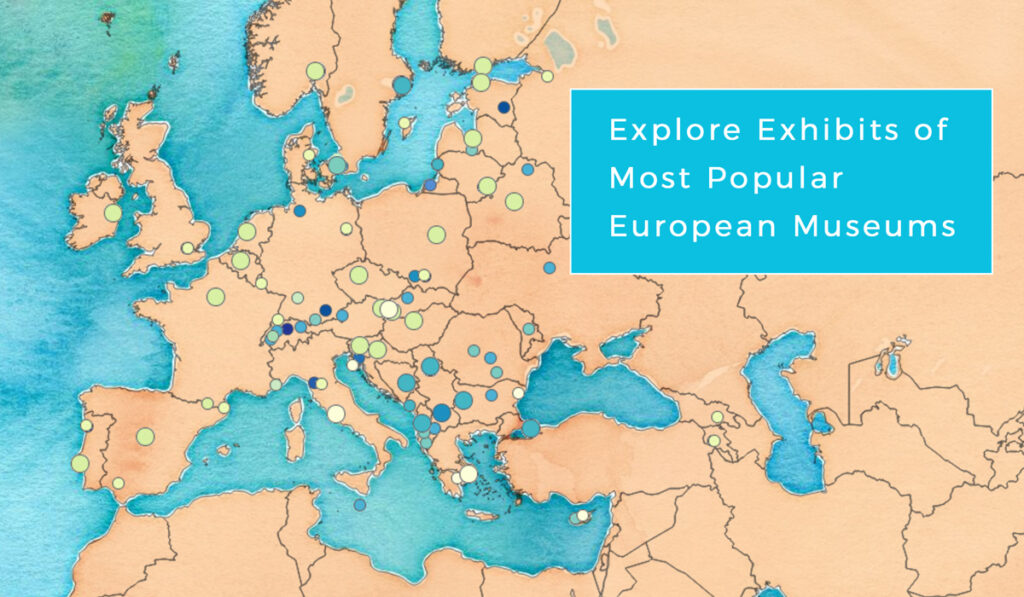 According to the Network of European Museum Organization, a huge influx of tourists that museums attract highly contributes to local economies, allowing for 'cultural tourism' to grow as an industry. When traveling, people like to learn about the cultural heritage of the place they are visiting. Good maps act as 'advisors' on what to visit and help explorers find a nearby attraction of their interest.

Unlike touristic books or catalogs, interactive online maps can provide a real-time overview and quick access to the data, which is why travelers often prefer them to paper manuals.

Digital maps offer many nice features, like adding extra components to each location; a picture, opening time and other information which can be instantly updated. Having all this in mind, geography student Ivan Žokvić came to an idea to create a map of the most visited museums in each country in Europe and their most famous exhibits.


How to find data to create a map from home?

There are a lot of public data sources you can find online. For his mapping project, Ivan obtained official records on the most visited museums from EGMUS (The European Group on Museum Statistics) and combined them with the ratings available on TripAdvisor.

To add value to the map, Ivan created a large spreadsheet database with different media files, containing a photo of each museum, its most famous artwork, and a unique museum fact. He also added a link to the museum's website.

Some museums often need to change information on working hours, entrance fees, special exhibits or artwork relocation. That is why it was essential to have the right tools to quickly and easily update map information.



What tools were used to upload and update the data?


For this project, Ivan needed a tool to simply create a map, link additional information and media to spatial data, and share it with the public. GIS Cloud Map Editor proved to be the perfect solution to upload and visualize location data, classify museums by a chosen category and add attribute information (websites, images, etc.).



Open the map and explore unique exhibit facts here.

It was very easy to organize collected data, and the map was finished in less than a week. To display a database of 140 museums in Europe on a map, Ivan used GIS Cloud geocoding tool.

With Map Editor, you can sort collected data by specific attributes. Museums have been categorized according to their type; a historical museum, an art museum, an ethnographic museum, etc., each represented with a point symbol of different color and size.

Exploring the map, you will also notice 10km and 50km buffers around museums, aimed to help make quick traveling decisions to visitors on the road.

If you want to share a map with the public through a fully customized interface with specific colors, logo, and title, you can use Map Portal brand your app. In this case, standard GIS Cloud branding was applied.

The map of museums can be a valuable resource for the general public, museum professionals interested in presenting their work online, and educators who want to provide information to school groups. Using GIS Cloud apps, you can create your own map easily, even if you had no previous experience with mapping technology.
Want to try it for yourself? Sign up here.