Data visualization makes our lives easy and simple. It is not a new thing, but the way we do it improves and upgrades daily. Just recently we were still drawing maps, filling forms manually and collecting GPS locations as a single point, with no media associated.

With the boom of free data that is now available to a large audience for free or at a low cost, the ways of visualization had to keep up. The list of data formats prolonged, data volume exploded, and new ways of visualization emerged.

We are no longer locked to our desktop computer, to a single location or to a single person. Our appetites got bigger for the speed and performance of our maps. We now depend on it, but also enjoy the ways of visualization at all scales that increase the precision of our decision making and collaboration.

This is an example of a data visualization solution that Systems Development Group, Inc. needed for their client, New York State land administration and parcel management.
Background
Systems Development Group Inc. creates software for working with New York State real property and county clerk information. Many municipalities throughout New York have chosen to use their software to organize and distribute their data.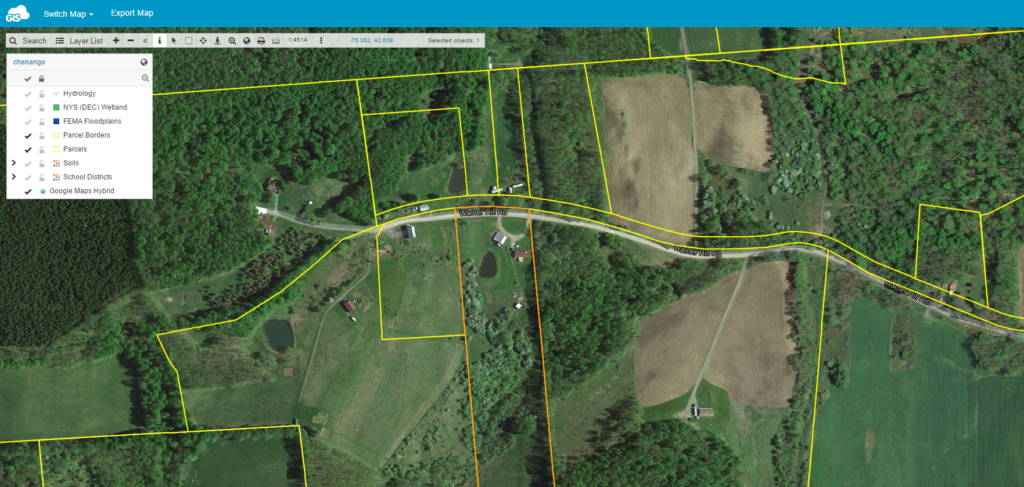 Making large datasets easily accessible
SDG needed an application that can show different data like aerial photos, parcel and soil data in large volume and that is accessible to their clients in a form of web maps. Not having to worry about servers and internet speed greatly reduced their worry for creating many online maps for clients to utilize. Without the cloud component, that wouldn't have been possible.

The most challenging thing for them was to find a solution that wouldn't require IT staff and that they can run a cloud solution in a user friendly way on their own. The cost was another bonus as it was dramatically less than if they had attempted to do it on their own. Adding URL-s to their parcel data was another requirement.
Online Solution for Parcel Management
The combination of GIS Cloud apps proved to be a perfect solution for their needs. Map Editor enabled them to make 'big data' maps in various formats. It has the media integration option, so the URL links were very easily added to their data. Once the maps were ready, they published them in a form of a white labeled Map Portal. This app is a great solution for data visualization as it has search, interactive, export, switch map options and many more.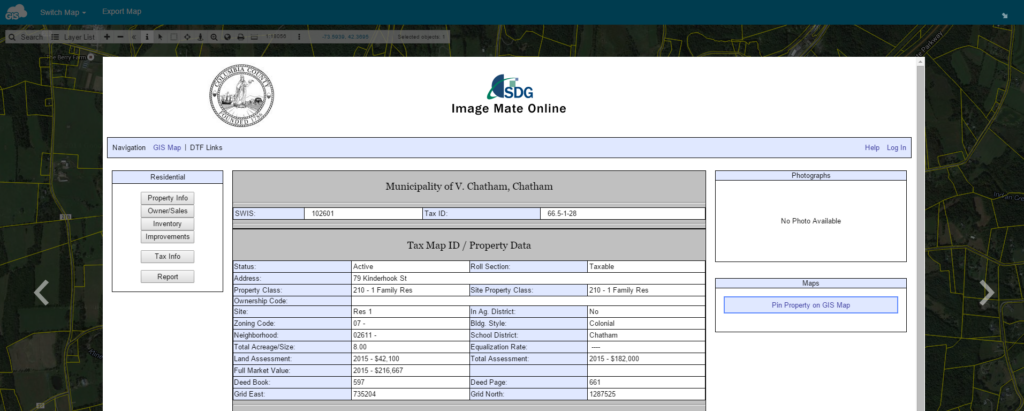 For instance when you click on a parcel you are shown a clickable link that opens a popup window showing all the parcel information from the municipalities SDG ImageMate Online (IMO) website. If you were to click on the "Pin Property on GIS Map", then you are taken back to the GIS Cloud map. There is a link for it on every parcel on the IMO website. Click on it and it zooms you into the parcel and highlights it.

The Results
With GIS Cloud, SDG was able to get a cost effective parcel management solution without installing any software. In their own words: 'They helped us to shed the behemoth that is ESRI. Their costs were getting astronomical. GIS Cloud has allowed for an online viewer presence without the previously needed IT expertise'.

If you are interested in this type of a solution for parcel management, contact us.