Export map function has been upgraded and improved!
Maps are one of the most informative ways to share the information about how our world works. Let's say you want to share your map for a project with your colleges, prepare a map for your upcoming monthly report, or you need your maps ready for printing and publishing of tomorrow's newspaper.

With a new layout and new options, mapping is now a game of endless outputs. Export the map in different formats, print it and share the knowledge.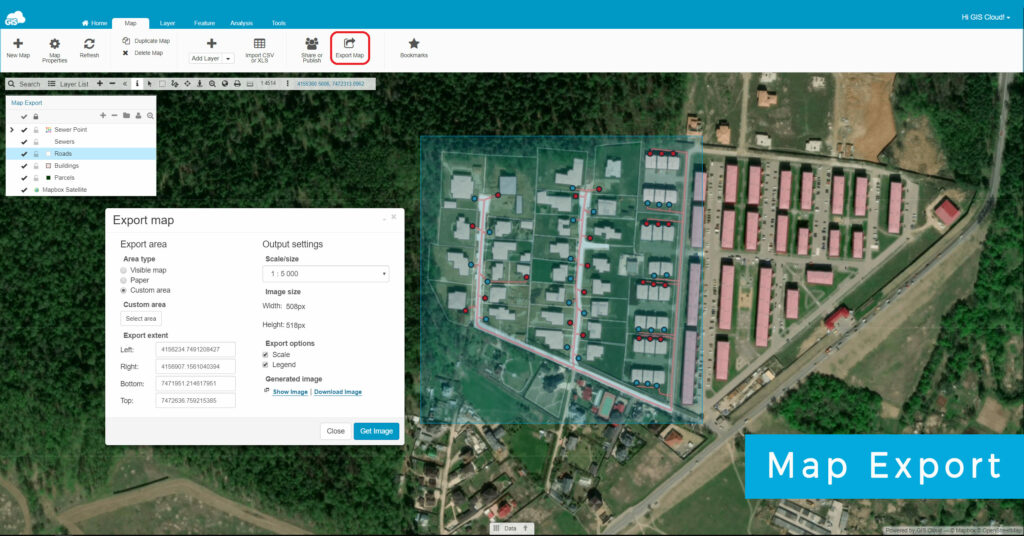 Export Map as an image
With upgraded Map Export tool, you can customize the scale, area extent and the size of your map and export it as a high-resolution PNG image. Follow this guide to export and share your map from GIS Cloud.
1. Open the map from the homepage in Map Editor or Map Viewer.
2. Under the Map tab select Map Export tool.
3. Select the area you want to export in your map.
– Automatically set the map area extent to display the area currently visible on a map.
– Modify the map area extent to fit different Paper formats and sizes such as standard A4, A3, A2 and A1 or US paper sizes Letter, Legal and Tabloid formats.
– Adjust the map area extent manually by drawing a custom sized polygon.
– Choose between Portrait or Landscape orientation.
4. Define the output settings. Choose the scale you want to use for your map, from metric scale, imperial scale, screen sizes and custom scale. The scale you choose will define the image size that will be exported.
5. In Export Options you can choose if you want to include a graphic scale and a legend in your exported map. Only the layers with visibility turned on in layer list will be displayed in the legend.
6. Click on 'Get Image' to generate your map. Preview your map by clicking on ' Show image' button. Share the map simply by copy & paste URL in the browser or download the map in PNG format for offline use.
Click on the map below to see the magic of high resolution maps!
EXTRA TIP: Make sure that browser pop-up blocker is disabled.
Like what you see? Try out the GIS Cloud free trial and start your mapping adventure.