When snow plowing an entire city, speed and efficiency are crucial, and a fleet management solution to manage the snow plow trucks is a must. We bring you an example showing how to make snow plowing in a city more efficient with a simple GIS-based software, featuring a story coming from the City of Zagreb.

The City of Zagreb is the capital of Croatia. The climate of Zagreb is moderate continental with hot summers and cold winters, and during the winter season, snowfall causes various traffic difficulties. That's why it was necessary for the City of Zagreb to get a solution for effective management of their snow plow truck fleet.
The Challenges
The City of Zagreb wanted to replace an outdated fleet management workflow that was slowing the decision-making process during snow emergencies. They didn't have an real-time overview of the situation on the streets and the cleaning progress. The decision-making process was complicated by the fact that the city officials needed to manage multiple subcontractors from one account.

The city wanted to have full control of vehicles and their expenses on a daily basis. This data should be available on a map accessible by multiple users, both in the office and in the field, using different devices.

Considering the fact that mapping data consists of larger datasets and contains a lot of information, the challenge was to have a fast solution with optimal loading speed. The City of Zagreb needed to make their snow emergency response faster, better and more efficient.

At the same time, they wanted to improve their daily workflow and reporting process and be able to create custom reports with accurate data updated in real time.
The Cloud Fleet Management Solution
In need of a more 'up to date' approach, the City of Zagreb adopted and deployed GIS Cloud tools for their winter fleet management. Cloud-based GIS turned out to be a necessity for successful coordination between multiple users, contractors, and on multiple devices in real time. Also, cloud GIS made their reaction time faster and workflow more efficient because they were able to track and monitor the progress of snow removal process while making decisions on site.

To use their existing data, an integration between Map Editor and Fleet and Workforce Management apps was achieved.

The GIS Cloud mapping tool Map Editor, enabled the publishing of existing data, editing and labeling, as well as managing and sorting the data in corresponding folders. The idea was to divide a given area (City of Zagreb) into multiple tasks, where each task represents a group of streets. Their mapping effort would then be connected to the GIS Cloud Fleet and Workforce Management solution, giving each unit their assigned task.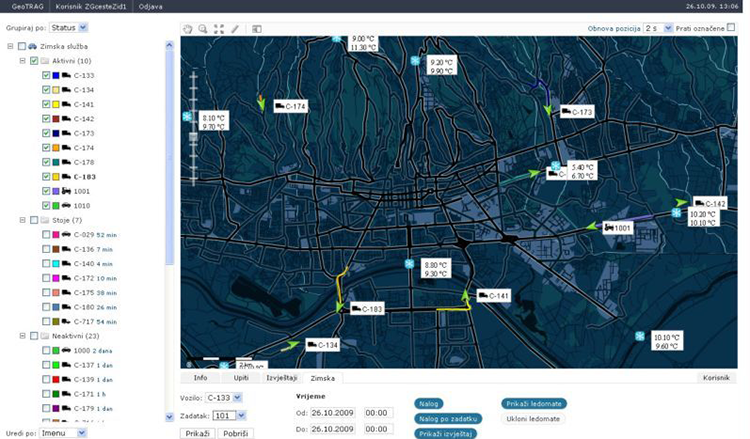 Fleet and Workforce Management app also enables an overview of vehicle consumption. This way the City of Zagreb has full control over managing different types of expenditure (i.e. salt and other means for defrosting). This enables cost assessments for the future, giving them information on what can be reduced and for which subcontractor in particular.

Real-time coordination between drivers and dispatchers was accomplished, having an overview of driver's locations at any time. This real-time solution, enabled a faster response time and more effective decision making in critical situations. With customization options, set of various reports could be made like mileage, fuel consumption, speed limitation etc.

As a novelty, a system for early ice detection was incorporated, where multiple sensors are tracking different criteria like air and pavement temperature, humidity etc. Once a given threshold is crossed, this integrated system in Fleet and Workforce Management app will notify the dispatcher, giving him the necessary information for effective decision making.
The Results
GIS Cloud Fleet and Workforce Management Solution was ideal for City of Zagreb, as it accelerated the outdated workflow by using and customizing existing GIS Cloud applications. Real-time vehicle tracking was enabled with fast and responsive maps and by making the decision process inter-operable. With decreased response time, severe winter conditions became much more manageable.

To sum it up, these were the results:
Integration between Map Editor and Fleet and Workforce Management (overlap between fleet and their data)

Vehicle Tracking in real time (monitoring of the status and path that particular vehicle has passed)

Report about every vehicle regarding the beginning and end of the drive, time, miles, fuel consumption, speed limitation, the status of the vehicle

Real-time collaboration between the driver and the dispatcher

System for early detection of ice on the pavements (17 sensors over the city reports the current status of the pavements regarding the temperature of pavement and air, humidity of the pavements and the freezing point which depends on rainfall, fog and salinity of pavement)
Interested in GIS Cloud's Fleet and Workforce Management solution? Contact our sales team.