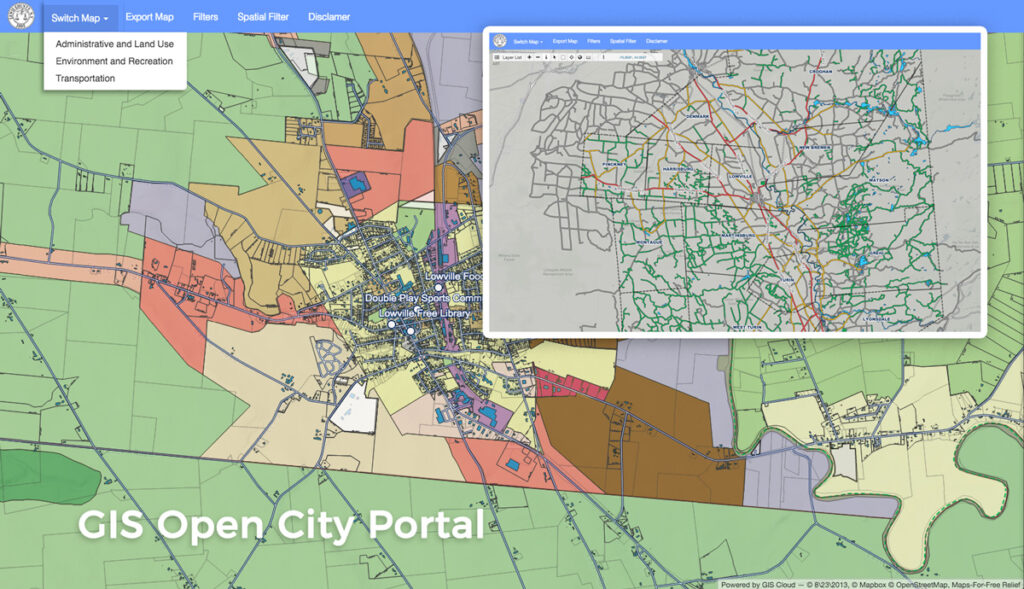 Many NGOs, local governments, smart cities and city agencies have embraced open GIS data sharing for public access to spatial and nonspatial information. With the right technology and initiative, sharing information on assets and resources with open city portals can improve city management, enable collaboration across city departments, engage citizens and build their trust in city governance,  aid in the implementation of different initiatives, and enable data driven and real-time decision making.
Find out how easy it can be to create your own city portal with GIS Cloud technologies, in this example of Lewis County, New York's Map Portal.
Lewis County is a small budgeted community located in the State of New York. They wanted to enable the public and businesses to have an easy way to access the public data for their projects and inquiries on a map. Lewis County map portal includes different and multiple layers like zoning, wetlands, and mobile railways.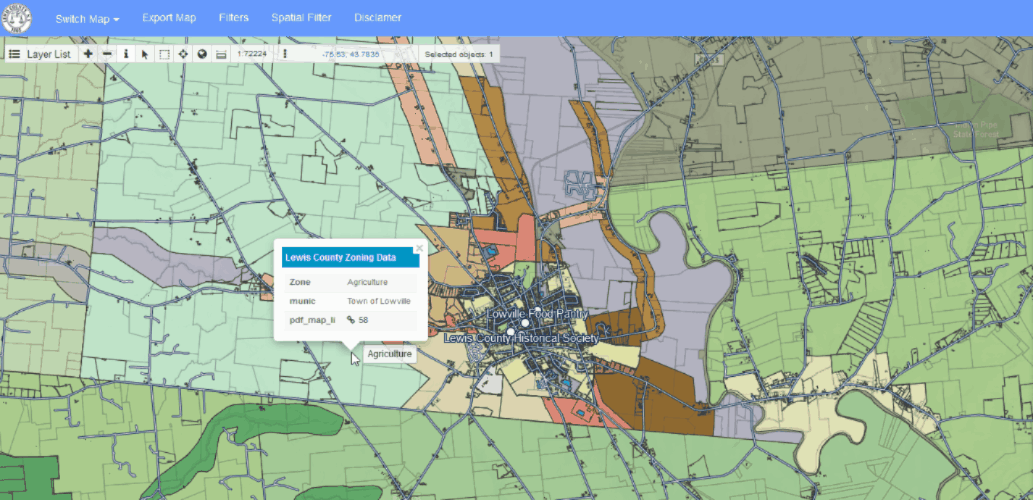 1. Collect, organize and secure the data.
With Map Editor web application, local governments and citizens can create an authoritative, digital database with different location-based datasets, categorized to enhance the region's operational efficiencies. Whether you already have existing data or you need to import or create new datasets, web GIS solutions such as the Map Editor offers a wide range of editing and analysis tools that help maintain the quality of the data. Storing the spatial data in the cloud environment significantly changes the administrative and security procedure as it makes it easier to control data backup and to guarantee the data safety. Read more about data safety in the cloud in this article.
2. Customize the portal interface.
Every local government or city agency interested in creating and sharing an Open GIS Data Portal to the public need s a customized and branded portal interface. Usually, it's a job for developers, but with the App Builder application, you can customize your web portal without writing a single line of code. Customize the domain, the theme, the logo, create filters, customize the buttons and panels and choose only editing and analysis tools that you want.
3. Deliver the data to the public.
The fastest and easiest way to share information on public facilities and infrastructure between local governments, city departments and the public is with the Map Portal application. The main advantage of such an application is that you can control the visibility of certain datasets, set different export permissions and work in a real-time mapping engine with all the updates visible immediately.
Find out more about creating an open GIS Map Portal in our webinar recording.
Interested in smart city technologies? Contact us or sign up here.