We are happy to inform you that as of today, you can collect lines and polygons, as well as points with your Mobile Data Collection app!

We know this is great news for all of you working in utilities collecting data on electric power lines or water and sewer infrastructure, for urban planners, for people working with natural resources inspecting forests or reservoirs, crews surveying farm fields in agriculture, as well as for anyone working with line and polygon data in the field.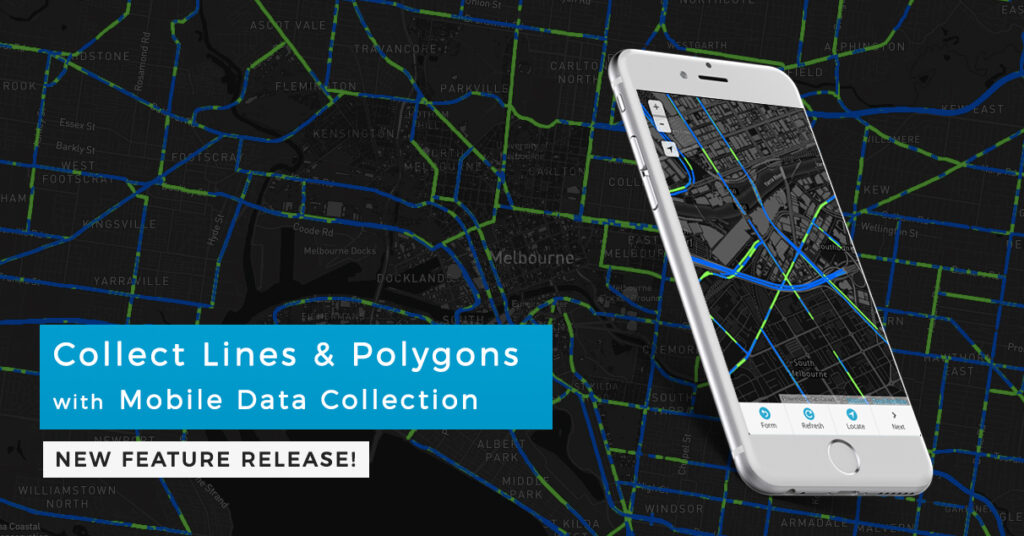 With the help of online geospatial technology, many industries are gradually solving some of their greatest challenges when it comes to collecting data in the field: removing paper-based surveys and achieving real-time access to collected GIS information.
Big and complex utility systems, as well as city planning institutions demand a solution with an efficient and accurate data collection process as well as ability to record and inspect different types of assets with only one mobile application.
With this new Mobile Data Collection update, it is now possible to collect line and polygon features for any workflow!


Key capabilities of line and polygon collection
Collect data using Start Tracking option

which automatically records your location using the GPS on your mobile device

Fill in your survey / form with additional information, while at the same time

collecting location data with GPS

Record data

using

Manual input

to

draw lines and polygons

by adding points to a map

Combine Automatic (GPS) and Manual collection (add points) to achieve higher precision

Edit geometry by deleting the last or all lines, before and after the data is sent

Edit information collected in a survey, linked to a specific line or polygon
To get you started, read our user manual on Mobile Data Collection and how to set up your Line and Polygon projects. We are certain you will be ready to begin your collection shortly, and set up your projects in just a couple of clicks.

To recap all the essential options GIS Cloud Mobile Data Collection offers helping you to be more efficient in your work; we created a list of top features making MDC your go-to app for all data collection purposes.


Benefits of Mobile Data Collection for any Workflow
Collect

points, lines and polygons,

all in one app
Create custom forms

with as many fields as you want

Control data quality

by making some fields required or dependant on other answers

Link

your

surveys / questionnaires

(custom forms) to point, line or polygon features automatically when sending your submissions

Connect external GPS devices

to achieve

high precision
Rapid setup and deploy

to

collaborate

with others faster

Assign and manage

collect, update and view permissions to

groups of users

, depending on their

role

(Project Owner, Fieldworker, Surveyor, Analyst, Stakeholder…)

No need for additional training

(most of our users say they need less than one day to learn Mobile Data Collection)

Cost effective

– no extra equipment required, pay per project duration, no time loss on training staff
Collect even in offline mode

, using

offline maps

(set up bounds for high resolution)

Enrich

data with different media –

collect photos, audio or QR codes
Auto-sync

keeps all your projects and information up-to-date at any moment,

across all devices in real time

, and

among

multiple users simultaneously
Include

your collecting projects in other maps as layers, to have a clear overview of all performed surveys in one place

Use custom basemaps

, or choose basemaps offered within GIS Cloud

Generate Reports

on the go
No need for integration with other platforms

, extend to GIS Cloud apps:

Map Editor

,

Map Viewer

or

Map Portal

Easily access all collected data with

Map Editor

where you can

further style, analyze and edit data

,

share maps with stakeholders

and include more data layers to better understand and track your projects
Advances in GIS data collection and GIS online tools for data management are heading toward a successful geospatial transformation of many industries and government organizations, making their everyday jobs easier and more efficient.
Sign Up for Free and try new Mobile Data Collection possibilities, as well as our other apps, during your 30 day premium trial period.