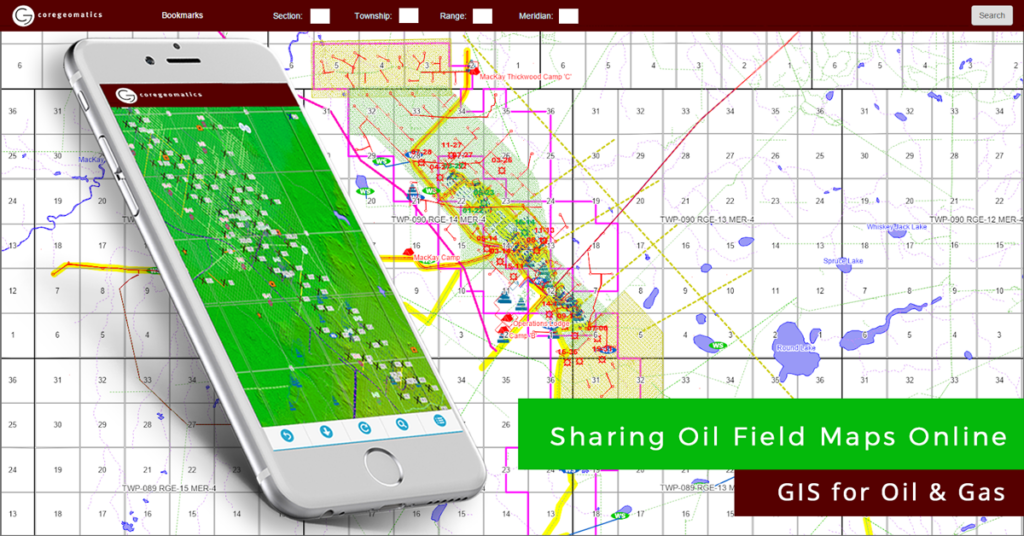 We bring you a case study from the oil and gas industry that demonstrates the benefits of GIS for sharing mapping data with clients. Following a short inquiry with CORE Geomatics, we can see how the requirements in the Oil & Gas industry are met with the GIS Cloud solution.

CORE Geomatics is a service company from Calgary, dedicated to conducting in-field oil and gas surveys in the range from a single site to pipeline construction surveys.

Sharing Oil Field Maps With Clients
CORE Geomatics received a request by one of their clients to provide access to their oil field data (borehole locations and well data, wildlife layer, surface elevation, parcels…) for planning and visualization purposes. A request proved to be specific in the aspect of data storage; as it happens, their client was a company that works entirely in a cloud environment, providing an ability to collaborate on data in real-time.

They moved to the cloud for three reasons:
paper-based

workflow proved to be

inefficient

, especially in viewing a large amount of data that is hard to place on a paper map.

desktop-based GIS software slowed down their collaboration, as it was

too complicated for non-GIS users

and also required transferring huge files in different formats like geotiff and shapefile via email or CDs/USBs.

their clients wanted to

lower the costs

of computer equipment, maintenance, software and additional staff training.
Moving to an intuitive web-based interface means that they didn't want to rely on expensive desktop solutions or computer performance and in-house servers.

All this meant that a web-based GIS solution was needed to set off the project. One other requirement was to have adequate loading speed for usually data-rich maps populated with many layers and attributes.
"As a company that works in a "virtual office" environment, GIS Cloud has helped us to successfully provide an online mapping application to our client without the need of servers." – CORE GEOMATICS
GIS Cloud as a solution for the oil and gas industry
As a web-based GIS application, GIS Cloud's Map Editor proved to be a perfect solution for CORE Geomatics. Built on the fastest vector map engine in the world, Map Editor works at an excellent upload and rendering speed while supporting data in different formats. Also, it has all necessary GIS features and symbology toolset that can be used for styling with respect to a client's specific use.

Also, having in mind that CORE Geomatics needed a way to deliver large amounts of data to clients, GIS Cloud developed a custom search tool for them to help with performing search queries, together with a white-labeled solution with custom logo and colors.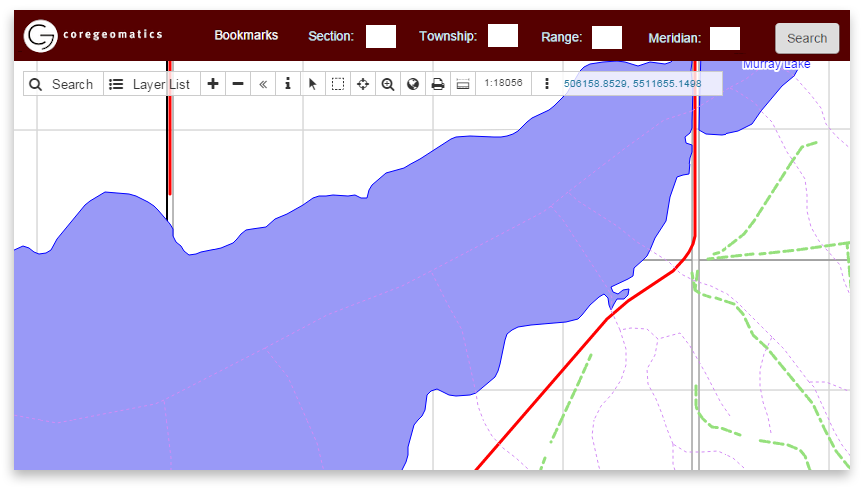 "With Map Viewer app we managed to deliver our results to our clients while having the full control of privacy settings and time that users are able to access the results." – CORE GEOMATICS
At the same time, clients could work on data updated in real-time using an easy-to-use interface suitable even for users with no previous GIS experience, saving money and time required on staff training and desktop software.

Map Viewer solution enables sharing private maps to users, who could be assigned with different levels of permission (sharing, viewing, etc.). Moreover, it works across all devices (smartphones, tablets, laptops, office computers), which means that it could be easily used both in the field and the office. Map Viewer for web and mobile provided the easiest way for CORE Geomatics to share a large amount of mapping data with clients.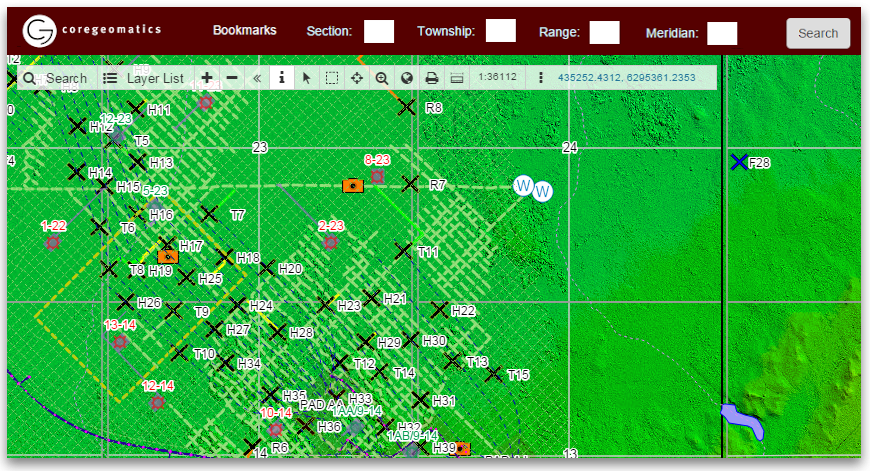 The CORE Geomatics Recommendation
In their own words, the three key features CORE Geomatics listed as crucial for their recommendation of GIS Cloud apps are:
Cloud-based system
Customizable environment
Exceptional support from GIS Cloud staff

Interested in the GIS Cloud solution for Oil & Gas? Try out the 30-day free trial or contact our sales consultants and schedule a live demo.