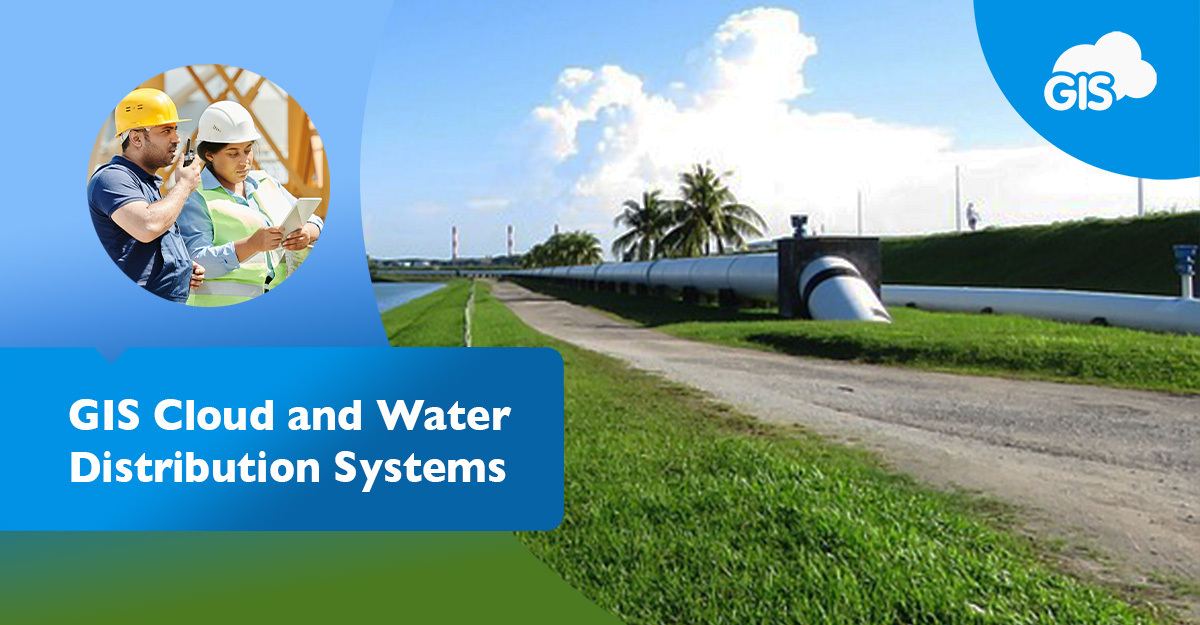 Imagine having all the answers at your fingertips.

What size water line is running down this street? What material is it made of? How deep is it buried? Do I have legal rights to install a service line running off this water main into that adjacent parcel? If so, where?

With your utilities in GIS Cloud, you can answer these questions with a few simple clicks of your mouse from the comfort of your office or house if you're working remotely.

Managing a water utility system can be challenging, but it doesn't need to be that way. Using GIS Cloud and its online GIS solutions can ease that burden.

Bringing together historical information and the new construction of the water utility system into one shared environment can solve many of your problems.

Challenges You May Be Facing

There are a set of common issues we've heard from our new water utility management clients. We have seen similar problems in other industries and realized many of these problems can be solved with the same solutions.
Data Silos
Data silos are created when people develop sources of data. Still, the data doesn't get shared and remains isolated from others who could benefit from that information. In organizations, one person may have the utility locations while another may have the recorded document mapped.

Maintaining separate and isolated data sources can lead to individual efforts to recreate existing data. The person with the utility locations may begin mapping the easements and vice versa.

Bringing these different but trusted data sources into one shared organizational map portal gives decision-makers the information they need in one location. The utility and recorded document data experts can continue to update and maintain their data as needed.
Connecting to External Databases or Source
Data silos may not be of the same data type and be from different data sources. GIS Cloud allows you to import different services, including web map services, web feature services, and web map tile services.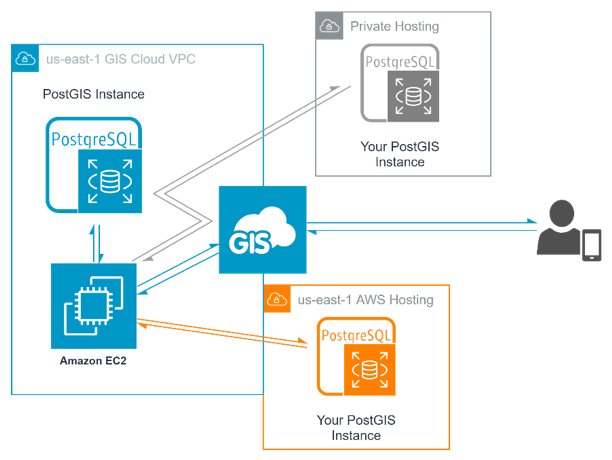 You can even connect to a PostGIS database.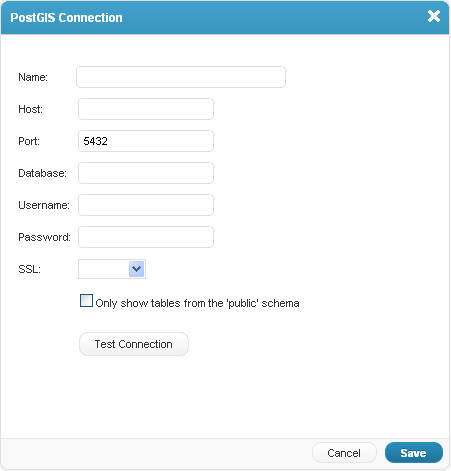 GIS Cloud can also connect directly to QGIS through our QGIS Publisher plugin. We have an easy-to-follow guide on how to publish your maps from QGIS to GIS Cloud if you want to see our recommended process.

The plugin maintains your QGIS symbology. With your maps in GIS Cloud, you can set up the Mobile Data Collection app for collecting field data immediately.

Connecting and merging data sources into one environment is an early step in improving your workflows, but it is a crucial one that helps dissolve data silos.
Trouble Getting Shapefiles into Online GIS Solutions
Geospatial data comes in a large variety of data types. Whether they are shapefiles, KMLs, or CSVs, they can each be imported directly into our GIS Cloud File Manager or Database.

We have an easy-to-follow guide for importing layers into your local GIS Cloud database in our knowledge base. Our knowledge base is full of information, from getting started with GIS Cloud to sharing and collaboration tools.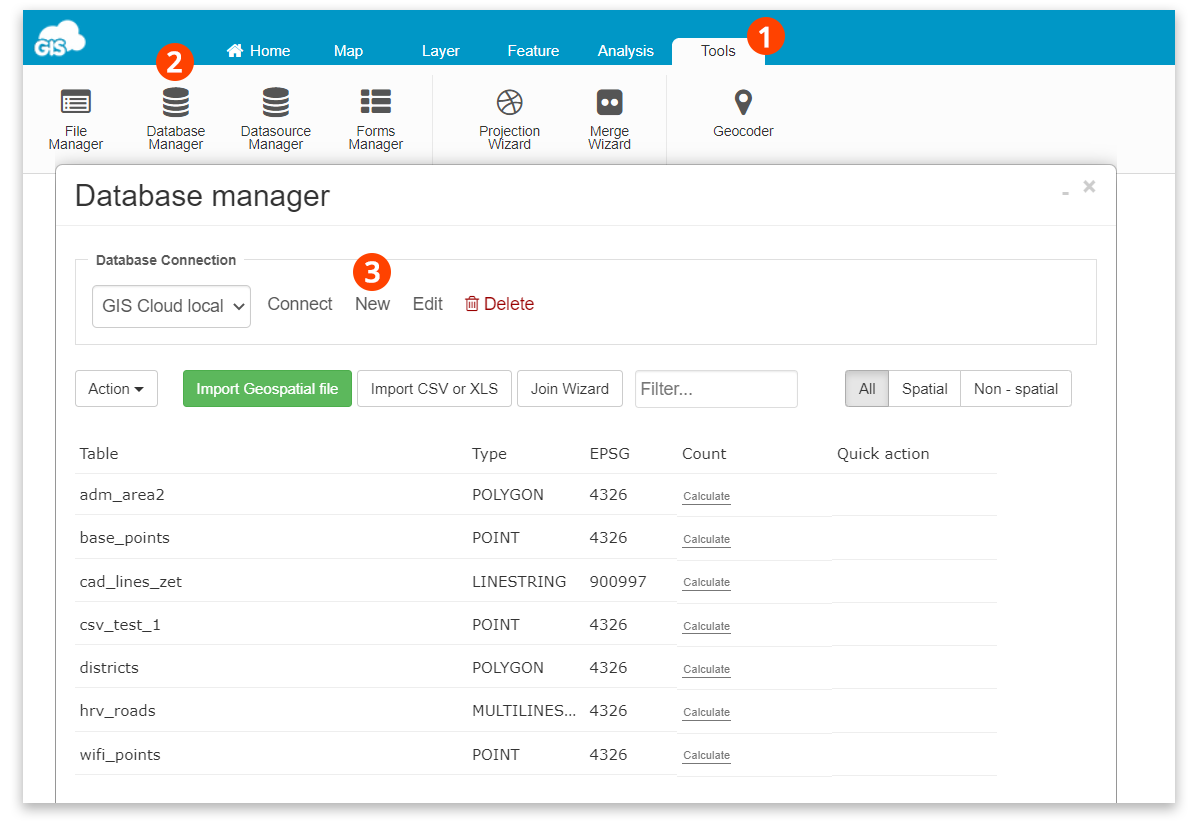 If you are still having issues, our GIS Solution consultants can assist you. They can walk you through the process during a video call whenever it is most convenient for you and your team.
Mapping New Infrastructure During Construction
Collecting new construction infrastructure as it is being installed saves time and avoids waiting for the finalized as-built plans. The attributes of the new features can be collected there in the field and photographed as they are installed.

All this can be done with your smartphone or tablet's Mobile Data Collection application.

If there is a chance of a bad data connection, download the map to your device, and you'll be ready for offline use. You'll be able to collect data and attach photos like normal. After you get an internet connection or connect to WiFi, your edits will sync up with the source data and be added to the database.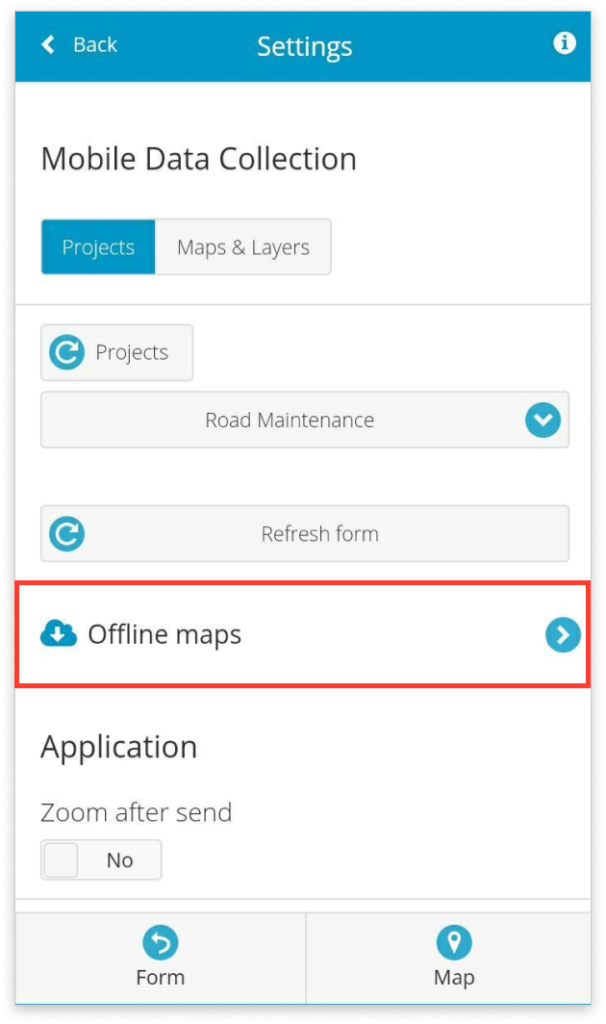 The application also gives you an accuracy reading while you are collecting data so you can collect data with confidence. Suppose you want to connect to an external GNSS receiver to get high-accuracy locations. In that case, the application is compatible with many devices.

The application works with many of the receivers from the leaders in the industry, including:


Capturing data as it is being installed ensures your utility system is constantly up to date. You won't ever have to second guess what is in the ground, and you'll have confidence in the accuracy by which the data was collected.
Sharing the Utility System Data with Others
Your customized Maps Portal can bring all the data and hard work together and be a tool for anyone involved on the project.


Granting access to others involved with the project produces unexpected benefits. Our clients have come back with great feedback on how involving others helped them discover different ways to use the tools.
As others use the
Map Portal
, each has their own ideas of how to take advantage of it. Planners and engineers take measurements of the work being done.
Water Service Technicians can identify which valves need to be turned off to isolate a leak and minimum the impact on surrounding customers. By changing the symbology per the "outage reach", a quick service update map can be produced for customers in the vicinity.
A
Map Portal
is a powerful tool that can answer many questions and highlight the progress of projects on the ground. For many organizations, it serves as the project's repository.
Exporting The Data to Custom Reports
Managing a water network includes conducting surveys, water reports, and collecting data for reporting to the state or federal boards. Many use paper reports stored in dusty binders with no reliable data backups.

With GIS Cloud, we can export custom-tailored reports that meet the criteria of the oversight agency.

It starts with creating a custom survey in the Mobile Data Collection app, where the technicians are walked through the required questions. Using drop-down menus and preset answers removes spelling mistakes and data inaccuracies.

Whenever required, you will be able to prepare the reports in an organized manner that doesn't require anybody to re-enter the data for a second time.

You can export your field data from an attribute table into a custom reporting form with a few clicks. These forms can be arranged to meet your regulatory bodies reporting standards.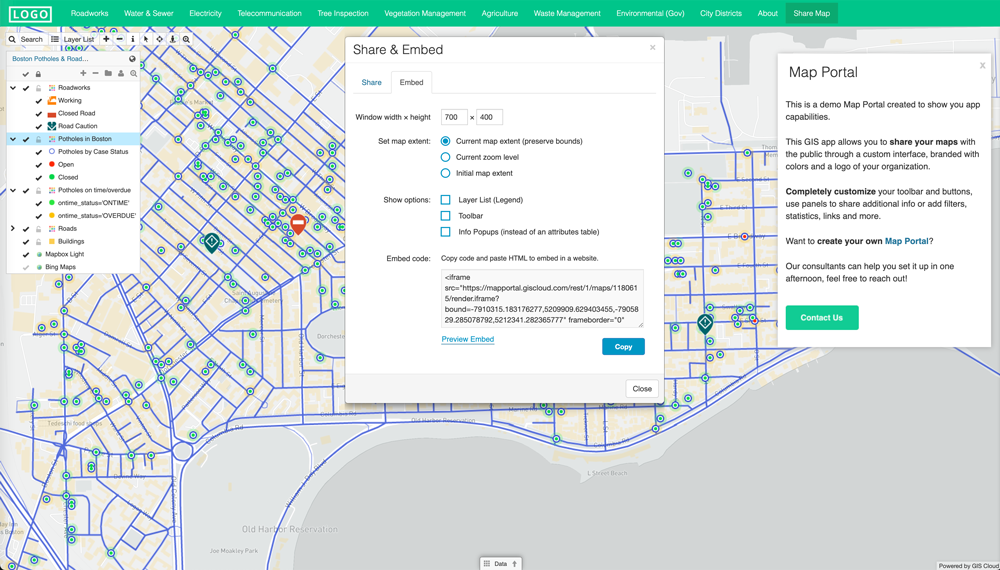 Conclusion

The challenges of managing a water utility system can be mitigated using an online GIS solution, like GIS Cloud.

Eliminating data silos and collecting accurate field data brings all the information required into one centralized location. A comprehensive view of the project area can be at your fingertips by including additional layers, such as property lines, easements, and other utilities.

If you would like a demonstration of a Map Portal and get a first-hand look at how easy they are to use, sign up for a free 14-day trial or request a demo from our home page, and one of our experienced solution consultants will be in touch.