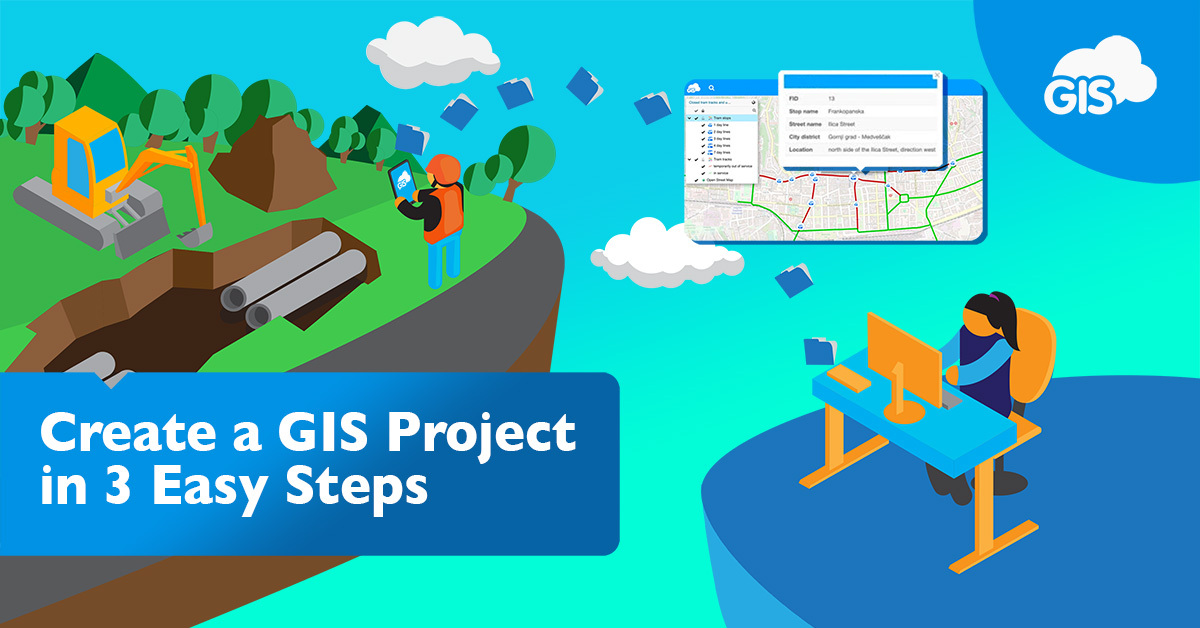 Starting a GIS project has always seemed like a hassle to non-GIS users and even beginners in this field. However, creating a map that anyone can access and use should be done in a few steps that anyone can understand.

GIS Cloud offers a real-time solution where the whole team can collaborate on the mapping process. Creating a GIS project shouldn't be a one-department problem. So that's why our platform offers multiple specialized apps where every department can have a role in the GIS mapping process.

Creating a GIS project in your company can be summed up in 3 easy steps.

1. Organize your team

GIS Cloud isn't just software for mapping. It's an entire platform where the whole team is engaged in the project-making & decision process.

People with specific roles can use specialized apps designed for their roles. Engineers and managers can set up the base map for the project on our Map Editor map tool. The field workers can collect data and report from the field via our Mobile Data Collection software. Finally, the company decision-makers can participate in all this by monitoring and coordinating the whole project using our Map Viewer app designed for them.

2. Working on the solution

Once your team has the proper tools for the project, the whole company can now move together.

Once you've created a map, you can upload the data you've gathered from the field and share it. Our Map Editor mapping tool is constantly updated with new features making it easier for engineers to create, style, and edit maps. Check out how to get started with GIS Cloud using only 3 steps.

3. Implementing the strategy

With a strategy like this, every company will have improved project results. The workload will be spread across the departments, improvements can be implemented on a smaller scale, and the monitoring process can be done in real-time. For projects of public interest, you can upload your maps on our customizable Map Portal app, where you have an overview of your mapping efforts, and it allowing the public to explore your data with one click.

Our powerful platform enables you to view data instantly on your maps at fantastic rendering speed. On top of that, we use Amazon data centers as our cloud servers, known for their reliability and security. Our prices are transparent and highly flexible, meaning that you get to pay only for what you use.

If you still haven't joined our platform, register to GIS Cloud and get a 14-day free trial. Of course, if you have any questions or feedback about GIS Cloud, you can contact our consultants at info@giscloud.com.