Police departments around the world are increasingly using cloud-based GIS for a variety of tasks, including emergency response, analyzing and predicting crime rates, tactical planning, daily coordination, to name just some of them. Basically, web and mobile mapping can increase efficiency and accuracy in solving crimes and improve the overall decision-making process.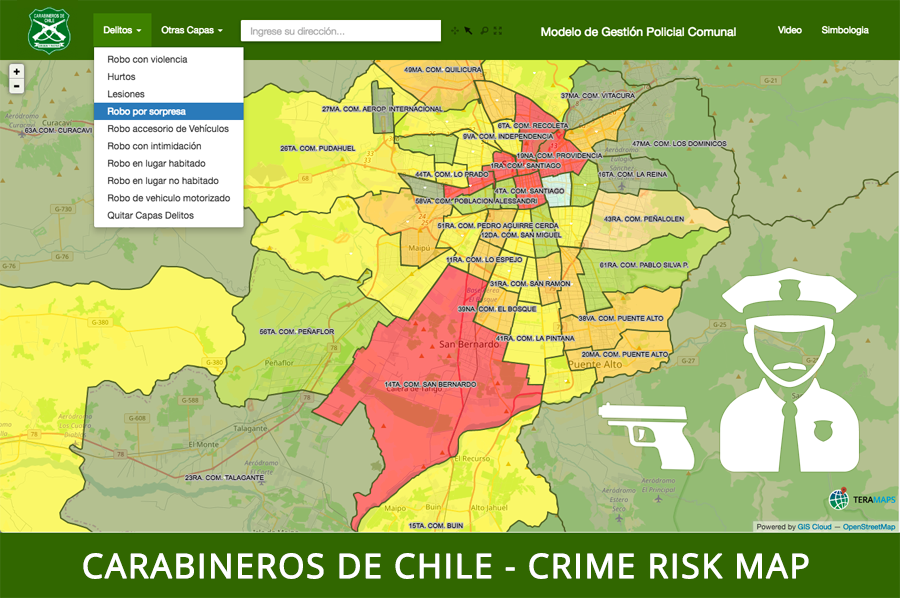 Existing "BIG data" collected by police agencies, including daily reports, arrests and citizen complaints, can be used for producing maps shared with both police personnel and citizens. Visualization on a map reveals relationships and patterns laying underneath the 'noise' data produces, at the same time providing an interface for integrating and accessing existing location information. If we choose cloud-based mapping approach, real-time data becomes instantly visible to stakeholders in different locations, using different devices in the field or the office.

One such example is a use case featuring the Police of Chile (Carabineros de Chile), who choose GIS Cloud to create crime rate maps used by police departments, consisting of country-wide crime data and statistics. GIS Cloud solution for the Police of Chile was recently presented at the 3rd Summit of Police Chiefs in Chile and applauded by Chilean President, Michelle Bachelet.
Challenge
The police of Chile needed a solution for displaying crime rate statistics on an interactive map, that could be used by police departments throughout the country.
Main challenge they were faced with was finding an efficient and fast way to transfer data locked in ArcGIS desktop software and make it available to a large public. They had a local system in place that was used for analyzing the existing crime data for Chile. The next step was to report their findings to the local government, ministries, police departments, and general public. This means that the interface needed to be simple and easy to use for users of all profiles.
Since several departments of the government of Chile relied on this data, the imperative was to process, upload and render data quickly. At the same time, they were looking for a cost-efficient solution, knowing that the new system will be paid with taxpayers' money.
Solution
Teramaps, GIS Cloud local partner, helped in implementing GIS Cloud solution, satisfying the needs specified by the Police of Chile. The technical team implementing the solution was made of 2 software developers, 4 cartographers and 2 policemen, who were able to set up the system in a matter of days. The team used GIS Cloud Map Editor for creating the project, uploading shapefile data and editing it, as well as for customizing symbology, polygon and other data.
Importing data to Map Editor proved to be a simple and fast process, and it didn't take long until the system was set and ready for publishing. The next step was to publish data using Map Portal solution. The result was fully customized and branded interactive map published on the official website of the Police of Chile.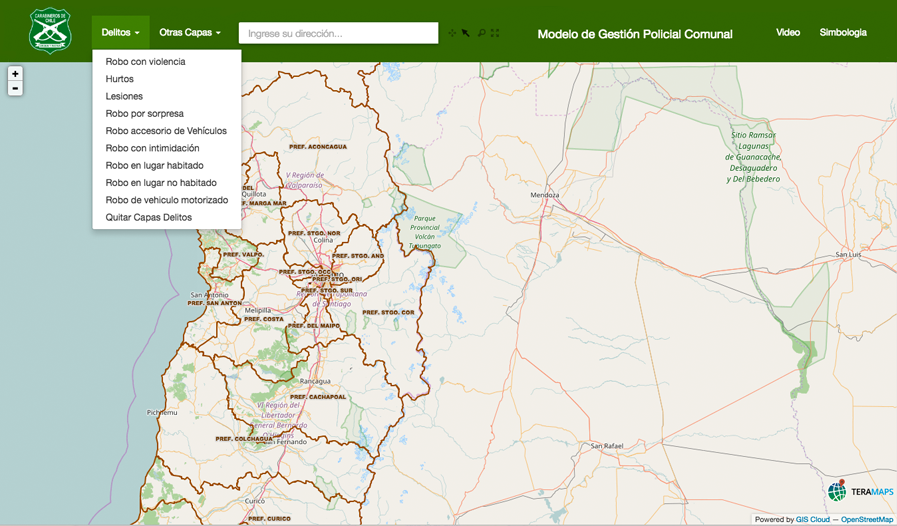 On the first day of use, 16 November 2016, the portal had more than 1. 200 page views and was advertised on national news. General public showed a lot of interest in the portal which was instantly utilized by police departments throughout Chile. The map includes statistics of different types of crime and robberies for particular regions, such as surprise robberies, and those done by motor vehicles, house break-ins, those which include intimidation and so on. It also shows areas where particular types of crime and risk factors are more or less frequent.
The crime risk portal provides a perfect, cost-efficient and fast way to visualize a large amount of crime data for the regions in Chile. Except for the police, It is a helpful tool both for increasing public awareness, improving transparency and access to open data and various government departments. Because of its user-friendly interface, it is easy to use for all the stakeholders, who can access it anytime, from any location using computers, smartphones or tablets.

Interested in GIS Cloud solution for the police departments and local governments?

Contact us here.