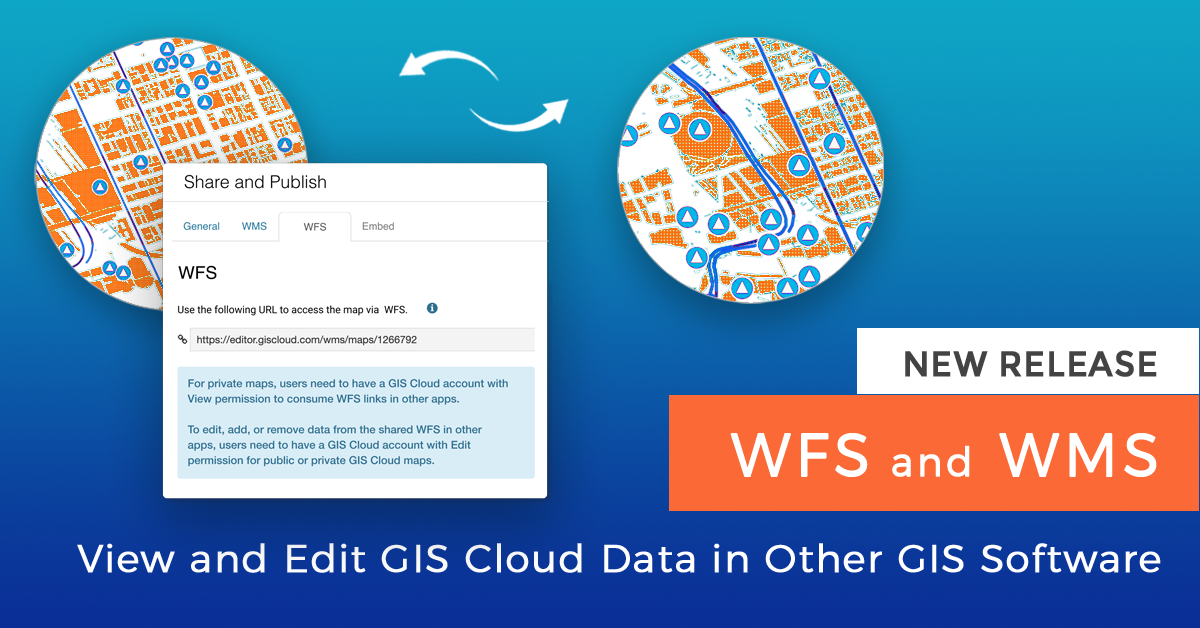 We are excited to announce a new feature release which allows you to consume your GIS Cloud data via Web Feature Service (WFS) and Web Map Service (WMS) in third-party apps! This will also significantly improve the workflow for anyone who wants to collect data in the field using Mobile Data Collection, and view or edit collected data in other apps, in real time.

Watch a demo of the WFS functionality in QGIS including a plugin for map publishing presented at QGIS North America!

Our dedicated development team has been working hard on implementing these new services to create a perfect solution for all of our users who wish to collaborate between different GIS platforms, and get the best of desktop and online solutions working together. We participated in the online QGIS North America 2020 conference where we gave a demo of the QGIS-GIS Cloud workflow using WFS!


View and Edit Data in Other Apps Using WSF

Sharing your map as a Web Feature Service (WFS) is one of many sharing possibilities that you can use in GIS Cloud. WFS is a protocol for serving georeferenced maps over the internet with a possibility to edit data and maps in other apps

Any of your maps and layers created in GIS Cloud can be shared with another user via a WFS URL and edited in third-party GIS software. To be able to add GIS Cloud data in other apps, you will need to authenticate the access to your GIS Cloud maps with a username and password for your GIS Cloud account.

Once you add a WFS URL link to third-party GIS software, you can view, add or delete features from the map and edit their geometry or attributes. The changes you make in other apps will be instantly visible on your maps in GIS Cloud apps, as well.

Probably the biggest novelty this feature brings is that now you can collect data with Mobile Data Collection in real time, directly in third-party software!

You just need to add the GIS Cloud layer into which you are collecting data, to your maps in other GIS software like QGIS, using WFS. This will allow you to continue your data collection and view and edit data in real time, in the chosen GIS software as well as in GIS Cloud.

Last Friday (July 24) we participated at the virtual QGIS North America 2020 conference and showed an exclusive preview of the WFS functionality!

In our 20 minute talk, we presented what we consider a perfect QGIS-GIS Cloud workflow, using The GIS Cloud Publisher plugin for QGIS to publish maps online, and using WFS to collect data in real time directly into QGIS, edit data and more.

Click here to watch the YouTube recording from the conference with comments and Q&A, including the QGIS plugin workflow and WFS functionality of consuming and collecting data into QGIS maps!


We also embedded our own video from Vimeo, however, in this version, there are no questions:

Both public and private maps can be shared as WFS but under a few conditions:
Public maps can be viewed by anyone in third-party apps, but only the owner of the map can also edit, add or remove data, or the GIS Cloud user with "Can Edit" permissions assigned for the specific GIS Cloud map.

Only GIS Cloud Premium users with a Map Editor subscription can use WFS to consume and share data in other apps.

If you want to consume a public map as WFS, when you open it in third-party GIS software, login is not necessary, however, editing is not possible until you login in with your GIS Cloud credentials.
Use WMS to Consume GIS Cloud Data in Other Apps

Web Map Service (WMS) is a standard protocol for serving georeferenced map images over the Internet. In GIS Cloud, you can share both private and public maps as a WMS.

The new WMS option provides controlled access to maps via WMS, compared to the old Legacy WMS, which generated a link that provided access to all GIS Cloud maps in your account. Now, the new WMS option will generate a link for each map separately which will further improve your data security.

The WMS link is located inside the Share and Publish option, under the WMS tab.

There are two options available – WMS and Legacy WMS access:
If you choose

WMS

, this option creates a unique WMS URL for a specific map.

Legacy WMS

access refers to the fact that each GIS Cloud user has access to a unique WMS URL. Under this URL, all maps with enabled WMS and their layers are available


New users and users who have not yet enabled any WMS links on their account will only see the 'new' WMS link to access only a specific map.

Users who already had a WMS enabled will be shown the 'old' Legacy WMS in addition to the new WMS link for map access. The functionality of Legacy WMS remains the same.

Note:
Sharing the map as WMS is only available for Premium Map Editor users.

If you wish to become a Premium user and utilise this option, please contact us here or send us an email at sales@giscloud.com.