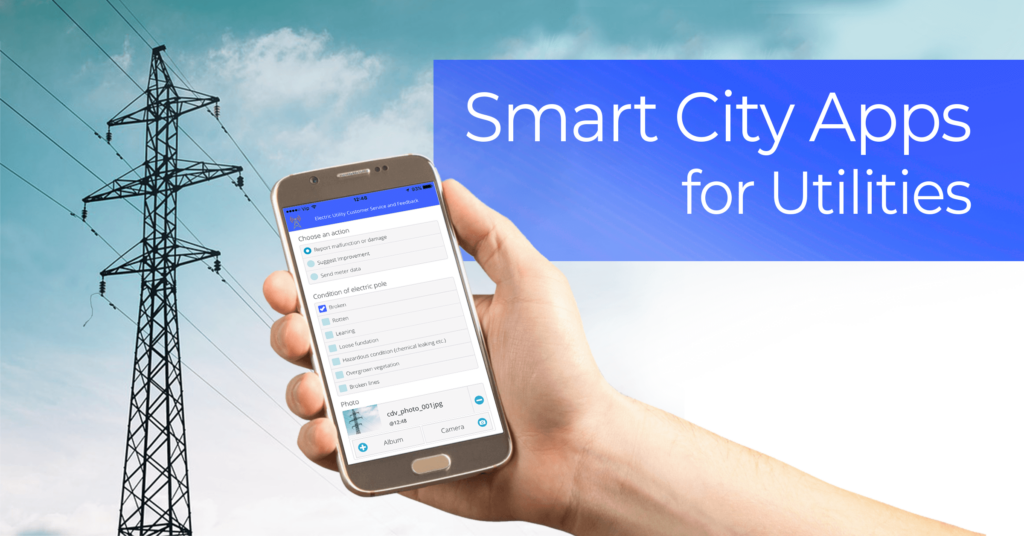 Smart city apps are an effective solution for getting data and feedback from your customers (citizens), contractors, or local governments. But, most of the smart city solutions are expensive and take ages to deploy. In this article, we'll show you that's not always the case. Keep reading and learn how to create a smart city solution for utilities in just a couple of days.

We'll show you how to use the GIS Cloud Crowdsourcing, a suite of smart city apps that can help you engage your customers to provide relevant data (meter readings, damaged infrastructure etc.).

Table of contents:
• Engaging the Customers With Smart City Apps
• How to Create a Smart City Solution in One Day
• 1. Creating a Crowdsourcing Project
• Key Benefits of GIS Cloud Crowdsourcing


Engaging the Customers With Smart City Apps
Who is better to tell you what is missing from their daily needs or if there's a problem in the area where they live than your customers. If you provide them an easy way to send you a comment, photos or any relevant data they'll be happy to collaborate. With the right smart city app, you can engage the customers to send data about their consumption, like meter reading or the status of the infrastructure, like damaged electric poles.

Here are a few things you can improve by collaborating with your customer base:
Handling customer reports

Engaging your customers

Saving time on making work orders

Real-time insight into your assets

Faster response time for damaged infrastructure

Making informed on-the-spot decisions

When the customer sends a submission via the GIS Cloud Crowdsourcing, the data becomes a part of your process. It is shown as a point on the map in the admin app, where you can manage the incoming submissions, approve, delete and a lot more.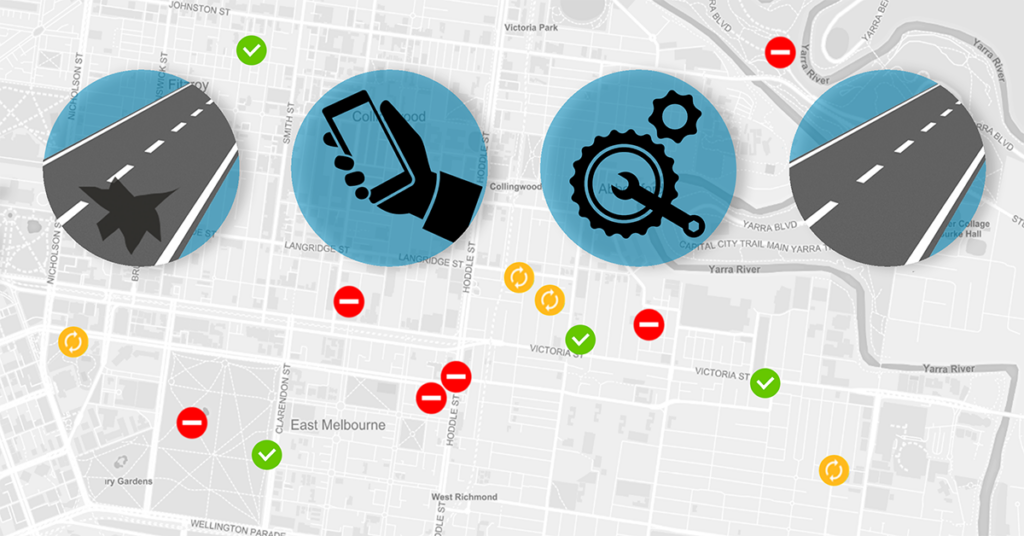 Crowdsourcing apps allow you to make plans based on the customer input and react faster if there's an issue with a utility asset. This type of smart city apps enables you to crowdsource data collection to your customers and to automate a big part of your field and office workflow.
Why Crowdsourcing?
Because it makes an army of customers and your employees work together. Enables the entire community to solve big problems, as well as small ones by collaborating. Anonymous users can send you reports about an issue, with attached photos, documents and comments. The data then lands in your database and is visualized on a map where you can continue to work.

You don't limit yourself to a handful of employees – the customers become a part of your daily workflow.

The GIS Cloud Crowdsourcing gives you a single space on a map where you can engage the community and share the insight with your team. It's a complete solution that includes a public mobile app, admin web app and a public web app; later we'll describe each of them in detail.

The smart city apps are intuitive and easy to use and allow you to collaborate with your team. There's no need for coding or extra work, just create a public form for the customers and they can start sending you feedback. You can also brand your apps by changing theme color, adding your logo, and having a custom splash and welcome screen.

Other smart city and crowdsourcing solutions have similar features as well. But, there's one major difference; it takes a lot of time to develop and deploy them. In contrast, it takes one day to create a project with the GIS Cloud Crowdsourcing. Learn how to do it in the next chapter.
How to Create a Smart City Solution in a Couple of Days
GIS Cloud Crowdsourcing allows you to create a smart city project in no time. We'll show you how to do it with an example of an electric utility customer service and feedback project and give you an overview of our smart city applications.

Creating a Crowdsourcing Project
It all starts with creating a submission form. You can create your form with the Mobile Data Collection Portal or ask our support team to do it for you. Each project can have only one active submission form with any number of input fields.

There are a lot of field types you can use for the submission forms, here are a few examples:
Photos

of utility assets

Damage report list

Checkboxes for asset status (pole condition – broken, broken lines, leaning)

Data and time of the submission

Comments

Number fields for

meter readings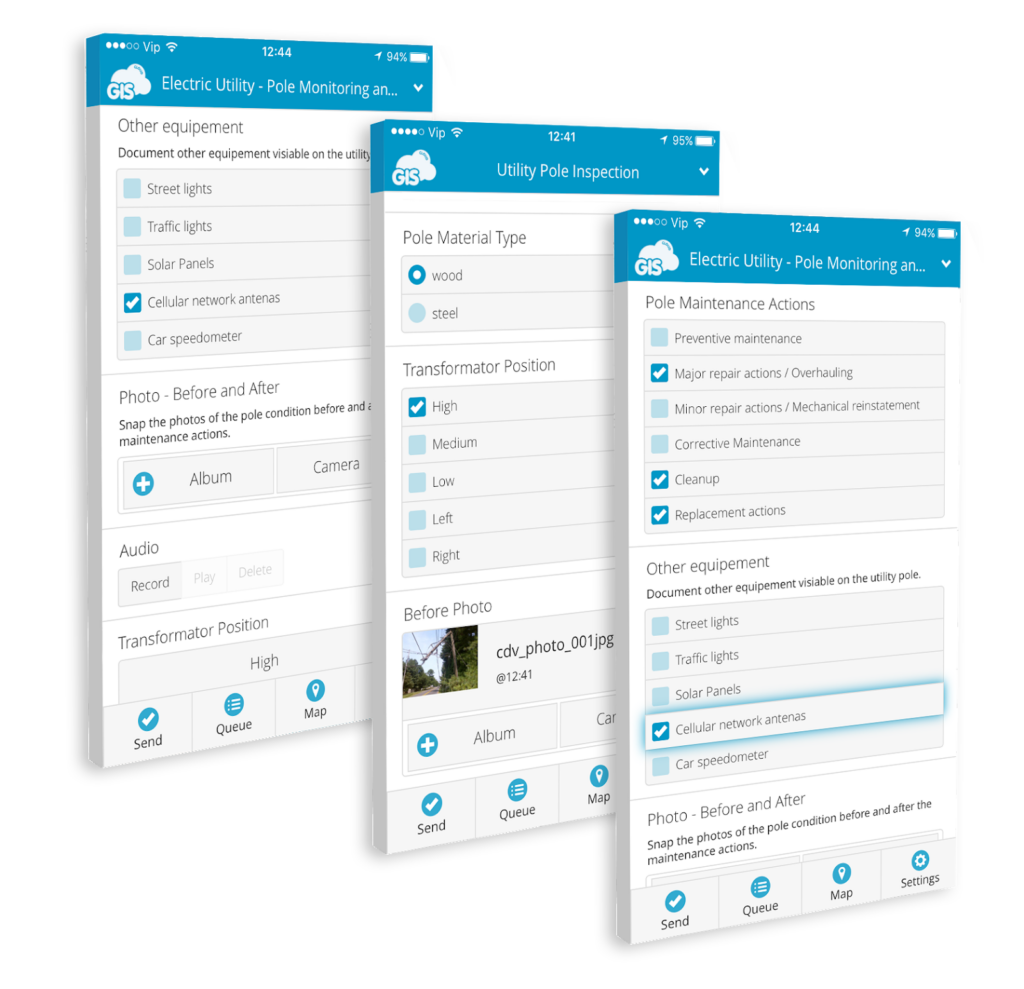 When the form is finished, it's time for the GIS Cloud team to create the mobile and web apps. Contact the GIS Cloud team and send the necessary information (name, artwork and branding requirements, logo, color, custom button labels, etc). Create the apps usually takes one day to complete. The only process where you have to wait a week or two is the app store approval.

Sending a Submission
It's straightforward as it gets, the users download the mobile app, fill out the form and press send. In case of weak reception the users can quickly pinpoint the desired location on the map.

The data users send shows as publicly unavailable until you decide to approve it for the public in the Web Admin App.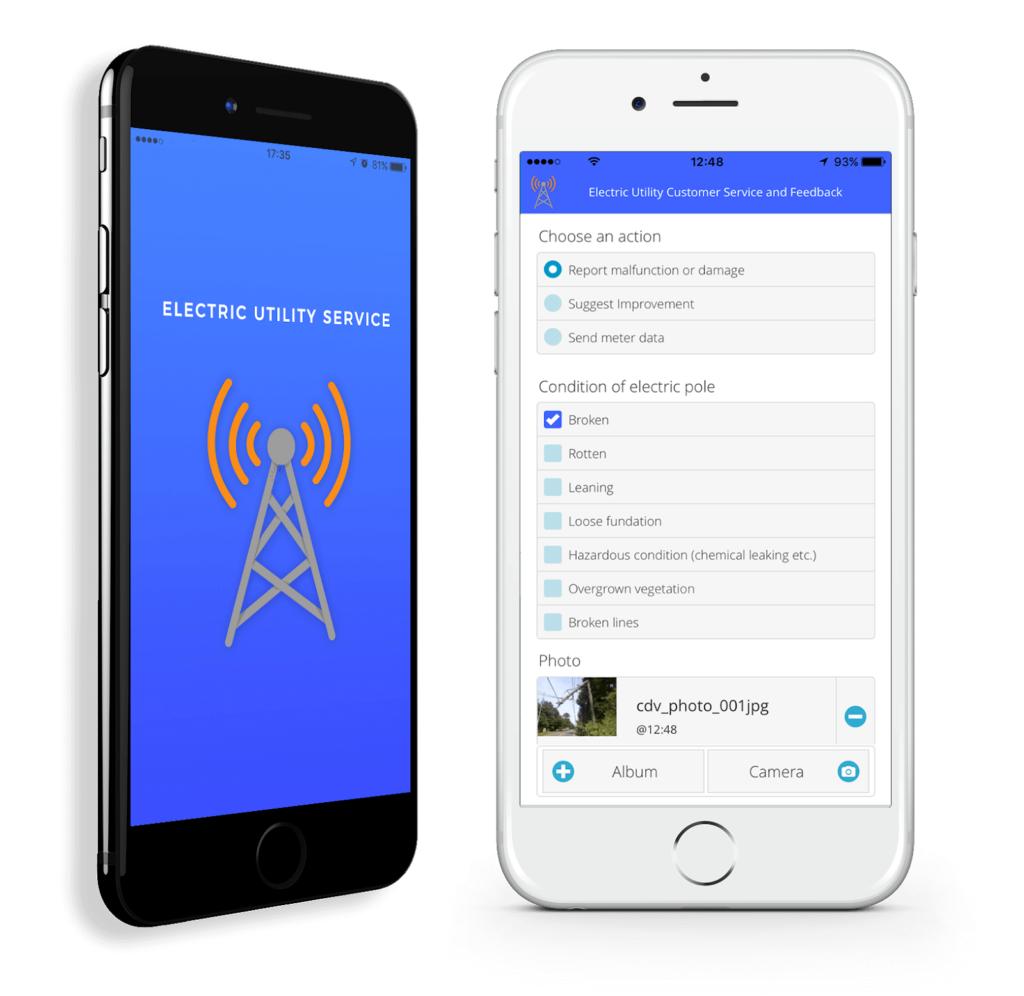 Mobile apps are not the only way users can report issues; there's also an option to deploy the Public Web App. It provides users with an overview of all issues that are in progress or completed. The user can also submit the issues from a desktop and pinpoint the location. The process is super easy, set the location of the issue and fill out the form.

As you can see below, it's possible to get a branded (white-labeled) Public Web App.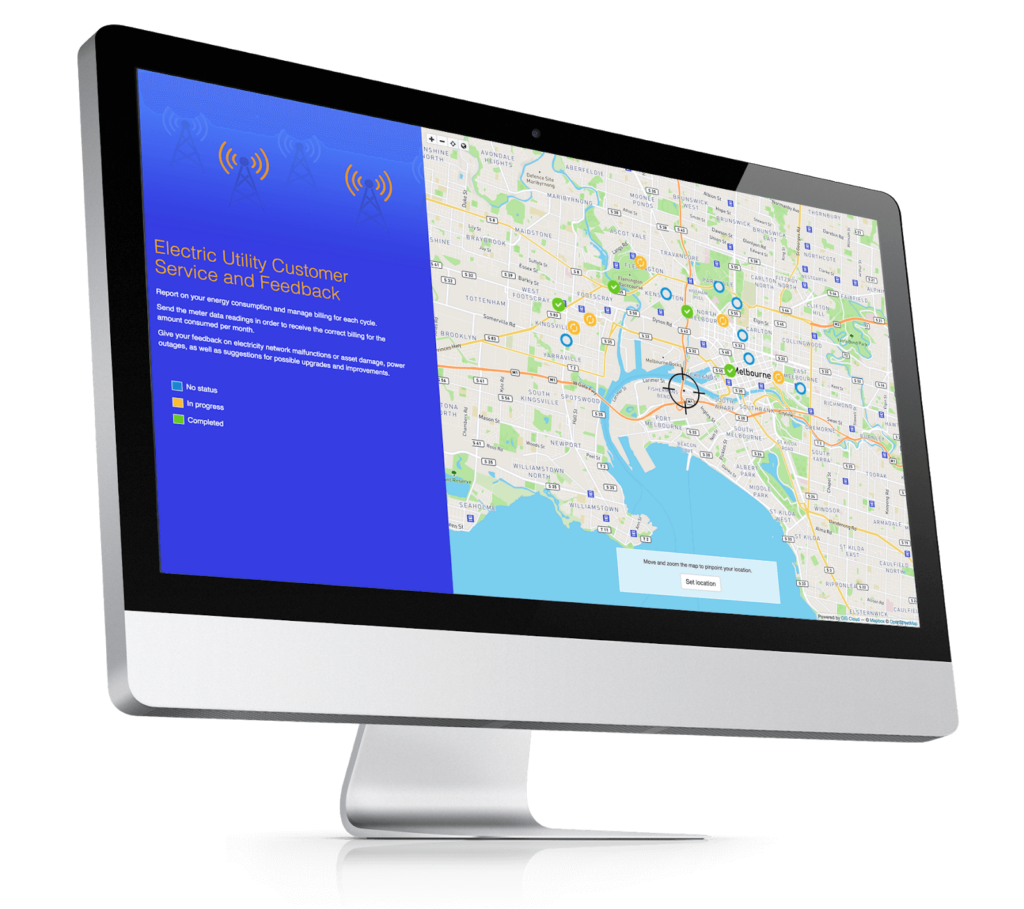 Managing Submissions
The incoming submissions populate the map in the Web Admin App. The symbols represent the status or the approval state of a submitted issue. You can see how it looks in the picture below. The red ones are not approved for public access/viewing, the orange are in progress and the green ones are completed.

You can edit the submissions by clicking on the symbol or by opening the submissions table (data grid).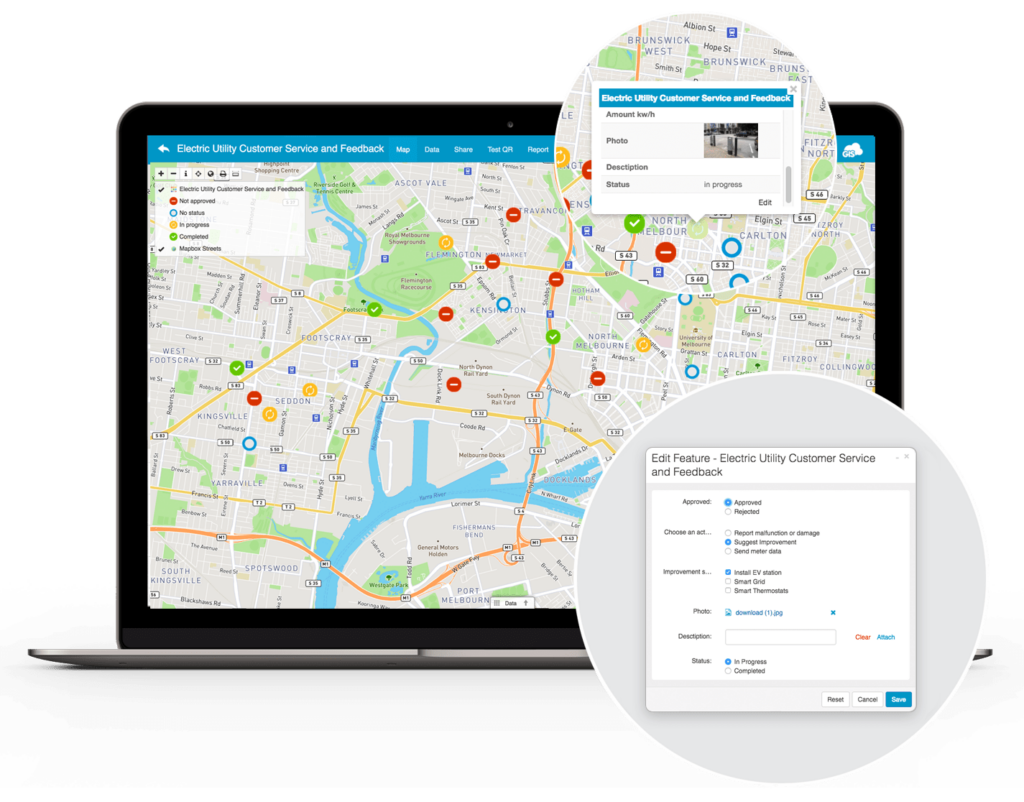 Aside from managing submissions, use the admin app for:
Sharing

crowdsourcing projects with coworkers

Assign a level of access for each coworker (

view, edit, share and export

)

Create comprehensive

reports
Export

data to CSV

Open the data in Map Editor and Map Viewer

The statistics tool is also a part of the admin app. There you can get info about how many submissions have been sent in a time frame, the submission approval rate and the status rate.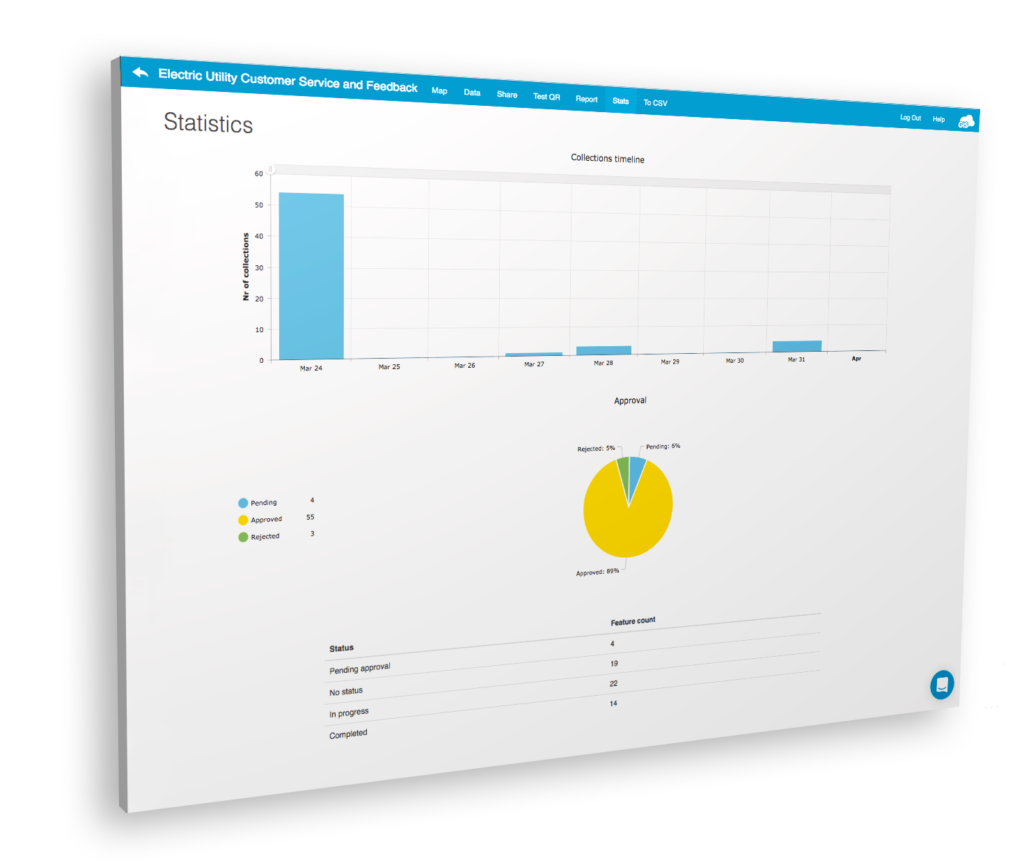 The Key Benefits of GIS Cloud Crowdsourcing
The GIS Cloud Crowdsourcing is a smart city solution that offers you a way to engage your customers and make the data collection process easier. We've mentioned a lot of benefits in the article, but here's a quick recap:
Branded apps for citizen engagement

Creating a project is super easy

Deploy the entire solution in less than two weeks

Receive submissions from the field in real time

React promptly to any risks and dangers

Complete control over incoming submissions

Budget-friendly

smart city solution

Get GIS Cloud support to set up the project

Interested in the GIS Cloud Crowdsourcing? Contact our sales consultants they'll be more than happy to give you a live demo.