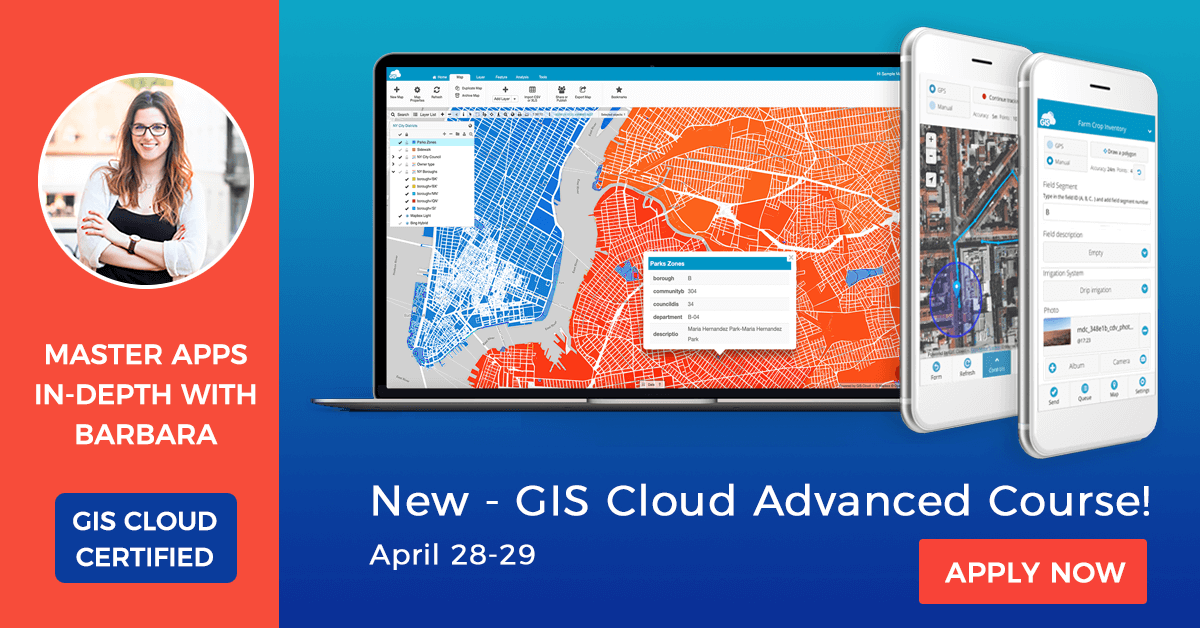 Advanced Course is designed to offer deep and valuable insight into GIS Cloud workflows for more experienced platform users. Save your seat and become a certified GIS Cloud expert!

The intention is to introduce and demonstrate the diversity of advanced GIS Cloud app features to clients. The course is meant to power experienced clients with numerous advanced workflows to get the most from GIS Cloud apps.

Even though GIS Cloud apps are user friendly, this course will help you to significantly speed up your everyday workflow and you'll discover some awesome tips & tricks to achieving optimal outcomes.

Course schedule:

Day I – Advanced data collection and map management
Data preparation

Table editing

Forms Manager (work on existing data, add items in bulk through JSON, advanced autofill – pull data from other layers, work on multiple layers within the same map)

Map preparation/optimization

Data overview (filtering, selections)
Day I covers more advanced Map Editor options such as table editing, advanced form creation (advanced autofill, JSON, etc.), tips and tricks for map optimization, data review and analysis.

Day II – Integration and customization
QGIS Publisher

Advanced data sharing

WMS/WFS

Custom map/layer options (search, highlight)

Custom applications
Day II covers desktop and cloud integration through Publishers and WMS/WFS options, advanced data sharing and collaboration options, custom map and layer options and creating branded applications.

Each session contains a Q&A section.

First advanced course will be held for two days on
April 28 – 29 at 3PM (CEST)


Duration per session will be 3 hours.

In the meantime, if you've purchased an Annual Map Editor Subscription in March or April, you'll get one free seat on the course; 1 licence = 1 seat. Purchase must be made before the beginning of the course date.
The price for this awesome certified course is 300$

Upon completion, you will be able to obtain a GIS Cloud Certificate. In order to get it, you'll need to complete a written exam with a practical assignment.

You will be able to take the exam once within the 3 months following the course completion. In case the exam is failed, you can attend the next course within this 3 month period and try again, but for an additional fee.

Don't hesitate, reach out to education@giscloud.com and apply!

The advanced course is designed for existing premium clients who already have experience using the GIS Cloud platform or have attended the GIS Cloud Crash Course.

We recommend that clients attend Crash Course before proceeding to Advanced Course.

If you still wish to attend the Advanced Course please note that you will need to demonstrate your basic knowledge in GIS Cloud apps through a quiz.

Requirements for attending are:
Basic GIS Cloud platform knowledge
Clients must be familiar with the basic Map Editor and Mobile Data Collection features, such as creating basic projects in MDC Portal, collecting data, uploading data, creating maps, editing maps and layers and visualisation of data
Clients need to have a yearly subscription to GIS Cloud Map Editor application
Downloaded education materials
Before the session starts, our team will send you learning materials with adequate data sets you'll use throughout the course.
Optional:
QGIS or ArcMap software implementation
If you are using QGIS or ArcMap desktop GIS solutions for you will learn how to integrate desktop and cloud-based GIS within your workflow. You can download the corresponding Publisher for ArcMap and Publisher for QGIS to get ready.

All our clients will highly benefit from these courses. You will learn advanced setups and app functionalities, shorten the working time and transform your business workflow!

For more detailed info and application please contact education@giscloud.com and visit our Learning Center!

Instructor-Led Learning Sessions
Courses are taught by an expert GIS Cloud instructor. Learning sessions emphasize best practices, encourage discussions and hands-on exercises.
Barbara Telebec
Solutions Consultant
As a GIS practitioner for over eight years and an expert in GIS Cloud technology and platform, Barbara specializes in empowering anyone to easily analyze, share and visualize spatial data for a wide range of uses.
She will help you to master any task using GIS Cloud apps to obtain optimal workflow for any short or long term project.
If you have any questions about the program, send us an email at: education@giscloud.com