The discussion panel around this topic took place during the Australian Utility Week in November of 2017, where leaders of the energy sector in Australia and New Zealand gave their opinion on the future of data collection and management.
If you know anything about Australia and New Zealand's infrastructure, you are aware of the large amounts of data any energy and utility company needs to collect, inspect, edit and organize to further work in their organization. Moreover, these companies all have similar challenges, which are mostly dealing with data and asset management in remote areas with no network coverage.
Some of the main questions addressed during the discussion were whether the current GIS platform that companies use is aligned to their business strategy and does GIS data contribute to their digital transformation. Focus group leader (Igor Farkaš, GIS Cloud) asked participants if their business workflows fall in line with new trends and standards, and in what ways a cloud solution makes their company a more competitive organization.
Panelists from Cyient, Fulton Hogan, Endeavour Energy, AusNet Services, South East Water and Spatial Vision, companies in the utility and energy industry, discussed the GIS solutions they prefer: cloud vs. desktop. The common conclusion was: both. Each type of GIS has its own purpose; while desktop GIS is a full-featured and powerful tool suited for professional users, cloud-based GIS is ideal for scaling maps to more people – to the entire organization and for collaboration.
They all agree that the answer to their problems is a cloud mapping platform which allows them to extend their desktop experience, enables data collection with smartphones and tablets, even in offline mode, and has powerful sharing and editing capabilities.
In offline mode, mobile devices log data locally, and all the collected information is sent into the cloud once the devices go online again. Collected data and the custom forms (created and used for the collection process) can be changed at any time, which will instantly sync changes across all devices, allowing the team in the office to track the process in real-time and organize jobs.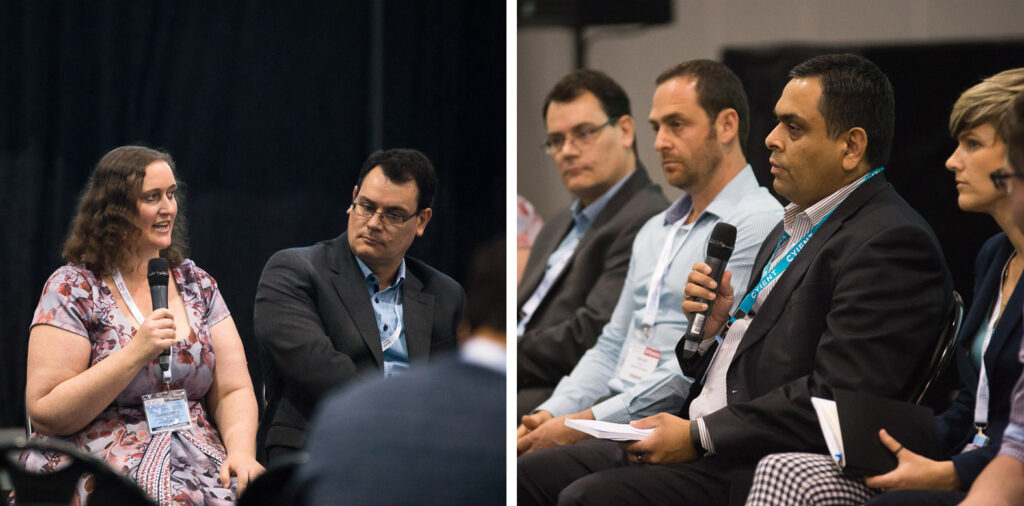 Change is always the most difficult part of implementing a GIS solution, but it is important to keep in mind what GIS can do for the organization's data management process. This kind of approach really puts a big emphasis on the collaboration throughout the organization, from project managers who decide on the type of data they want to collect and the workflow, to field workers using shared forms to collect data, and decision makers who can log in to the platform and see a map overview of the data to easily make difficult business decisions.
Panelists unanimously agreed that collection in offline conditions, as well as the possibility to change attributes of collected data and organize work around features on a map (instantly, when they become visible on a map), is a huge help in asset management, enabling organizations to get jobs done faster and to gain quality data, by being able to fully control collection process.
This focus group showed that GIS in the Cloud can make a great difference for utility organizations in their process of digital transformation, facilitating their workflow and also allowing them to spend less and receive more.
Sponsoring the Australian Utility Week in Melbourne was just one of the many GIS Cloud endeavours during the Australian and New Zealand tour. In collaboration with our partners from Spatial Vision, Australia, we organized and held free educational GIS workshops in Melbourne, Sydney, Brisbane, Wellington, Auckland and Whangarei. Participants gained hands-on experience with the GIS Cloud platform and applications, as well as the early preview of the new collaboration streams technology, which is believed to become a crucial tool in data management, field crew organization and day-to-day collaboration.