As a response to a growing interest for GIS Cloud solutions from our community in New Zealand, you are invited to join us for yet another free workshop, held in Whangarei this Friday, as a bonus pop-up event.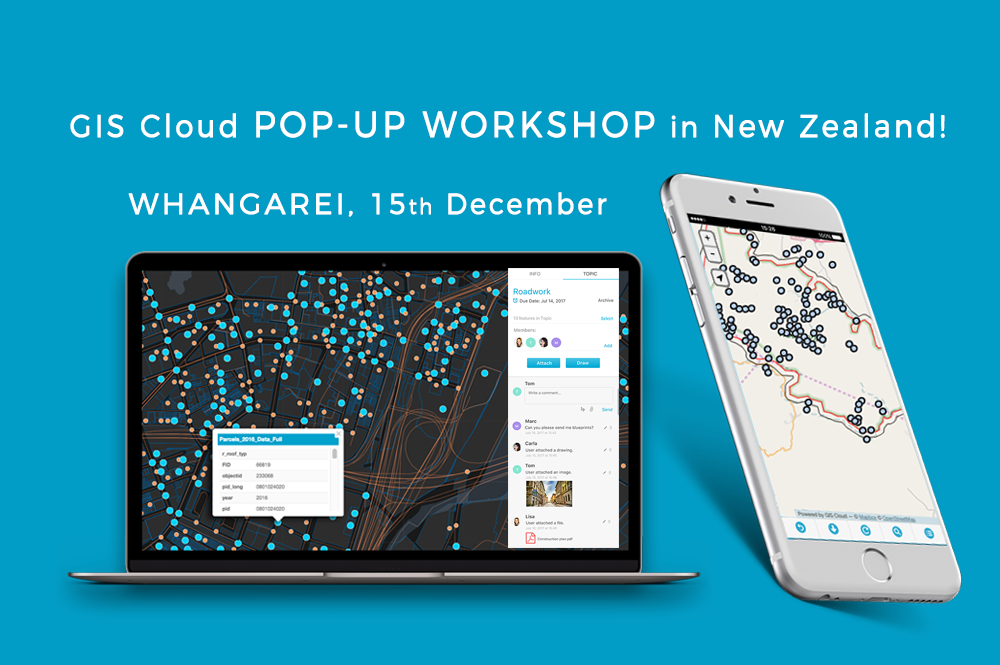 Except for our local community there, the workshop in Whangarei is also a good opportunity for those who missed our events in Auckland and Wellington last week.
GIS Cloud pop-up workshop will be held at the The Orchard, Level 1 (Corner of Walton and Cameron St.) on December 15, starting 10 am.
The workshop is free to attend, but the number of seats is limited, so participants will need to register by filling in the registration form below in order to attend.
Apply here:
GIS Cloud Pop-up Workshop Agenda:
10 am – 10.10 am – GIS Cloud and Spatial Vision Introduction
10.10 am – 11.10 am – Mobile Data Collection and Map Editor
Learn how to create projects and collect data using your smartphones and tablets. Also, you will learn what to do after the data is gathered.
11.10 am – 11.30 am – City Portal and App Builder
Learn how to create your own branded web app without coding.
11.30 am – 11.45 am – Crowdsourcing solution
Learn what's needed to enable your communities to report from the field and what the benefits are of having a branded GIS Cloud Crowdsourcing Solution.
11.45 am – 12.00 pm – Introducing collaboration streams technology, and a Q&A session.
Get an exclusive preview of GIS Cloud collaborative streams technology which will revolutionize today's known workflows on a map, and don't miss a chance to ask us questions on site.