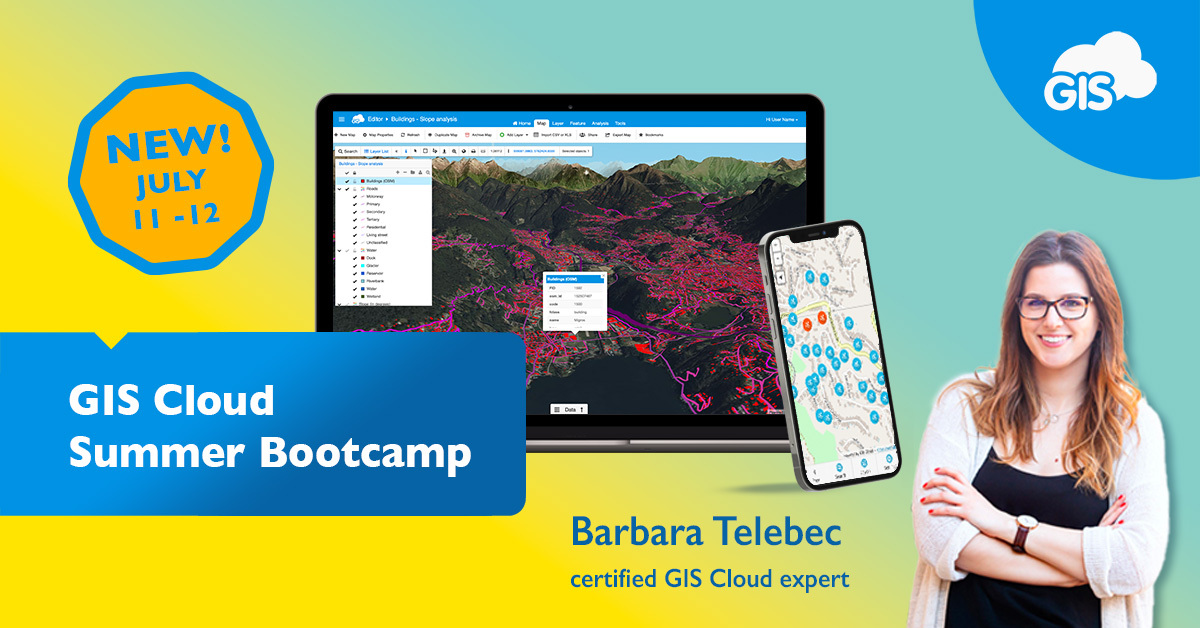 Are you ready to take your GIS Cloud expertise to the next level? Look no further! We are thrilled to announce new dates for our GIS Cloud Advanced Course! Taking place in early July, the GIS Cloud Summer Bootcamp is an intensive, 2-day online event designed to help you unlock your geospatial potential.

Whether you're a seasoned user or a novice familiar with the fundamentals but looking to take your workflows to the next level, this course is the perfect opportunity to sharpen your skills and gain a deeper understanding of GIS Cloud's powerful tools.

The GIS Cloud Summer Bootcamp is an immersive learning experience that combines expert-led instruction and hands-on exercises. Here's what you can expect:

Day 1: Mastering GIS Cloud Essentials (4h)

On the first day, we will delve into the core features and functionalities of GIS Cloud – an overview of the fundamentals will help you develop a solid foundation. Seasoned users will be able to refresh their knowledge and discover advanced tips and tricks to enhance their workflows while we cover geospatial data management, visualization, and collaboration challenges.

Day 2: Unleashing the Power of GIS Cloud (4h)

On the second day, we will dive deeper into GIS Cloud's advanced capabilities, empowering you to leverage its full potential. Through hands-on exercises and real-world examples, you will gain practical experience solving complex geospatial challenges by learning more about integrations with desktop GIS tools and advanced web app customizations.

DATE AND TIME:
July 11 – 12, 2023
3 PM – 7 PM CEST // 9 AM – 1 PM EDT // 8 AM – 12 PM (noon) CDT

Who Should Attend?

The GIS Cloud Advanced Course is the perfect opportunity for individuals who have a solid grasp of GIS Cloud basics but are eager to enhance their workflow and maximize their toolset. Whether you want to improve efficiency, explore new tools, accelerate your results, or even pursue GIS Cloud certification, this course is tailored to meet your needs.

SPECIAL OFFER until June 21! Course price – $195
Regular course price – $295

Become a certified expert!

Upon completion of the course, you can obtain a GIS Cloud Certificate. To receive it, you'll need to complete a written exam with a practical assignment within the three months following the course completion.

The GIS Cloud Advanced Course is primarily designed for existing premium clients with some experience using the GIS Cloud platform. Please get in touch if you'd like to see if this is the right course for you!

To register, send us an email to education@giscloud.com!

Seats are limited, so make sure you register ASAP – make sure to take advantage of it!

Please find more information about the course, schedule, and topics we cover in our Learning Center, or contact us at education@giscloud.com with any questions about the program. We look forward to seeing you there!