Take your maps and projects with you wherever you go!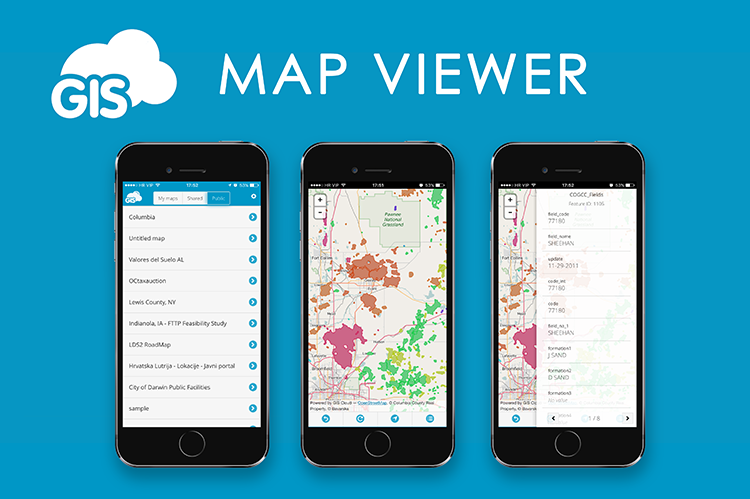 We are happy to announce that GIS Cloud Map Viewer has been released. Map Viewer for Mobile is available for Android and iOS devices on GooglePlay and App Store. Application offers an easy way to access private, shared or public maps and data from your mobile and tablet devices at any time.
Non professionals can use the app as a great collaboration tool. GIS Cloud Map Viewer allows accessing different maps depending on user permissions in synchronization with other parts of the GIS Cloud system. It is important to mention that Map Viewer enables viewing large maps rich with features quickly, with unmatched rendering speed.
What is new?
GIS Cloud Map Viewer brings a whole new experience with maps hosted on GIS Cloud for mobile users. Its viewing functionalities are similar to those of Mobile Data Collection app.
This means that you don't have to access your maps with mobile browser, because they are easily launched within the application. If you don't need the data collection feature, this is a perfect way to access your maps via mobile devices. Map Viewer enables you to easily select any point on the map and view the attributes in a sidebar. Also, when multiple points (close to each other) are selected, you can go through a list of datasets and view the attributes in a sidebar – with just one touch of a fingertip.
With the Map Viewer app you can:
log in with your GIS Cloud account or sign up for a new one

access all public and shared private maps

tap on the map to view feature data

see the list of layers in the map and their symbology

show or hide layers or groups of layers

see your location on the map (accuracy depending on the GPS capabilities of a tablet/smartphone)
Get the app on the Google Play for Android, and App Store for iOS devices.