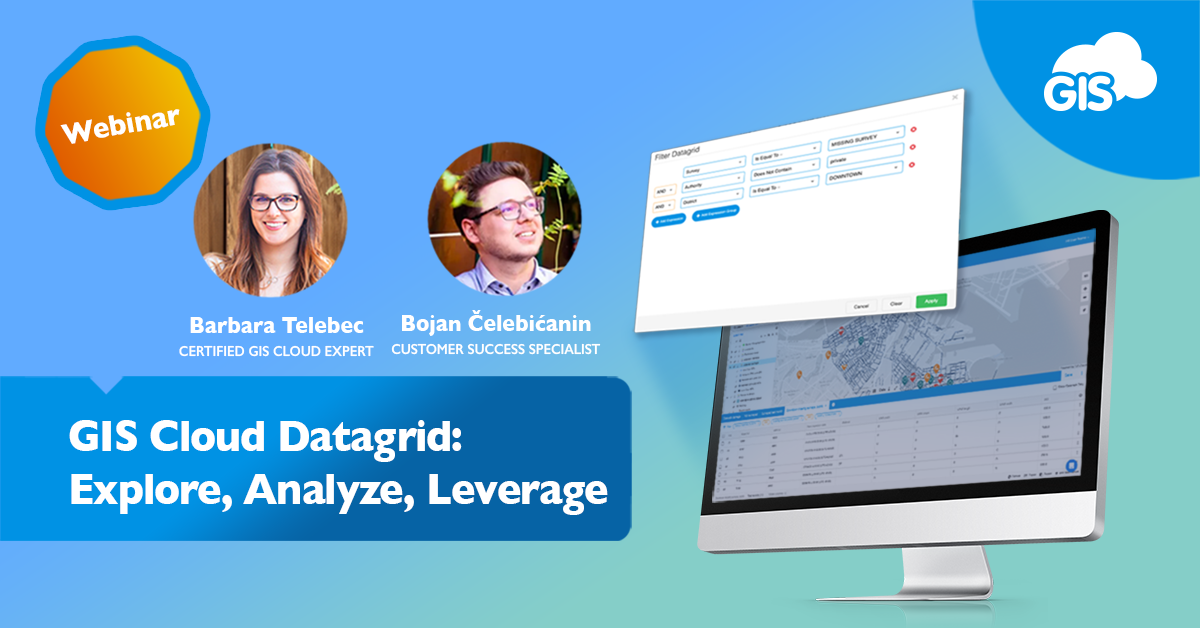 In the GIS world, the datagrid is more than just a table—it's your gateway to comprehensive data exploration. It empowers you to identify patterns and trends within your data, making it an invaluable tool for analysis, such as infrastructure planning, market analysis, or quality assurance.

If you're passionate about unlocking the full potential of spatial data, our upcoming webinar is a must-attend event! Join us as we explore the dynamic capabilities of the datagrid, a tool designed to transform how you understand, collaborate, and filter through your GIS data.

Let's talk Collaboration!

Imagine a seamless collaboration experience within your GIS team or across departments. With the GIS Cloud datagrid, sharing predefined views becomes a breeze. Project managers can effortlessly track pending tasks and deadlines, while cross-departmental collaboration thrives as views are shared to focus on specific aspects of the data.

Learn how to search through your data effectively!

Datagrid's filtering capabilities are a game-changer. Spatial queries allow you to zoom in on specific areas of interest, making urban planning and market research a targeted endeavor. Attribute-based filters streamline operations in datasets like utility infrastructure, where you can easily isolate equipment, assets, or structures based on critical attributes. Temporal analysis, crucial for fields such as climate data, becomes a breeze as datagrid enables users to focus on specific time ranges.

Webinar Time and Date:
THURSDAY, December 14th at
5 pm CET, 11 am EST, 8 am PST

Don't miss out on this opportunity to elevate your GIS expertise. Secure your spot now by registering here. Let's explore, collaborate, and filter through spatial data together—see you at the webinar!