If you are leading large data collection and inspection projects, and organizing teams in the field, this webinar recording is a must see!

Darrel Larson, International Director of Sawyer Products water filter company and co-organizer of this fantastic data collection project, explains all the steps in the process of delivering water filters and tracking results throughout the country. Access the recording by filling in the form below.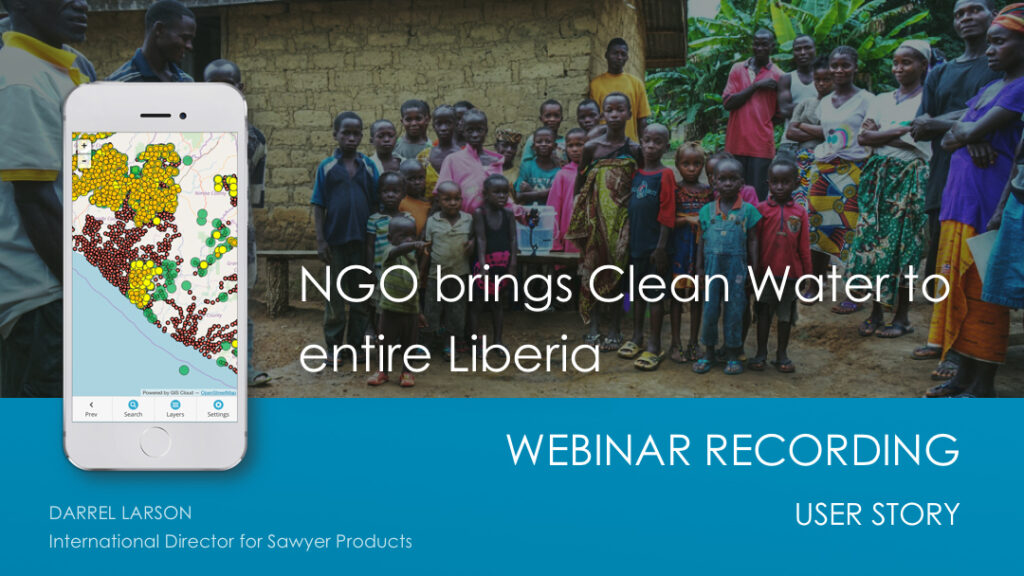 In remote areas with no network coverage, location and demographic data are often incomplete or invalid. Liberia (Africa) is one of the poorest countries in the world, where most households didn't have access to clean water.
Up until a few years ago, there was no easy and cost-efficient way for nonprofits to map out an entire country. With GIS Cloud mapping solutions, a non-GIS crew can easily map water sources, manage the delivery of water filters and use collected data to eradicate water-borne sickness and create sustainable water supply systems.
Watch this webinar recording (fill in the form below) and learn how The Last Well organization joined forces with other NGOs to reach a unique goal: bring water to every single resident of Liberia by December of 2020!
Darrel shares his experience from the initial idea of the project and challenges nonprofits faced, to a discovery of mapping solutions which helped them to achieve their goals and show results.
He explains in many details how teams collected data with mobile devices using custom surveys and shows a map overview of collected data used to track project progress.
User story includes:
Project origin, initial challenges, the current status of the project and goals

Mapping project lifecycle (initial assessment, follow-ups, data analysis and decision making)

Mobile data collection

and map editing tools used for the project

Data collection and management demo

Project results which assured finding donors and further funds

Q&A session
Interested in trying GIS Cloud apps and see what they can do for you? Request a demo or sign up.