Join our next webinar, a live user story about an amazing data collection and management project realized in Liberia, Africa, with the initiative and organization of our webinar host Darrel Larson, International director for Sawyer products and founder of the Give Clean Water non-profit organization. Register below for April 12th.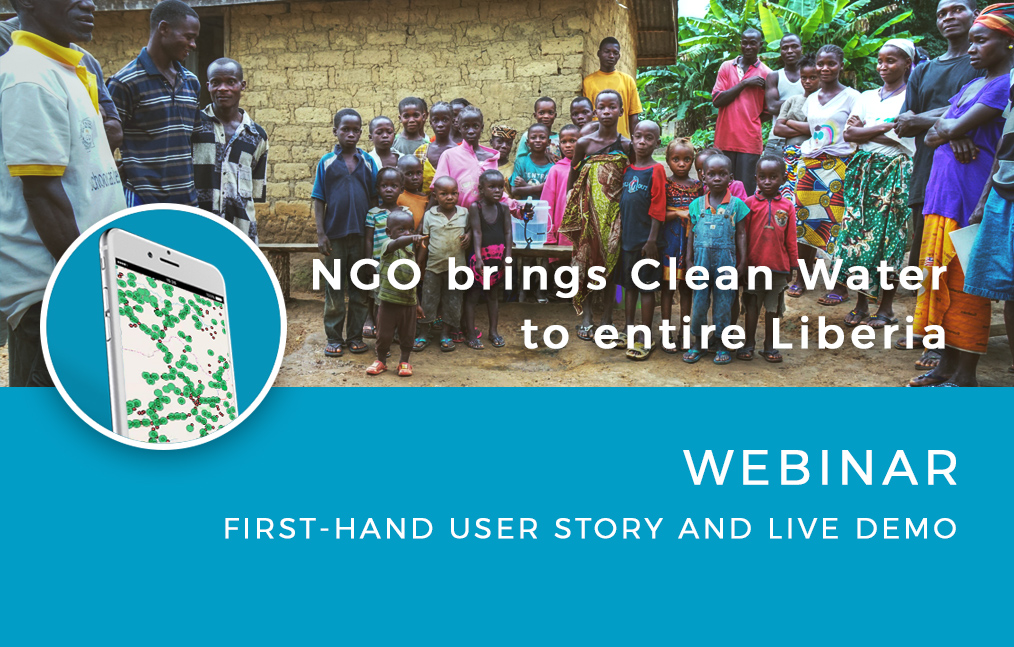 Learn how nonprofits joined forces to map out entire Liberia to reach a unique goal: bring water to every single resident by December of 2020!
Water pollution is the number one cause of water shortage and one of the biggest problems of the modern world. For instance, almost 50% of Fijian population didn't have access to clean water before this initiative several years ago. Some of us living in the cities take drinking water for granted, while others can't even imagine having everyday access to drinkable water. You will witness a first-hand experience from a nonprofit organization who worked with another nonprofit, The Last Well and together they found a way to deliver clean water to those in need.


Data collection and data management demo
Darrel will share his Liberia project two years in making, from project creation and funding to data collection, data reviewing, data management, and upscaling to more people and teams working with data.
How did they come to the ambitious idea of bringing water to the entire nation, with limited funds?

How did they

collect data

about clean water shortage? How did they

train and organize field teams

, people with no previous experience with GIS?

What kind of data did they collect and inspect?

What did they do after the first round of collecting data? How did they

track the delivery of water filters

and what health benefits did data show after a short period of time?

How did this change people's lives?
Webinar time and date:
THURSDAY, APRIL 12th at
8 am PT 11 am ET 5 pm CET (4 pm UTC)
You will get answers to these and many more questions in a live story presentation and a demo of the project. We will show you custom forms used for the collection and inspection, and a map with the overview of combined data from different forms, which allows analysis and further decision making. Data also provided rock-solid grounds for further project fundings, which allowed to expand plans and project to help more people.


You will be able to ask Darrel about the project and the solutions he used to achieve his goal.
Register for a free webinar on Thursday, April 12th and learn how NGOs, nonprofits, and other organizations can benefit from intuitive data collection and data management solutions, get funds and help communities around the globe.