Together with our partners, volunteers and organizations across the world, we launched the STOP Corona! App, to anonymously collect symptoms from the public! This crowdsourcing application is completely free, using location data and relying on people around the world to report their symptoms.
The goal is to detect potential hotspots of the spreading of the virus and enable public and health authorities to gain insight into the symptoms in a certain country and worldwide. Maps of hotspots (heatmaps) will be available to health officials free of charge. The raw data will not be publicly available because we don't want to raise panic, after all these are just symptoms.
How does it work?
Using real-time location intelligence and machine learning the STOP Corona! App can predict patterns and locate hotspots of potential new outbreaks. If you and the people around you report their symptoms daily, the system can single out such areas with a high or increasing concentration of multiple reported symptoms, as an indicator of a potential outbreak.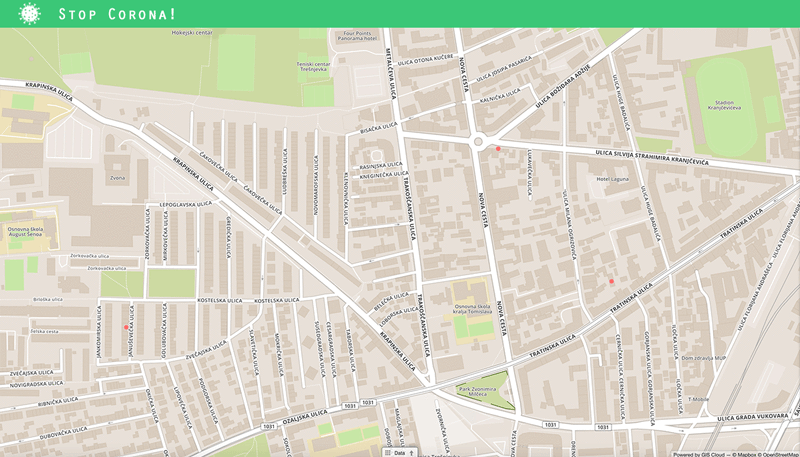 Your valuable task is to access the app, mark your location and report your symptoms on a daily basis. Then, share the app to all your colleagues, family members and contacts to do the same.
The information you provide (contact, location and heatmap of symptoms) won't be available to the public due to privacy and security concerns. It will be made available only to health authorities, free of charge, to help them gain insight and optimize their efforts to contain the spreading of the coronavirus as early as possible. All data is collected securely through an online form with SSL encryption.
Once the collected data reaches 10% of the population in a certain country, only anonymized and aggregated symptom statistics will be opened to the public.
The app is translated into more than 20 languages, and we invite anyone who wants to join this project and bring the app to their country, to reach out at hello@giscloud.com.
We need help from people around the world to make this work. The more people we reach, the better the insights we will provide, so please share and report your symptoms! Now it's time to think about every single person in the world.
This project is a joint effort of the team of experts, organizations and volunteers across the globe, who felt the need to help in this time of crisis and have united their knowledge and hearts to help the community locally and globally. This is a truly global problem that requires global solutions. Communities everywhere are affected, the new victim numbers are skyrocketing. This project is created for people everywhere, to unite and end the suffering and death caused by this terrible virus.
Join us in this project with your expertise and help to stop the spreading of coronavirus!