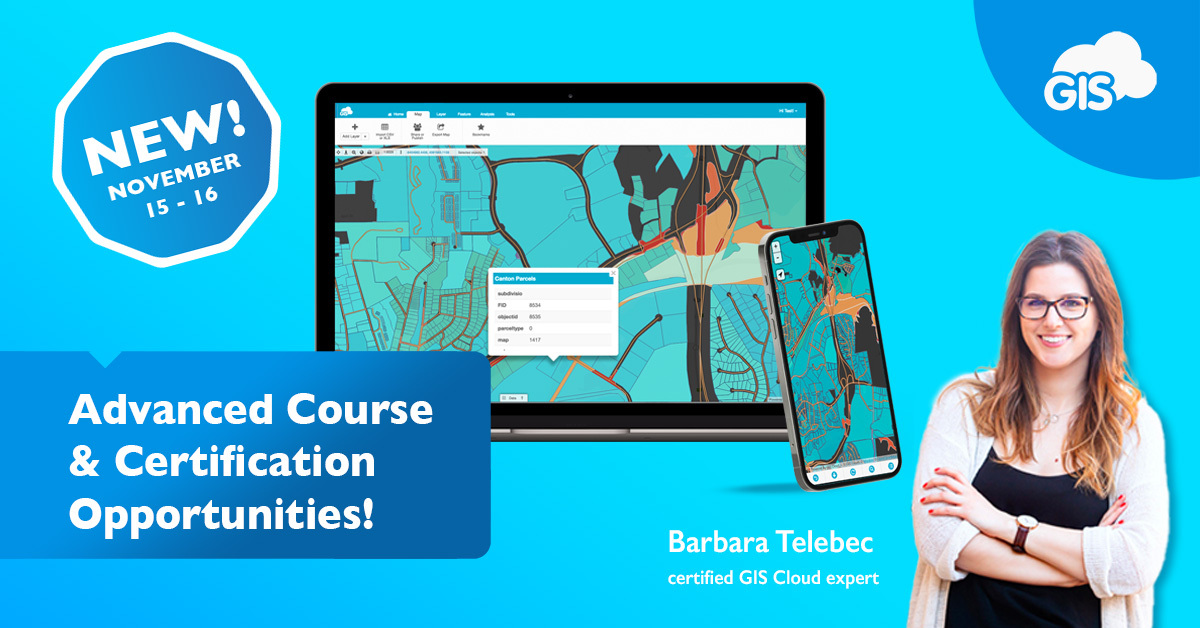 At GIS Cloud, we always do our best to ensure that our apps are user-friendly and used by GIS and non-GIS users alike. Our team of customer support specialists and expert consultants is always on hand to offer support and guide you to an optimal workflow within GIS Cloud. However, if you want to expand your knowledge and master more complex workflows – faster, then our in-depth Advanced Courses are just the thing for you!

Our 2-day online training course offers a refresher on essential GIS Cloud tools and expands your knowledge with best practices and suggestions for improving workflow efficiency. The course is constantly updated with new feature introductions, and there have been plenty this year – from improvements to data collection to single-band rasters and 3D!

Course Details:
November 15 – 16, 2022
3PM – 7PM CET // 9AM – 1PM EST // 8AM – 12PM (noon) CST

The GIS Cloud Advanced Course is for you if you:
Understand GIS Cloud basics but are looking for ways to

improve your workflow

Want to

make the most of the tools you're using

Want to learn how to use

new tools

Want to

get results faster

Are an expert GIS Cloud user and want to

get certified
Special offer until November 4! Course price – $195
Regular course price – $295

Register before November 4, 2022, to take advantage of our special offer, and attend our Advanced Course for $195!

Get certified! Upon completion of the course, you will be able to obtain a GIS Cloud Certificate. In order to receive it, you'll need to complete a written exam with a practical assignment within the 3 months following the course completion.

The GIS Cloud Advanced Course is designed for existing premium clients who already have experience using the GIS Cloud platform or have previously attended a GIS Cloud Crash Course. Feel free to get in touch if you'd like to see if this is the right course for you!

To register, simply send us an email to education@giscloud.com!
Seats are limited, so make sure you register today!

Find more information about the course, schedule and topics we cover in our Learning Center, or contact us at education@giscloud.com with any questions about the program.

Instructor-Led Learning Sessions

Courses are taught by an expert GIS Cloud instructor. Learning sessions emphasize best practices and encourage discussions and hands-on exercises.