GIS Cloud is organizing a co-located Training Event alongside the FOSS4G 2017 Conference. Attendance is free, even for non FOSS4G visitors. It will be held on Tuesday, August 15th in Boston, MA at the Seaport Hotel and Trade Center (Harborview 3) from 9 am – 3 pm. You can register for the event below the schedule.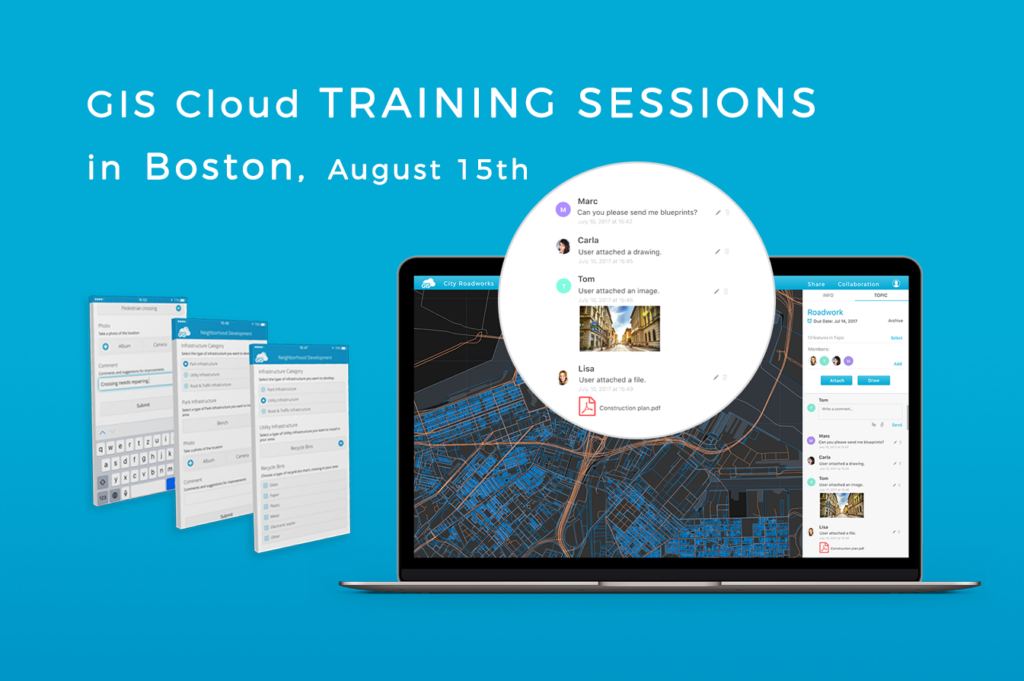 Learn first hand about cutting-edge mapping technology that enables you to collaborate in real time on a map, mobile data collection in offline mode, listen to technical talks as well as diverse case studies from different communities around the world.
GIS Cloud Training Sessions:
9.00 – 11.00: Collaborative GIS Workflow with Comments and Attachments Related to Specific Features on Maps
Whether you are collecting data in the field or reviewing it instantly and sending information to your colleagues from the office, adding features or analyzing and making data driven decisions, you can do every step of your project within only one mapping platform.
As a bonus, get an exclusive preview of GIS Cloud Collaborative streams technology that will change today known workflows on a map and learn about how to make the use of collaborative mapping in different set-ups and use cases.
11.15 – 12.00: How to Use Offline Maps Sync to Efficiently Gather Data & Create Maps with Mobile Phones
How to use mobile phones and tablets in online and offline conditions to update and add new data to a map in real-time?
Offline maps enable you to store large amounts of vector data directly on your phone or tablet device which can be rendered as a map in offline conditions. Maps can also be searched and queried providing you full access to your data. By using advanced syncing capabilities, you can get map updates on your phone that will use least amount of network bandwidth which can be useful when working in the field with limited network coverage.
Learn about the benefits of offline maps technology and hear awesome user stories from all around the world.
12.00 – 13.00: Lunch Break
13.00 – 13.30: Create Your Own Branded App on Top of a Powerful GIS Platform
Creating a custom mapping application has never been easier!
Learn how to create a custom and branded app without having to write a single line of code in just a few minutes.
13.45 – 14.45: Make Your Own Branded GIS Crowdsourcing App – Complete Solution for Cities and Organizations
From custom forms made in a just few clicks to your own branded app for collecting data that you can deploy to your communities or organizations, review data, respond and act upon requests. With report enabled communities we can plan, transform and build the future together.
14.45 – 15.00: Closing Remarks, Q&A, and Mingle
Ask us anything you want to know about the development, features, and applications of GIS Cloud, chat and meet with our team after the session.
The workshop attendees will get the trial access to GIS Cloud Crowdsourcing Solution and City Portal together with an exclusive beta access to GIS Cloud new platform, and a GIS Cloud T-Shirt with cool new design.
REGISTER FOR THE SESSION HERE: