Video tutorial: Getting started with Mobile Data Collection
If you choose to define your form for collecting data in the field through the Map Editor app, first thing you need to do is to create a point layer where you will send your data from the field.
Before you start collecting data you need to create a map and a point layer where you will send your data from the field.
Log in into your Map Editor account with your existing GIS Cloud credentials and create a map.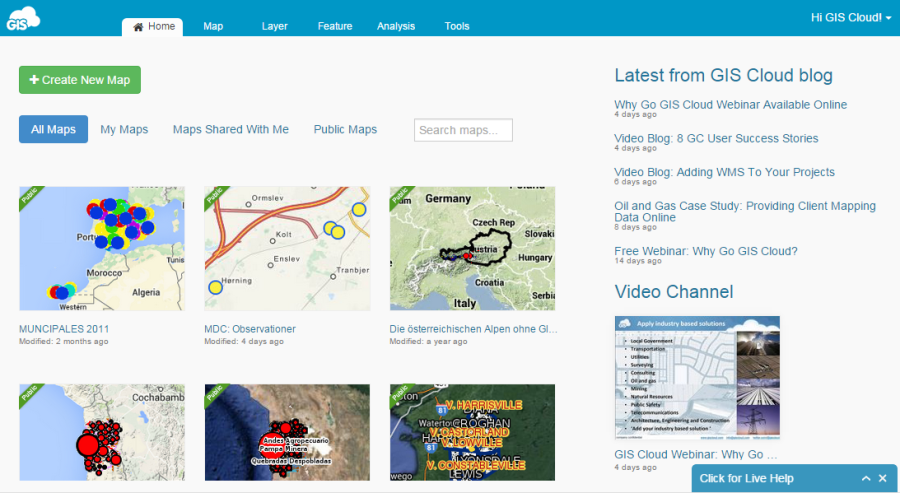 For more info on how to create a map click here.
Add database point layer in the map.
Note: Point layer has to be imported into the Database, otherwise it will not be possible to collect data with MDC application.
Create a custom form
After you create a layer, you need to create a custom form that you will later attach to that layer.
Custom form can be created in Map Editor application using the Forms Manager tool found in the Tools tab. When you add or create a point layer in your map, you can choose that point layer to be a template for the form creation. In the Create from layer option choose the layer and the form with the attribute fields will automatically appear.
Create a new form
Open Tools tab.
Open Forms Manager.
Click Create new form button.
Write a form name. Optionally you can add Form Title.
Add form items by choosing from the drop down list.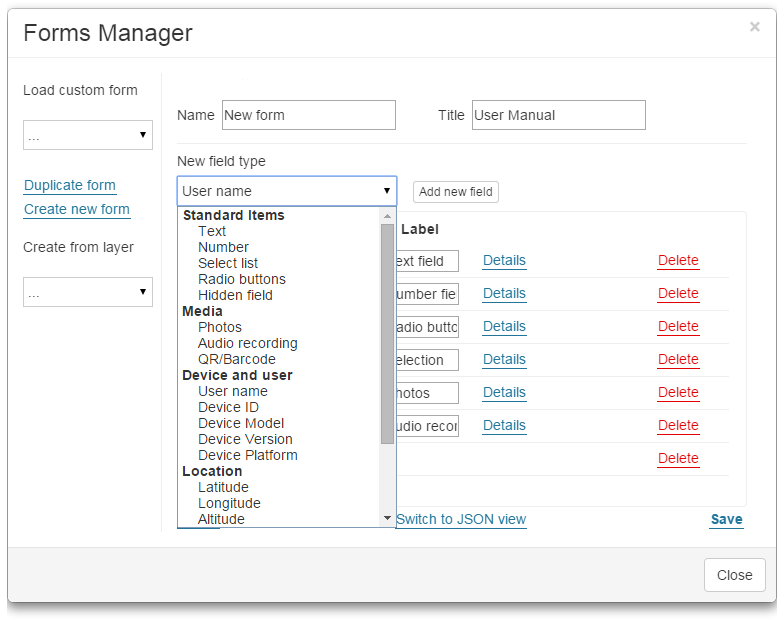 For form items you can add following options:
persistent which remembers values from previous submission.
required which means that the submission can not be sent unless you populate this field.
value which is one of the values in the form or the default value (for Number field type).
single line which allows you to write in a single line (for Text field type).
multilne which allows you to write in multiple lines (tor Text field type).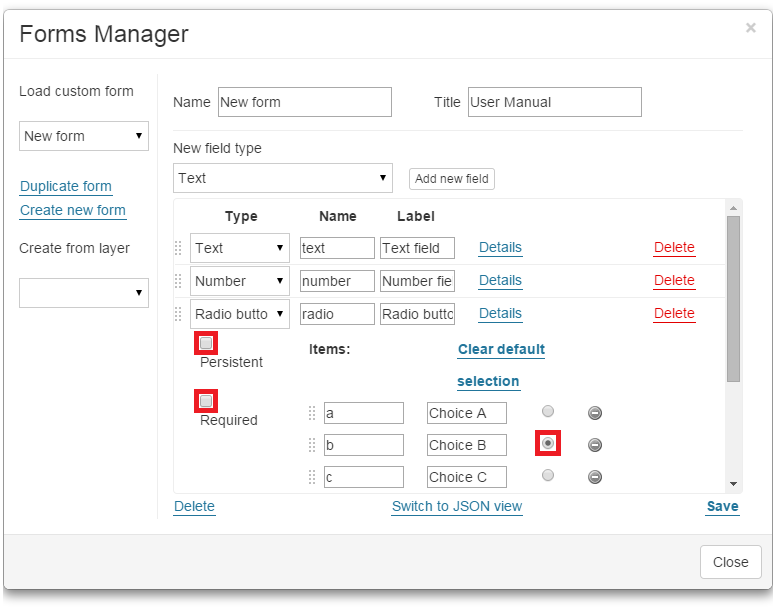 Click Save button.
Connect form and layer
To collect data with the Mobile Data Collection, database point layer has to be connected with the form.
Note: if you are creating a project with the MDC Portal, form is automatically connected with the layer.
To connect a form with the layer, follow these steps:
Open Layer Properties by clicking on the Layer tab and Edit Layer button.
Click on the Attributes tab.
Choose a custom form to use with the layer from the drop down list.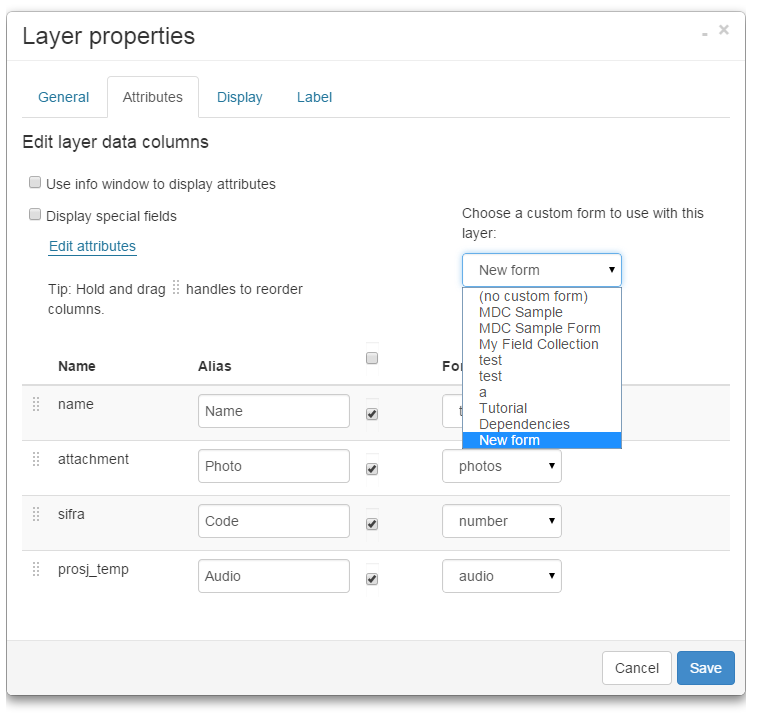 Join layer fields to the form fields.
Click Save button.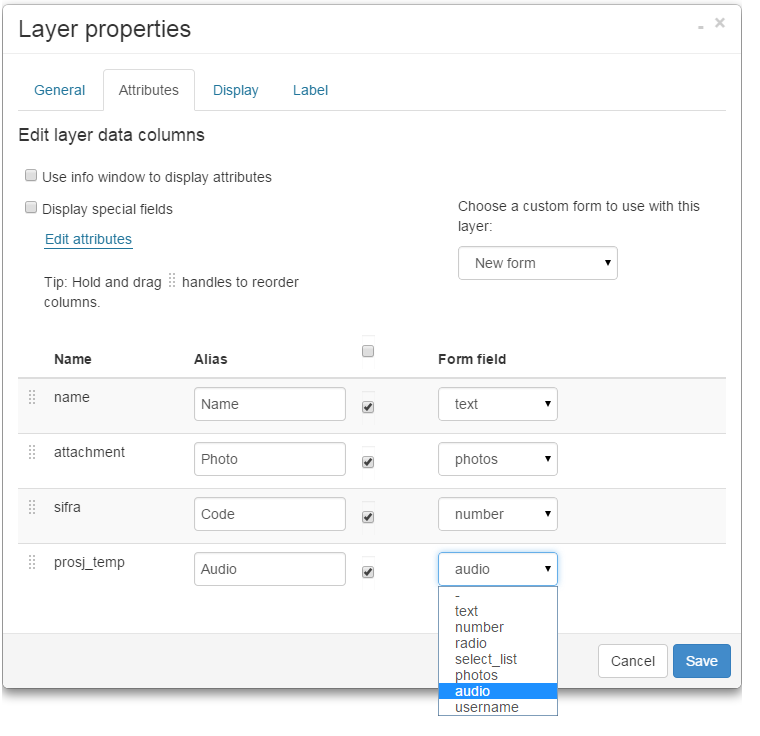 You can add the field Label or define additional options for each field type.
You can also add some additional fields into the form but note that after that, you need to add these fields in your point layer (this can be done in the Database Manager) and attach it accordingly.
If you want to allow others to send new data to your map simply share them the map with collect privileges. Update privileges will enable them to edit existing data. For more info on how to share your maps click here.
Collect data
After defining settings, open the Mobile Data Collection on your phone and simply tap on the Form button to start collecting data.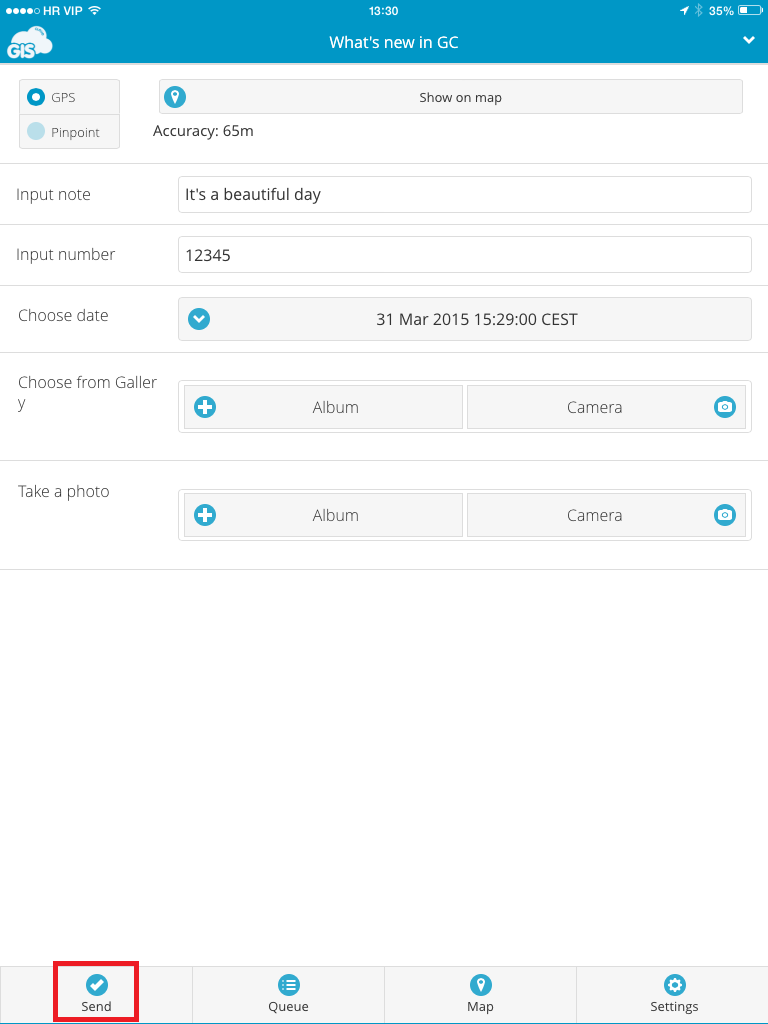 Populate fields with data and tap Send button.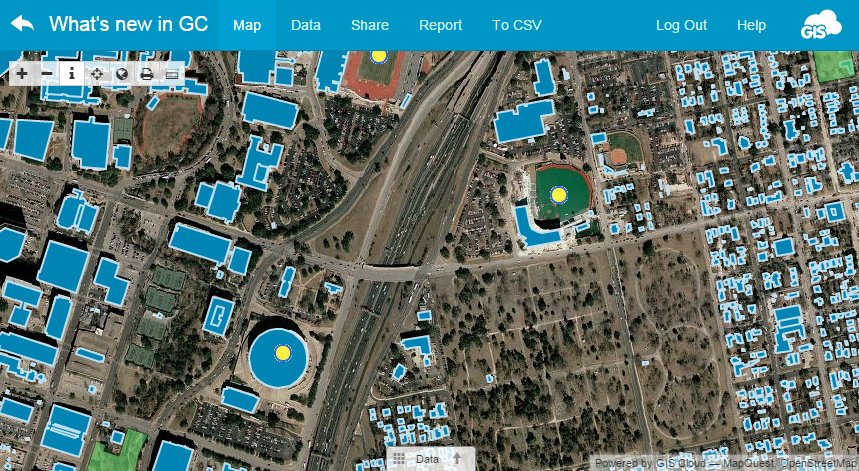 Review and edit data
After you collect and send data you can view and edit attributes, photos and listen to recorded audio right in the Mobile Data Collection application.
Simply open the map and click on the submitted point.
Note: Auto sync checks for any changes made to your maps or projects since the last refresh. You will be notified if your current form is out of date. Also, to prevent collected data loss, any stale queued items will require updates before sending.
All data you collect and send to your map can be viewed and edited in your Map Editor and Mobile Data Collection Portal account.