File Manager
File Manager is used for managing and uploading new files to GIS Cloud.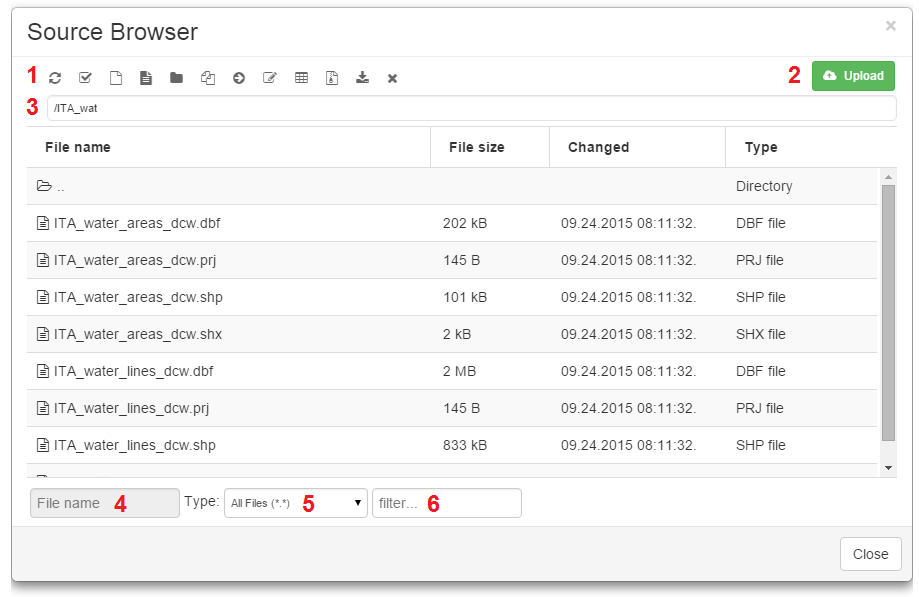 Tools

Refresh Current Folder
Select All
Create new file – file name can't contain '/' or '\' characters.
Edit text file – edit text file.
Create New folder
Duplicate file/folder
Move to different folder
Rename
Edit structure – add, remove layer attributes. At the moment only ESRI Shapefile is supported.
Unzip archive – if the uploaded folder is zipped, this option extracts files. Note that only .zip file is supported.
Download selected file(s) – download files locally on your PC.
Delete – delete selected file/folder. This operation can't be undone.

Upload data from local computer
Address bar – shows path to the selected file
Name of the currently selected file/folder
Filter files by file type
Search files by name
More about working with the File Manager can be found in the Import and Export Data section.
Note: to perform geometry or attributes editing, layer has to be imported from the File Manager to the Database.
See also: