Datasource Manager
Creating, editing and sharing various types of datasources can be done with Datasource Manager. In Datasource Manager it is possible to add a new table, TMS, WMS, WFS or WMTS datasource.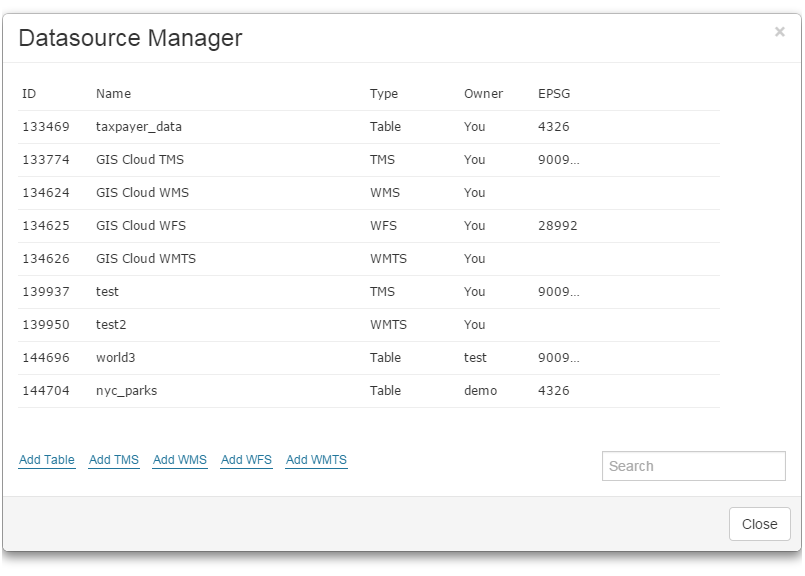 Table is used for sharing the datasource of the database table. The table can be shared with View, Share, Edit and Export as well as with MDC permissions Collect and Update. The main difference between sharing a layer and a datasource is that with the shared layer user can use the layer only within the shared map and shared datasource allows using the shared table layer in any map, his own or the ones shared to him with edit privileges.
Tile Map Service is a protocol for serving maps as tiles by splitting it up into a pyramid of images at multiple zoom levels. With every GIS Cloud account there is numerous Tile Map Services at disposal, but with Datasource Manager can be added more.
Web Map Service is a standard protocol for serving georeferenced map images over the Internet. A map server generates images from a GIS database and serves the map in a bitmap format (e.g. PNG, GIF or JPEG), while vector data can be included as an addition. WMS can also be added from an external source to the map.
Web Feature Service while WMS refers to the sending and receiving of geographic information after it has been rendered as a digital image, WFS can be described as the "source code" to the maps that one would view via WMS. Therefore, WFS data can be added to the map, edited and analyzed.
Web Map Tile Service is a standard protocol for serving pre-rendered georeferenced map tiles over the Internet. You can also add it to the GIS Cloud and to the map.
Permissions
A datasource added in the Datasource Manager can be shared to other users with the privileges according to the needs.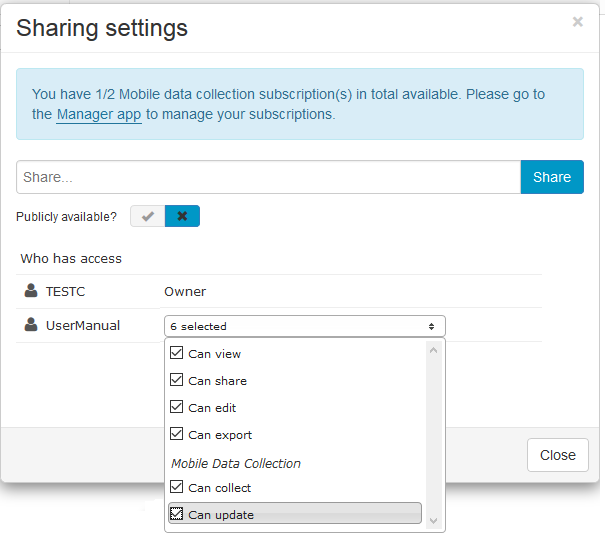 Can view – makes source data visible to other user, but without possibility of making any changes on it.
Can share – allow sharing privileges to the person you have shared your datasource with.
Can edit – allow other users to insert, update and delete features in the shared source in Map Editor.
Can export – allow another user to export the source you have shared with him.
Can collect – allow another user in the field to send new data, without possibility to make changes to existing data or the one that he has already sent.
Can update – allow another user in the field to make attribute and geometry changes, but without possibility to send new data.
Note: if you get an alert "You have 0/0 Mobile data collection subscription(s) in total available" then please check that MDC licences are properly assigned in the Manager app. Here you can find info on how to assign MDC licenses.